Cambodia makes its own way, not a US lackey
Global Times
1602406673000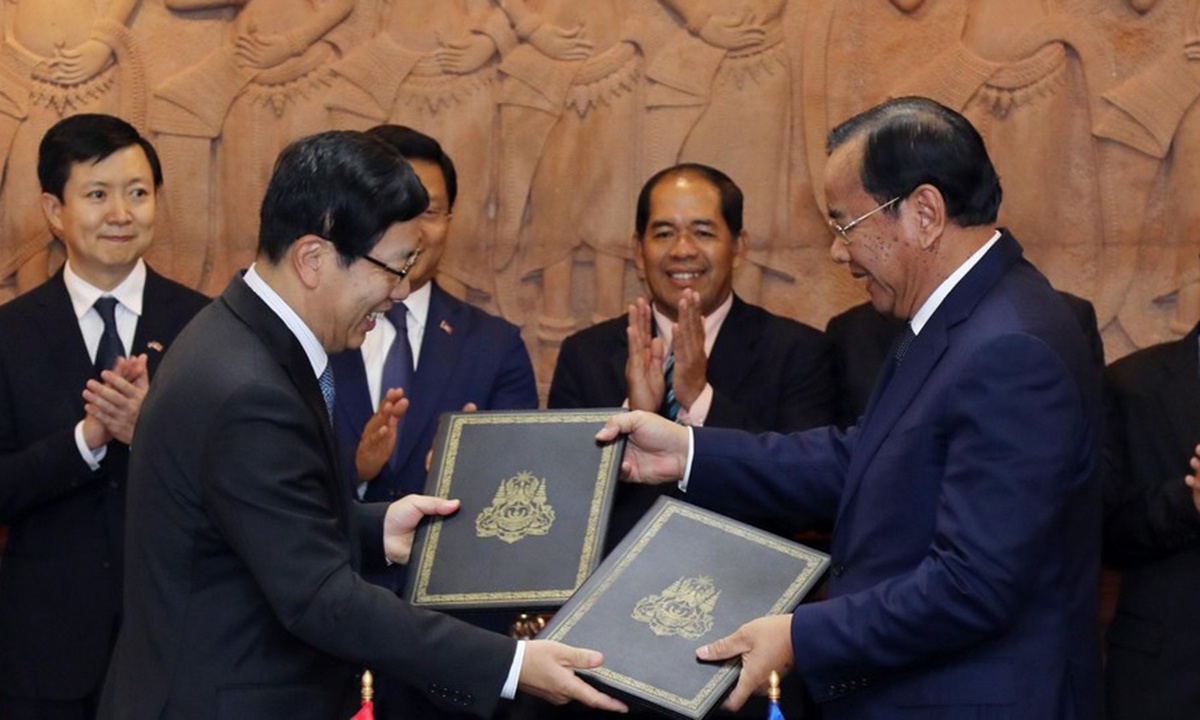 The Cambodia-US relationship has become turbulent recently. Chad Roedemeier, Information Officer at the US Embassy in Phnom Penh, Cambodia, reportedly expressed disappointment on October 7 that Cambodian military authorities chose to demolish the maritime security facility at Ream Naval Base which the US believes is "a sign of US-Cambodia relations."
The Ream Naval Base gained international attention last year when the US media alleged that China and Cambodia had signed an agreement that would allow China's armed forces to use part of the base.
Also on October 7, Cambodian Prime Minister Hun Sen refuted these US remarks by saying the dockyards would be open to all, adding: "If one foreign navy ship can make a port visit here then ships from other countries can do the same."
In his speech, he also posed a question to countries that have been critical of Cambodia's acceptance of Chinese aid, saying he would consider stepping down from office if any of his critics can name a country that can replace China's assistance in terms of building infrastructure.
It is true that China-US competition in Southeast Asia is heating up. Southeast Asian countries including Cambodia are facing increasing pressure to "pick a side" in this coin toss. Obviously, claims that Cambodia is "abandoning the US and picking China" are not true. But the existing nuances and rifts between Cambodia and the US make such claims indeed justified.
First of all, the US assertion that Cambodia is abandoning the US and picking China is a misreading of Cambodia's consistent foreign policy. Based on historical lessons and strategic needs, the Cambodian government has firmly pursued a policy of permanent neutrality and non-alignment since the 1990s. Meanwhile, it has also upheld a policy of friendly exchanges with other countries in the world, including China and the US.
Comparing Cambodia's exchanges and cooperation with China and the US, the Southeast Asian country has realistic reasons for "shifting its strategic focus to China." There are three main reasons for the disharmony in Cambodia-US relations. For one thing, the US always pays lip service to support Cambodia. Although it has stepped up its arms sales and technology transfers to Southeast Asia, military assistance to Cambodia has been relatively tiny.
Second, US assistance to Cambodia often comes with various conditions, ranging from political development, foreign exchanges to human rights. In this way, the US hopes to interfere in Cambodia's internal affairs. As a result, Phnom Penh and other Southeast Asian capitals have frequently had wars of words with Washington on issues relating to internal affairs and human rights.
Third, over the past few years, due to "democratic" concerns, the US has tightened sanctions on Cambodia, suspended visas to some Cambodian officials, and reduced or even threatened to interrupt aid to Cambodia.
Meanwhile, the further development of the China-Cambodia traditional friendship and boosting of ties (in terms of both quantity and quality) in the new era have enabled Cambodia to reap lots of benefits. Comprehensive economic and trade cooperation between China and Cambodia was restored and developed again after 1993. Statistics suggest that the scale of China-Cambodia trade increased rapidly afterward.
China has kept its position as Cambodia's largest trading partner and source of investment for many years. In 2010, China and Cambodia established a comprehensive strategic partnership of cooperation.
President Xi Jinping visited Cambodia in 2016, and since then the development of China-Cambodia relations has stepped into a new era. This requires Beijing and Phnom Penh to strengthen strategic cooperation while steadily advancing the development of bilateral relations.
Today, China is striving to achieve its two centennial goals, and Cambodia is in a critical period to promote its Industrial Development Policy (2015-2025). Under the Belt and Road Initiative and especially the Lancang-Mekong cooperation mechanism, China and Cambodia are continuously strengthening cooperation in many fields. These entail cooperation on international production capacity, economic and trade investment, infrastructure construction, energy resources and defense exchanges.
In this respect, the contrast between China and the US for Cambodia is clear and distinct. The twist and discord in the Cambodia-US relationship has made Cambodia adhere to a neutral and non-aligned foreign policy - with a shift more toward China. Nonetheless, this move does not echo what the US means by saying that Cambodia is "abandoning the US and picking China."
The author is a senior research fellow of the Charhar Institute in China and the deputy dean of the ASEAN College of Guangxi University for Nationalities. opinion@globaltimes.com.cn