Online game limit to protect minors from harm
Editor's note: The State Administration of Press, Publication, Radio, Film and Television recently issued new regulations aimed at preventing minors from getting addicted to online games, with specific caps on playtime and purchase. Will the new regulations prove effective and better protect minors? Two experts share their views on the issue with China Daily's Yao Yuxin. Excerpts follow: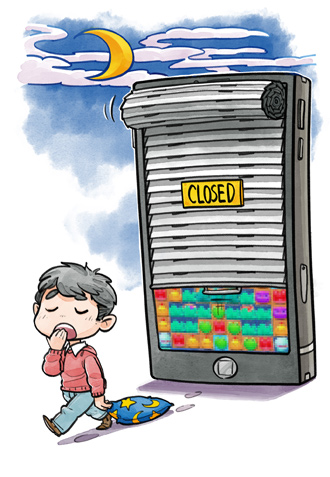 (Photo: Cai Meng/ China Daily)
Joint efforts needed to ward off online evil
The administration has laid out details of the anti-addiction measures. For example, people have to use their real ID to create an account, and based on the information, minors would be barred from playing games between 8 pm and 8 am. During weekdays, minors can play online games for a maximum of 1.5 hours a day, and on weekends and holidays the maximum time will be three hours.
In particular, online game platforms have been prohibited from providing payment services for children below 8. And children aged between 8 and 16 years old can spend up to 200 yuan ($28.48) per month to buy online games, with the limit for those above 16 being 400 yuan a month.
Apart from determining the respective liabilities for regulators and enterprises in case of minors becoming addicted to online games, the regulations strictly limit the access window and total length of playing time while setting a standard for parents to follow while supervising their kids' activities on internet.
China has a large population of minors and a booming digital game industry, and the regulations show it is focusing on modernizing the governance system for the digital cultural industry, by working out some unique and advanced ways to protect juveniles from the harms of cyberspace.
For instance, given the social maturity gap between children in rural and urban areas, the regulations mandate that online games should not contain pornography, violence or gambling. The rating system used in many Western countries has not been introduced because it relies on parents deciding which games are suitable for their child, and parents are absent from many rural households as they work in cities.
Yet identifying all underage players could be difficult, as many minors can use their parents' ID to log in to play online games; quite a few can even make payments to buy a game using their parents' bank cards.
Therefore, parental supervision, self-discipline of online game makers and retailers, and the cooperation and coordination of other departments are needed to ensure the regulations are strictly implemented to protect minors from online harm.
Sun Jiashan, a researcher at the Chinese National Academy of Arts
Companies must act responsibly
Way back in 2007, eight departments including the then State Administration of Radio, Film and Television issued a notification asking video game companies to set up a user-authentication and anti-addiction system. But it seems the system didn't work well in practice-mainly because many teenagers have easy access to accounts registered by grown-up players in the family or can buy the accounts in the online market.
Besides, despite being aware of the loopholes in the system, online game platforms are reluctant to plug them because their main aim is to make profit. So to build a more effective anti-addiction system and prevent minors from logging in using the ID of a grown-up, it's necessary to introduce facial recognition technology. Yet few video game platforms are ready to do that because of profit concerns. Statistics show that more than 93.7 percent of minors in China had logged on to the internet, and 69.7 percent of them had their own mobile phones. Also, the proportion of minors playing online games had reached 64.2 percent, according to a research report on the internet use of minors in 2018 jointly published by the juvenile rights department of the Chinese Communist Youth League and China Internet Network Information Center in March.
Indeed, there was a need to raise the threshold of access to online gaming for minors in view of a new chapter on "internet protection" being added to the draft law on the protection of minors, which is under review. And it is time the online game companies acted responsibly and put social benefit over financial gain.
In addition, parents should spend more time with their kids rather than let them play with mobile phones and tablets to keep them engaged and hence not make "unnecessary" trouble, because the use of the internet without supervision could be harmful to minors.
Xiong Bingqi, deputy director of the 21st Century Education Research Institute
The views don't necessarily represent those of China Daily.