It's illegal to indulge in soccer gambling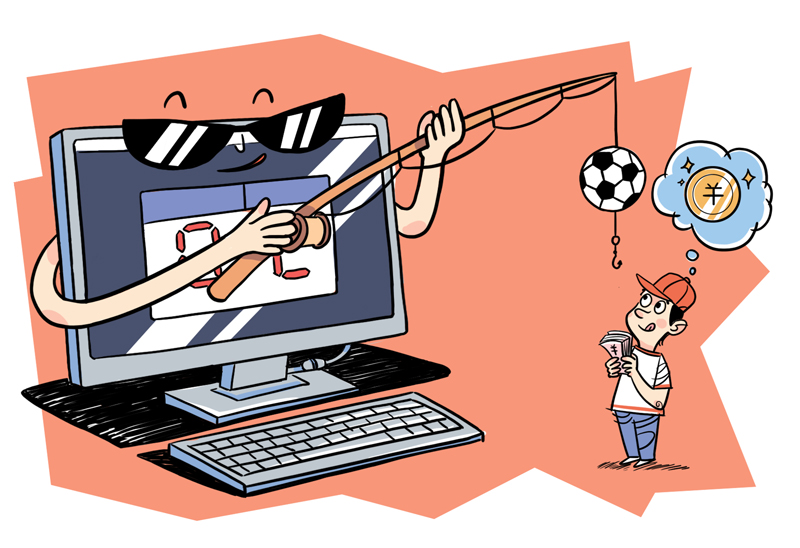 Shi Yu/China Daily
The Football World Cup in Russia has been thrilling, to say the least, given the many upsets. And buying a football lottery to try their luck has added to the thrills for millions of soccer fans. But it is illegal to bid on soccer games on so-called soccer lottery websites or phone apps.
Many Chinese soccer fans are not aware of the difference between official sports lottery and gambling. According to the lottery management regulation of 2009, lottery is a certification that promises buyers different cash awards based on certain rules. So the soccer lottery, like other lotteries, is a means of raising money for public welfare programs.
A fixed ratio of lottery revenues, after deducting operation costs, is retained as public funds. Besides, only a franchised operator that has a brick-and-mortar outlet can get a government permit, usually from the Ministry of Finance, to sell State-approved lotteries. But despite gambling being illegal under China's laws, it is more thrilling for many to bid for higher stakes, albeit illegally on websites, most of which are based overseas where gambling is legal. These websites hire Chinese agents to conduct their business in China.
Thanks to the advancement of information and communications technology, many foreign gambling sites have entered the Chinese market and the resultant outflow of capital from China has hurt the country's financial system. For instance, in 2014, a Chinese court tried a cross-border soccer gambling case which involved 480 billion yuan ($72.55 billion).
In addition, online gambling is a perfect channel for money laundering, with some soccer coaches and players manipulating match results because of the lure of big money.
China has implemented a series of laws and regulations to crack down on sports gambling. According to the Criminal Law and related judicial interpretations, it constitutes a crime punishable by up to 10 years of imprisonment if a person organizes at least three people to gamble with stakes as high as 50,000 yuan, or sets up gambling websites to invite bids, or acts as an agent for foreign gambling websites, or knowingly helps people who engage in gambling. This means internet service providers (ISPs) can be held accountable in certain cases.
When it comes to law enforcement, however, several obstacles prevent the authorities from cracking down on online sports gambling to the extent they wish to. First, the legal punishment for gamblers is relatively light. Under the current judicial system, only professional gamblers can be charged, and frequent gamblers who have a regular job can be detained for a maximum of 15 days and fined 3,000 yuan even if their bids are very high.
Second, for people who manipulate the results of soccer and other matches cannot be charged with gambling; they can only be indirectly charged for taking bribes, which many a time is difficult since bribery is a crime mainly associated with government officials.
Third, as online gambling does not have a physical venue, it can be opened or closed whenever the operator wants to. Besides, since the online data can be easily deleted and are difficult to retrieve, it is hard to collect evidence.
Still, some efforts can be made to strengthen the fight against gambling, such as strengthening supervision over ISPs by requiring them to fulfill their duty of monitoring and filtering suspicious gambling sites, apps, ads and pop-ups. And at the judicial level, the authorities can strengthen international judicial cooperation to crack down on cross-border crimes and amend the laws to impose heavier punishments on gamblers, including players and coaches of professional teams who manipulate match outcomes.
Besides, the soccer lottery management agency should launch reform to make the official lottery more attractive, by allowing online operators to sell sports lottery and educating the public about the ills of gambling.
The author is a fellow with the research office of Shunyi district people's court in Beijing.