White paper shows China respects trade norms
Global Times
1530641157000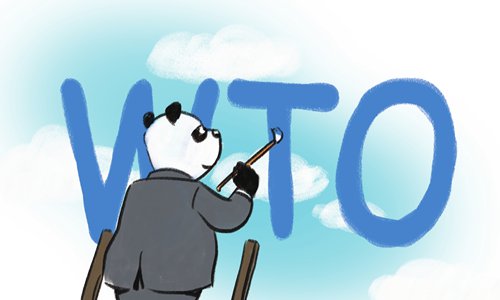 (Photo: Global Times)
During the administration of US President Donald Trump, the international role of the US has acquired a different dimension. The American president is challenging some long-standing principles of economic and foreign policy and bringing his own style of governance to world politics. This can be seen as both a risk and opportunity for China. It is a risk because Trump is unpredictable and his decisions are often difficult to explain and harm the interest of other countries. It is an opportunity as it creates the necessary conditions for Beijing to act as a guarantor of world stability, globalization and free trade.
A recent example of how the Chinese government perceives international norms is the recent white paper issued by the State Council on China and the WTO. This document presents the country's policies and propositions concerning the multilateral trading system. It, inter alia, regards this multilateral trading system as "a historic choice that follows the trend of global economic development," and therefore emphasizes China's firm opposition to unilateralism and protectionism.
While the white paper is being discussed in international media, Trump is being criticized for imposing tariffs. This criticism is not only coming from international powers - including China - but also from domestic actors. The US Chamber of Commerce, for instance, is launching a campaign against Trump's protectionist policies. This is the largest business group in the country, which often associates itself with the stances of the Republicans.
As trade tensions rise, China ratchets up its opposition to moves by the American president. Although it is understandable under current circumstances, China's trade priorities should be seen irrespective of the recent American choices. A historical process completing four decades this year has been based on patient and difficult opening-up reforms. Reforms had started well before China's accession to the WTO in 2001 that facilitated Beijing's attempt to improve its socialist market economy system and alignment with multilateral trade rules.
The white paper gives specific examples of how China has reduced tariffs on several products, including agricultural and manufacturing goods. It also gives examples of how it has removed trade restrictions, achieved liberalization, improved terms for foreign investors and opened up many sectors. It is important to mention that the process has not finished 40 years since it began but continues to facilitate market reforms.
In a recent speech given at the Boao Forum in Hainan, Chinese President Xi Jinping detailed this vision of gradual change. That is not the result of Trump's pressure as some Western analysts have suggested, but goes hand-in-hand with the "new normal" model China is realizing.
Furthermore, the white paper summarizes the reasons for China playing a catalytic role in the world economy, including a number of its specific contribution to international trade and its growth. It also pays particular attention to the Belt and Roadinitiative functioning as an integration model that is open for participation to all countries. The "win-win" logic behind it is often challenged by the critics of China but is unquestionably acknowledged by countries participating in the initiative. As the white paper puts it, "the opportunities and achievements belong to the world."
All in all, it is the first time China has issued such an official document in relation to world trade. Together with its determination to systematically present economic progress to international public opinion, the Chinese administration recognizes the importance of the WTO. A few weeks ago it responded to Trump's announcements and filed for consultations under the WTO dispute settlement framework that include Sections 232 and 301. The aim has been for the two parties to discuss the matter and find a satisfactory solution without proceeding further with litigation. This was not an arbitrary gesture but reflected the general position of Beijing as outlined in the white paper.