Opinion: Trump trying to make up for internal failures
Global Times
1528406865000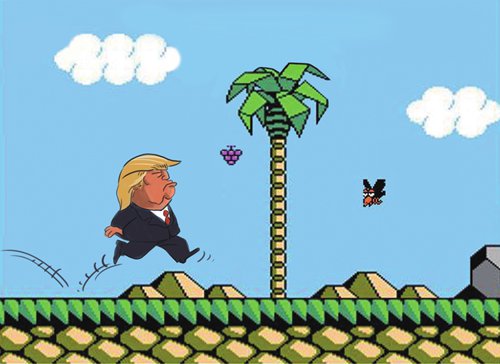 (Photo: Global Times)
Data from the US Department of Labor (DOL) shows that unemployment rate in the country dropped to 3.8 percent in May, and joblessness among black Americans fell to 5.9 percent, hitting its lowest since the 1970s. This has prompted President Donald Trump to claim that his economic policy has benefited American people. Some media outlets believe this explains why Trump "hit out" in all directions in diplomacy recently. Is that the truth?
It is undeniable that Trump's economic policies did help American workers find jobs. At the beginning of his presidency, he "forced" US companies to stay in the country through preferential tax policies and government procurement, and tried to attract American firms back to the US. These moves helped him fulfill his election promise of creating more jobs. US economic growth was revised down to 2.2 percent in the first quarter of 2018, which lays the foundation for steady economic growth in the year. As Trump's most important achievement, tax reform has won initial success as it could cut costs for companies, expand reproduction and increase employment.
The unemployment rate for blacks had started to decrease during the Obama administration, but is still higher than that of other races. According to data from the DOL, the unemployment rate among Latinos was 4.9 percent in May, the only one higher than that among blacks. Unemployment rate among Asian Americans and white people was 2.1 percent and 3.5 percent respectively, much lower than among blacks. Many economists also pointed out that part of the unemployed had stopped looking for jobs, which contributed to the decrease in the unemployment rate. Hence, the unemployment rate above doesn't represent the facts.
Does improving economic situation in the US prompts Trump to "hit out" in diplomacy? The answer seems to be negative. Although Trump's economic policies help the US economy grow steadily, the Obama administration's quantitative easing monetary policy and tightened control have definitely contributed to the improvement. Besides, the economic growth is within easy reach as the US economic cycle is on the ascendant.
However, none of the facts above could explain Trump's aggressive economic policies. He threatened to impose tariffs on Chinese imports, triggered the trade war across the Atlantic and imposed tariffs on steel and aluminum imports from the EU, Canada and Mexico. Trump's moves are supposed to serve his midterm election goals in the US.
The midterm elections in November are like a midterm exam or a referendum on Trump's performance. Former US presidents wouldn't focus on diplomatic issues until their second term, but Trump turned to the diplomatic sphere in his second year as the "non-traditional" president couldn't taste success on the domestic front.
Although the Republican Party controls both the White House and most seats in the Congress, Trump is facing hurdles because his election as president triggered disputes between establishment and anti-establishment forces. Trump is willing to repeal Obamacare, promote comprehensive immigration reform and promises to build a US-Mexico border wall, he somewhat lacks the power to fulfill them.
Hence, Trump has to turn to diplomatic issues to salvage his reputation for the Republican Party's midterm election and his 2020 re-election. He wasn't afraid of starting a trade war, and threatened to impose additional tariffs on China, the EU, Mexico and Canada, and found new diplomatic fronts in North Korea, Iran and Venezuela.
Trump criticized the North American Free Trade Agreement (NAFTA) during his presidential campaign. Pulling out of it accords with his brand of economic nationalism. While former presidents could hardly do anything about the North Korean and Iran nuclear issues, and the Israeli-Palestinian conflict, Trump's moves on them showed his "talents in diplomacy." He also hopes his achievements could make him one of the greatest US presidents.
However, Trump may not be able to fulfill his wishes in trade or diplomacy, because he is upsetting the delicate balance and causing damage to the international order.