Security checks in hospitals better protect safety of health workers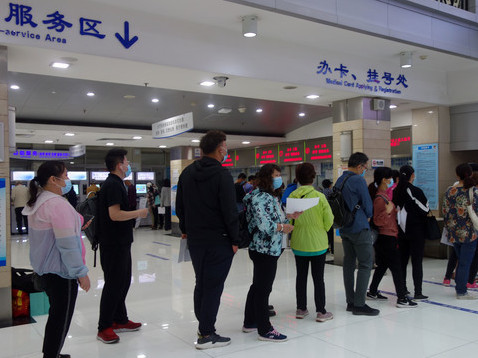 People wait in line to register at a hospital in Beijing on May 15, 2020. [Photo/Sipa]
Beijing authorities recently approved a hospital security regulation, effective from July 1, stipulating that local hospitals should establish a security check system to safeguard medical workers' security.
Increasing numbers of violent assaults against medical workers in recent years have seriously undermined the relationship between them and patients, and provoked widespread public anger.
According to a Chinese Medical Doctor Association's white paper on the plight of doctors in 2018, about 66 percent of doctors told a survey that they had got into a tiff with patients, and more than 30 percent of them had been violently assaulted.
Such a kind of behavior against medical workers will eventually harm the patients and society because it will discourage people from taking up the noble profession.
There have been several appeals for effective measures to curb violent assaults against medical workers. Simply punishing the culprits can't stop the violence.
There is no foolproof way of preventing people from suddenly assaulting medical workers. That is why the new security regulation in Beijing stipulates the establishment of a security check system in local hospitals.
The regulation requires local public security and health departments to make a list of items that cannot be taken inside a hospital. It also empowers hospitals to refuse entry to those who resist security checks.
The regulation also asks for a green channel for emergency patients, such as those who have been badly injured or have suffered a heart attack, from undergoing security checks, so as not to delay their treatment.
It also asks for security personnel to accompany patients who might be drunk, or have a mental disorder, so that they do not harm doctors.
The new regulation shows the Beijing authorities' determination to tackle the problem.
Only when medical workers' security is guaranteed can they focus on treating patients and saving lives.