Australia should show more sincerity in ties with China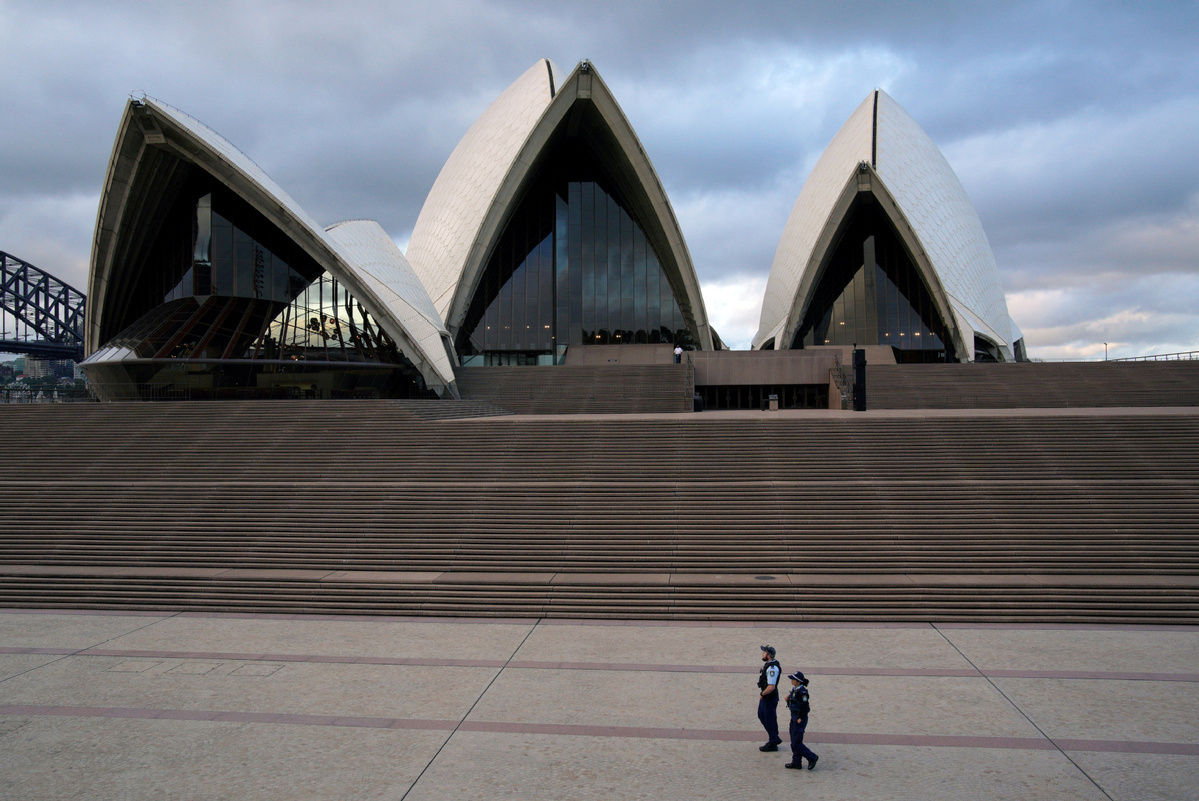 Police officers patrol near the Sydney Opera House following the implementation of stricter social-distancing and self-isolation rules to limit the spread of the coronavirus disease (COVID-19) in Sydney, Australia, April 6, 2020. [Photo/Agencies]
China has issued an advisory asking its citizens to avoid traveling to Australia because of the rising attacks against people of Asian origin in the country. The Australian government following the United States administration's policy of blaming China for the novel coronavirus pandemic is perhaps the main reason for the ugly racial discrimination in the country.
Like the US, Australia too has politicized the pandemic by stigmatizing China, and pushing for an independent inquiry to determine the source of the virus. By insinuating that China is responsible for the global spread of the virus and pushing for an independent inquiry, the Australian government, think tanks and media outlets have not only added fuel to the US-conjured "conspiracy theory" against China but also damaged Sino-Australian relations.
The coronavirus pandemic has severely impacted countries' public health systems and the global economy. Against this background, after having largely contained the virus at home, China has been supplying respirators, facial masks, testing kits and other medical products, and dispatching medical teams to other countries. It has also been sharing its research results and virus-fighting experiences with the other countries and the World Health Organization to help them contain the pandemic. Besides, China also intends to supply coronavirus vaccine, when one is developed, as a public good to the world. Yet Australia, in tandem with the US, has spared no efforts to slander China.
There is a broad global consensus that all countries should jointly fight the pandemic, not lay a guilt trip on or stigmatize any country. China welcomes impartial, independent investigation into the novel coronavirus based on global scientific cooperation, but opposes presumption of guilt and a probe against a specific country.
Also, medical and health experts should conduct independent investigations only after the coronavirus outbreak is effectively contained. After all, learning lessons from crises is more important than pointing fingers at others. At a time when the world order and the global governance system are undergoing transformation, with emerging countries rising and US hegemony declining, Australia, a Western country dependent on the existing US-led world order, has been feeling uncomfortable about the changes and challenges.
Australia's worries have heightened particularly because of the US' strategic contraction policy which intensified after the US leader gave the "America first" slogan and initiated unilateral actions including withdrawing or threatening to withdraw from global and multilateral organizations and agreements. For instance, US Secretary of State Mike Pompeo has warned that Washington may stop sharing intelligence with Australia if Victoria state doesn't pull out of a telecommunications infrastructure deal under the China-proposed Belt and Road Initiative.
As it considers its alliance with the US highly important, Australia has echoed the US on various issues-including helping the US to increase its military presence in the Asia-Pacific region-to prove its loyalty to Washington and to defend Western values, which it believes will enhance its international status and increase its say in the international community.
Besides, since Australia has been accusing China of creating all sorts of problems, from interference in Australian domestic politics and elections to spreading the coronavirus, China-Australia ties have suffered setbacks on the diplomatic, political and security fronts, which eventually have harmed bilateral trade. And despite claiming that it has been trying to improve its relations with China, Australia has done nothing of the sort and thus harmed bilateral political trust.
The structural basis of the Beijing-Canberra relationship has changed, and Australia doesn't have many bargaining chips against China. So it is trying to stimulate Sino-Australian ties by strengthening the US-Australia alliance. This, Australia believes, will increase its bargaining power against and its strategic importance for China.
But since the impact of the coronavirus outbreak on China-Australia relations is not expected to be long-term, Canberra should improve its diplomatic ties with Beijing and put overall bilateral relations back on the track. As for China, it welcomes Australia to participate in equal and open negotiations to address common concerns.
The author is an adjunct researcher at the Center for Australia Studies, China University of Mining and Technology. The views don't necessarily represent those of China Daily.