Trump sends worrisome signals on North Korea
Global Times
1517782409000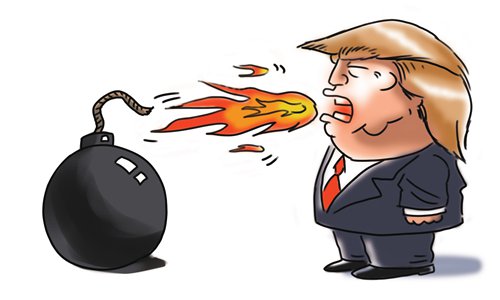 Illustration: Liu Rui/GT
In US President Donald Trump's State of the Union speech last week, one thin on foreign policy, North Korea garnered inordinate attention. A careful reading of Trump's State of the Union remarks on North Korea are troubling, and combined with surrounding events, hint that risks of US military action are growing.

Trump denounced North Korea whose "reckless pursuit of nuclear missiles," he said, "could very soon threaten our homeland." Trump also stressed his disdain for what he called "the depraved character of the regime," and its human rights abuses. Taken together with the withdrawal of his proposed candidate for US Ambassador to South Korea, Victor Cha, over policy differences, things do not bode well for the "Olympics détente" to continue beyond March.

It is worth considering as well also what Trump didn't say. In a speech about his accomplishments, he did not mention US mobilizing international cooperation resulting in the approval of two UN Security Council resolutions imposing harsh economic sanctions on Pyongyang. Nor did he mention China's cooperation in the campaign to pressure and isolate North Korea. Neither did he mention what he thought Pyongyang needs to do to restart diplomacy.

Coincidentally, on the same day as Trump's speech Air Force General Paul Selva, vice chairman of the Joint Chiefs of Staff, said the US could "get at most of his infrastructure," when asked about Kim Jong-un's nuclear and missile program. The key word here is "most." One nuclear weapon can ruin your whole day.

But what most caught the public's attention was the withdrawal of Dr. Victor Cha as the expected US Ambassador to South Korea. Cha is a well-known, experienced and widely respected Korea expert, who served on the National Security Council under Republican president George W. Bush.

Though Trump had not formally submitted his name to Congress for approval, Cha was in fact, the leading candidate, selected more than six months ago, scrutinized by the White House, which sent his name to Seoul for agreement. South Korea signed off on Cha last December. It is highly unusual to withdraw an ambassadorial nominee after the host government has given its approval - in the case of Seoul, enthusiastic approval.

I should add that I served in the State Department and worked with Cha during the Bush administration, where we both worked on the Six-Party Talks to denuclearize North Korea. He is a shrewd and tough-minded analyst, a harsh critic of North Korea who is highly regarded across the political spectrum in Seoul.

Why did the White House drop Cha and what is its significance? Cha opposed the idea that has been debated in the White House of a limited military strike - giving Kim "a bloody nose." The day after the episode became public, Cha wrote an op-ed article in the Washington Post warning against military strikes against North Korea as likely to risk massive casualties. Instead, he urged a strategy of continued pressure, sanctions and enhancing US deterrence.

The current relaxation of tensions on the Korean Peninsula resulting from North-South cooperation during the Winter Olympics has renewed hopes for a diplomatic solution to the Korea crisis. That will be much harder with no US ambassador in Seoul.

For the moment, no conflict is likely. The Trump administration says it has no intention of launching a military strike. But the mood in Washington, reading between the lines of recent developments, suggest other possibilities. According to The New York Times, a frustrated White House is asking the Pentagon for more options on North Korea.

Unfortunately, after the Olympics and Paralympics are over in late March, Pyongyang is likely to test another intercontinental ballistic missile (ICBM) and in April and the US and South Korea will conduct scheduled military exercises necessary for the vitality of the US-South Korea alliance. And we will be back in crisis mode.

The fear is that a North Korean provocation - an ICBM test or worse, an atmospheric nuclear test - will tempt Trump to try and "teach Kim a lesson." And there are few who would bet such a confrontation would not catastrophically escalate. Trump is not immune to the Law of Unintended Consequences.