Common challenge calls for concerted actions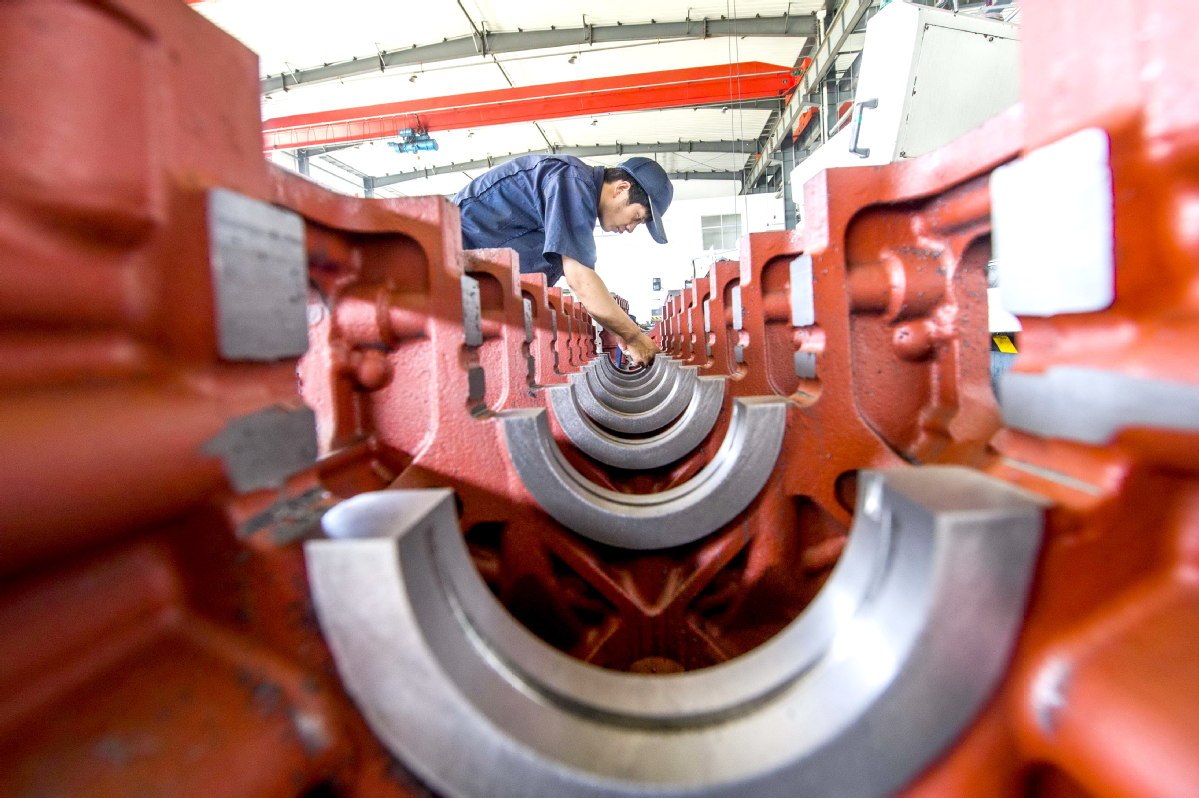 A technician calibrates equipment at a manufacturing plant in Qingzhou, Shandong province. (Photo: China Daily)
Premier Li Keqiang's participation in a virtual dialogue involving hundreds of entrepreneurs from around the world organized by the World Economic Forum on Tuesday was undoubtedly conducive to enhancing trust between China and the world business community.
Although Li has met with senior executives of foreign corporations in China on different occasions since the outbreak of the virus, this is the first time so many world business leaders have had the opportunity to directly communicate with the premier of the world's second-largest economy this year, and vice versa.
Such a dialogue bears particular relevance at this time, not only because of the shock waves from the global public health crisis that have been felt around the world, leaving no economies or businesses unscathed, but also because of the sustained bid by the US administration to try to isolate China from the global economy.
That's why Li took the opportunity to air his points of view on the world economy in his speech, and more importantly to introduce the measures China has taken to balance its pandemic control and socioeconomic development and their effects, and to expound on China's development strategies, so as to provide the businesspeople with firsthand information about China.
As the only major economy seeing a robust rebound of growth in the second quarter, 3.2 percent year-on-year, and one of the few to have brought the virus generally under control, China has the potential to lead the recovery of the world economy in the post-pandemic era, as the appeal of its huge consumer market and complete industrial structure as well as its strong economic fundamentals remain unchanged. Its commitment to opening-up, sustaining global supply chains and promoting common development is also unwavering.
The zeal the entrepreneurs demonstrated in their exchanges with Li shows that rather than accepting the US administration's smears at face value they want to gain for themselves a "comprehensive and accurate" understanding of China's economic situation and policies, as Foreign Ministry spokesperson Wang Wenbin said.
That China has created at least 7 million jobs so far this year while doing its best to contain the virus, which, as Li said, has been demanding work for the government, has not only laid a solid foundation for China to fulfill its socioeconomic development objectives this year, but also demonstrates the government's capability to adapt its policies to changing circumstances and the unity of the nation.
These are the decisive factors that have enabled China to successfully gain the upper hand over the virus and revive its economy.
It is to be hoped, as Li said, the dialogue can prompt the world business community to pool their efforts, synergize their actions, crystallize their consensus to weather storms and promote the recovery of the world economy.