Immigrant enlistment has always been a US military hallmark
People's Daily app
1535480422000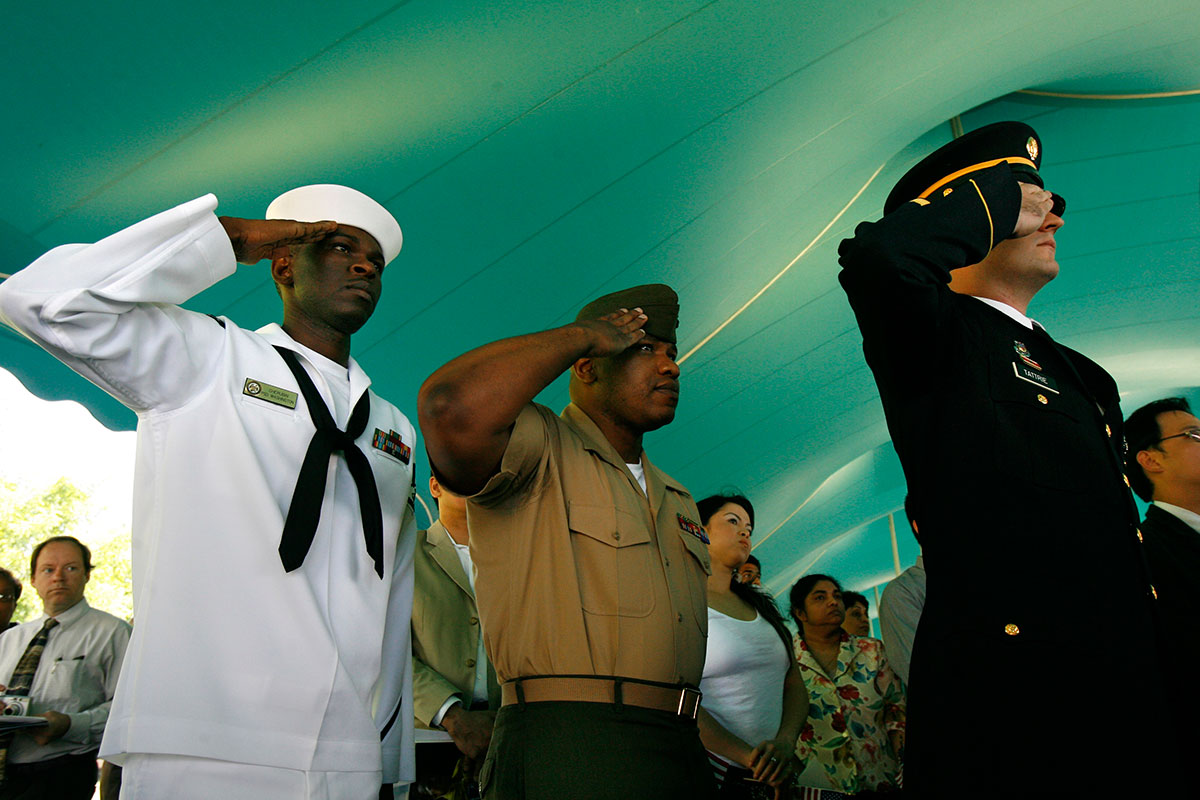 US Navy Petty Officer Reginald Cherubin, from Haiti; Marine Gunnery Sgt. Brian Joseph, a native of St. Vincent; and US Army Sgt. Jeremy Tattrie, originally from Canada, from left, say the Pledge of Allegiance during a ceremony to become US citizens. (Photo: AP)
It is estimated that over 65,000 immigrants serve in the US armed forces with at least 5,000 new recruits applying each year. The US is one of the few countries that allows foreigners from almost all nations to enlist. One problem, which isn't relegated to immigrants, has to do with getting in, a process difficult even for non-immigrants.
The US Army rejects thousands of US citizens every year due to poor health or failing a background check. For immigrants to join one of the US military branches, they need to have a green card or a student visa, and be fluent in English.
In July, headlines announced a purge was underway in the US armed forces. Media took special aim at the Army's Military Accessions Vital to the National Interest (Mavni) program. Profiles of new recruits told similar stories of how they had been "uncharacterized discharged." At least 40, along with theirr families, faced deportation. Reports failed to mention the recruits had yet to complete basic training, nor was it mentioned how the program is capped at 1,500 new members annually. According to the Mavni website, the program, which folded in 2016, holds 10,000, and it is unlikely it will be reinstated.
Created by Ret. Army Lieutenant Colonel Margaret Stock, currently an immigration attorney in Alaska, said in a recent interview,"Immigrants have been serving in the Army since 1775. We wouldn't have won the revolution without immigrants. And we're not going to win the global war on terrorism today without immigrants."
She explained the program was created to attract recruits who speak languages that are of "strategic use" to US military forces, Chinese, Dari, Farsi and Russian with a path to citizenship as a reward.
Mavni ended in 2016 under the Obama administration. Once the door was opened to DACA immigrants, within two years the program was suspended due to a backlog in paperwork. A few years earlier Obama also mandated that Mavni recruits would need to pass the Single Scope Background Investigation (SSBI), one of the most thorough background checks the military conducts. The process can take anywhere from three months to one year, per applicant.
Immigrants serving in the military enjoy great reputations built on years of loyalty and dedication. Although there have a been a few foreign recruits discovered to have ties with foreign intelligence, the number is small when compared to how many natural-born US citizens have betrayed America for financial gain.
At least 110,000 members of the US armed forces have gained citizenship by serving in the country's military since 2001, according to numbers from the Defense Department.
There are roughly 10,000 immigrants currently serving in the US Army, Air Force, Marines, Navy, and Coast Guard. According to a recent report from the Rand Corporation, over 70 percent of immigrant reservists in 2016 were Asians.
For security reasons, few countries allow immigrants to serve in their armed forces. In fact, only four countries allow Americans to enlist and include Israel, Australia, Russia, and France's French Foreign Legion.
Immigrants are also attracted to the US military for reasons other than citizenship. For example, student recruits receive tuition waivers and financial aid. Their service provides them with experience and training they wouldn't find anywhere else.
On August 20, the Associated Press reported that 36 foreign recruits who were scheduled to be deported could stay. Hysteria subdued and things went back to normal. The US military remains open to legal immigrants willing to put their lives on the line in exchange for American citizenship.