Explaining Jeremy Hunt's remarks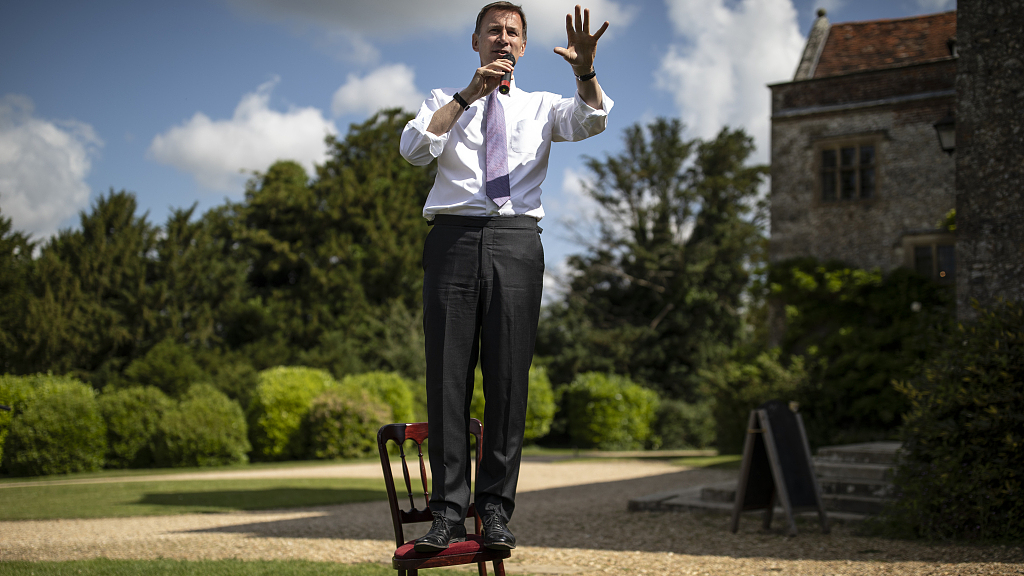 (Photo: CGTN)
Jeremy Hunt has certainly been making himself known recently. Several days ago, the UK foreign secretary publicly refused to rule out sanctions against China over the matter of Hong Kong, and utilized the power of his office to summon the Chinese ambassador. The highly inflammatory remarks have been conducted in a style unusual for a politician whom commentators typically describe as an "un-charismatic politician."
Of course, everyone should be aware of the obvious motivation behind his recent outpourings. That is of course, the Conservative Party leadership election. Jeremy Hunt is the underdog against the favorite Boris Johnson. In an attempt to claw back ground from the former London mayor, Hunt is aiming to dominate coverage by being as controversial and aggressive as possible, in an attempt to whip up nationalist and liberal chauvinism by presenting himself as a "strong prime minister". However, it is all less than impressive. Hunt is not likely to win, but he might just end up damaging Britain's much-needed ties with Beijing in the process, a catastrophic move in the midst of Brexit.
At the end of this month, Jeremy Hunt is widely expected to lose the Conservative Party leadership race to Boris Johnson. Early polls have put Johnson in a commanding lead. Hunt lacks not only the profile and popularity of Johnson among Conservative members of parliaments (MPs), but also the populist and nationalistic edge of the former London mayor. He is seen as a moderate, status-quo politician who is subsequently "not hard enough" when it comes to European affairs. Although the foreign secretary insists he can compete on a par with Johnson, the odds are well stacked against him.
So how is he responding to these perceptions? To invoke nationalism and British exceptionalism in the process of creating a "tough" and "commanding" image, situation in Hong Kong has become his primary target of attack. On this issue, He has taken a more vocal and hard-line stance on the former British colony than any other front-line politicians in his party. As noted above, he has summoned the Chinese ambassador, threatened "severe consequences," and refused to even rule out imposing sanctions on Beijing.
Will this increase his chances in the election? Not likely. The primary voting interest of both the Conservative MPs and British voters is the matter of Brexit and Europe. Beyond this issue, foreign policy matters that do not directly impact the UK are of little relevance. The Conservative Party leadership election is being exclusively determined by the question of Britain's relationship with the European Union. And on this issue, with Hunt having previously advocated remain and proposed an ambiguous approach to "hard Brexit," he is unlikely to make inroads against the deeply Eurosceptic MPs or Johnson's legacy as the "leading leaver" by being tough on Hong Kong.
This, however, does not mean his rhetoric would not have consequences. He is making these remarks as the chief diplomat for Britain. In using his office to pursue electoral opportunities through belligerent rhetoric, he is placing Britain's strategic and economic relationship at risk for his own personal gain. UK cannot afford to alienate China after it has already decided to alienate itself from Europe. With GDP growth of little more than 1 percent, a growing flight of FDI and foreign companies, as well as a weak currency, a London-Beijing spat would be utterly disastrous.
Given this, Hunt's electoral maneuvering is not beneficial, smart, impressive, or in Britain's national interest. Yet, it is just a smaller part of the growing political implosion of which the UK today finds itself in. As UK politics swings unmistakably to the right, the lust for nationalism, confrontation and identity politics among certain groups is defying reason itself. Although Mr. Hunt is unlikely to make the cut as prime minister and put his words into action, one can scarcely be optimistic about his rival entering number 10 either.