California fire officials scramble for answers as flames continue to rage
People's Daily app
1542154733000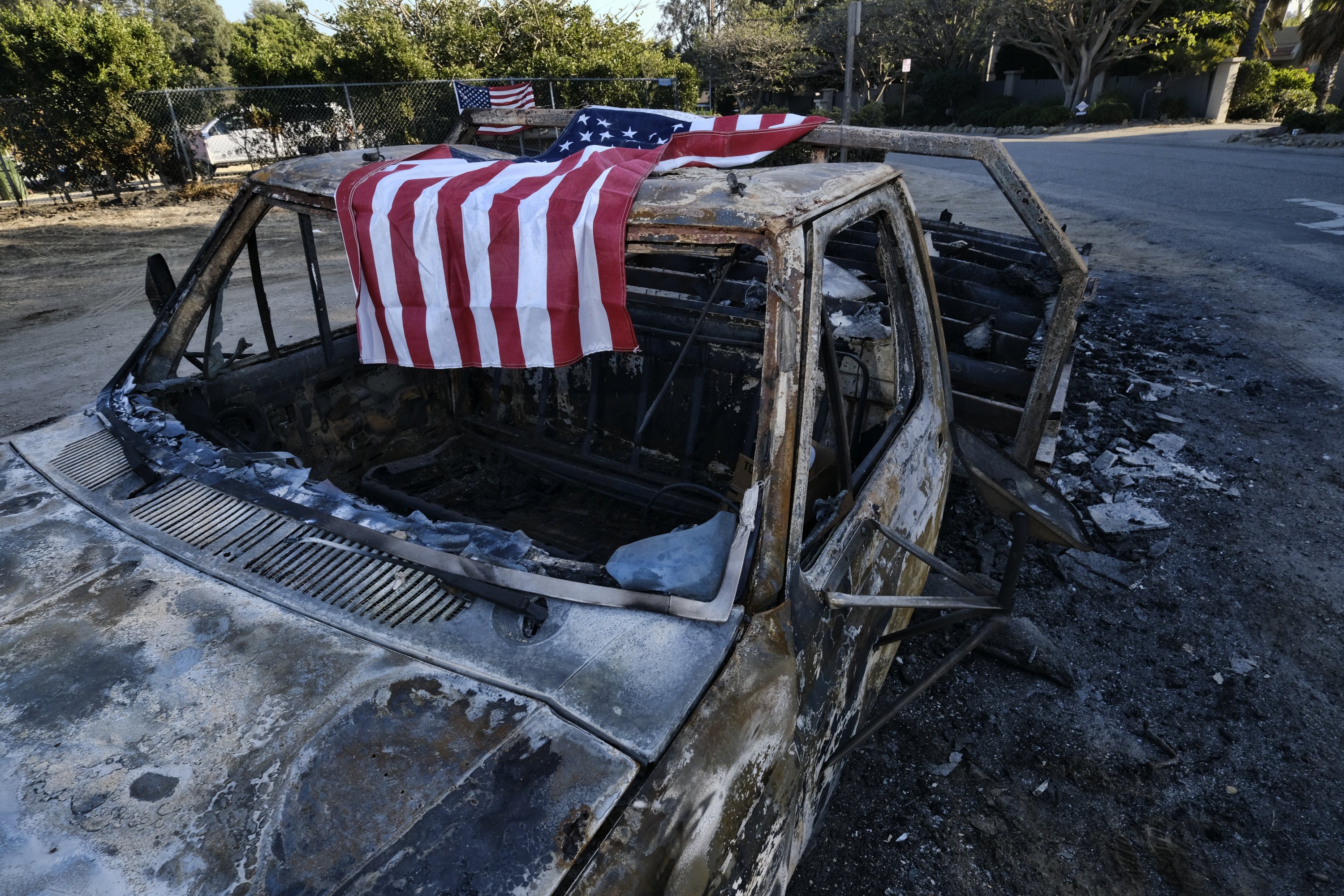 An Amercan flag is draped over a charred pick up truck in Malibu, California on November 9, 2018. (Photo: AP)

Firefighters risk their lives to protect others from flames and deadly hazards, and no amount of gratitude will ever be enough in appreciation for their services. With six weeks remaining on the calendar year, California wildfires have scorched over 1.6 million acres, surpassing the 1.3 million record from 2017.
On the morning of November 8, three wildfires got underway that would eventually engulf parts of California. By Monday morning, 48 were dead, with100 reported missing. Some 200,000 residents were evacuated. The populations of two towns, Calabasas in Southern California, and Paradise, located in the northern region, were completely cleared.
According to officials with the California Department of Fire and Forestry Protection (Cal-Fire) the state's firefighting costs have risen from $242 million in 2013 to $773 million in June this year.
Cal-Fire is responsible for 31 million of the state's 100 million acres. Due to state requirements and local budgets that have led to personnel shortages, the job has become more hazardous than it was a decade ago.
Less fire fighters means more work, which translates into overtime dollars. The L.A. Timesreported that in 2017 over 640 L.A. County Fire Department employees received at least $100,000 in overtime earnings. The same report also found two dozen firefighters had taken in more than $200,000 as a due to overtime hours worked.
In the US, fires are named after the places where they first originate. Three fires currently under the national spotlight are Woolsey and Hill Fires in Southern California, and Camp Fire, located in the state's northern region.
Camp Fire started Thursday morning on Camp Creek Road in Northern California's Butte County. The blaze ravaged the small town of Paradise, located at the foot of the Sierra Nevada mountains, forcing the city's entire population of 23,000 to evacuate.
On Monday, the fire had become the deadliest in state history, burning some 6,700 structures to the ground. The speed of the blaze was increased due to the seasonal Santa Ana winds with reported 60 mph gusts fanning the flames.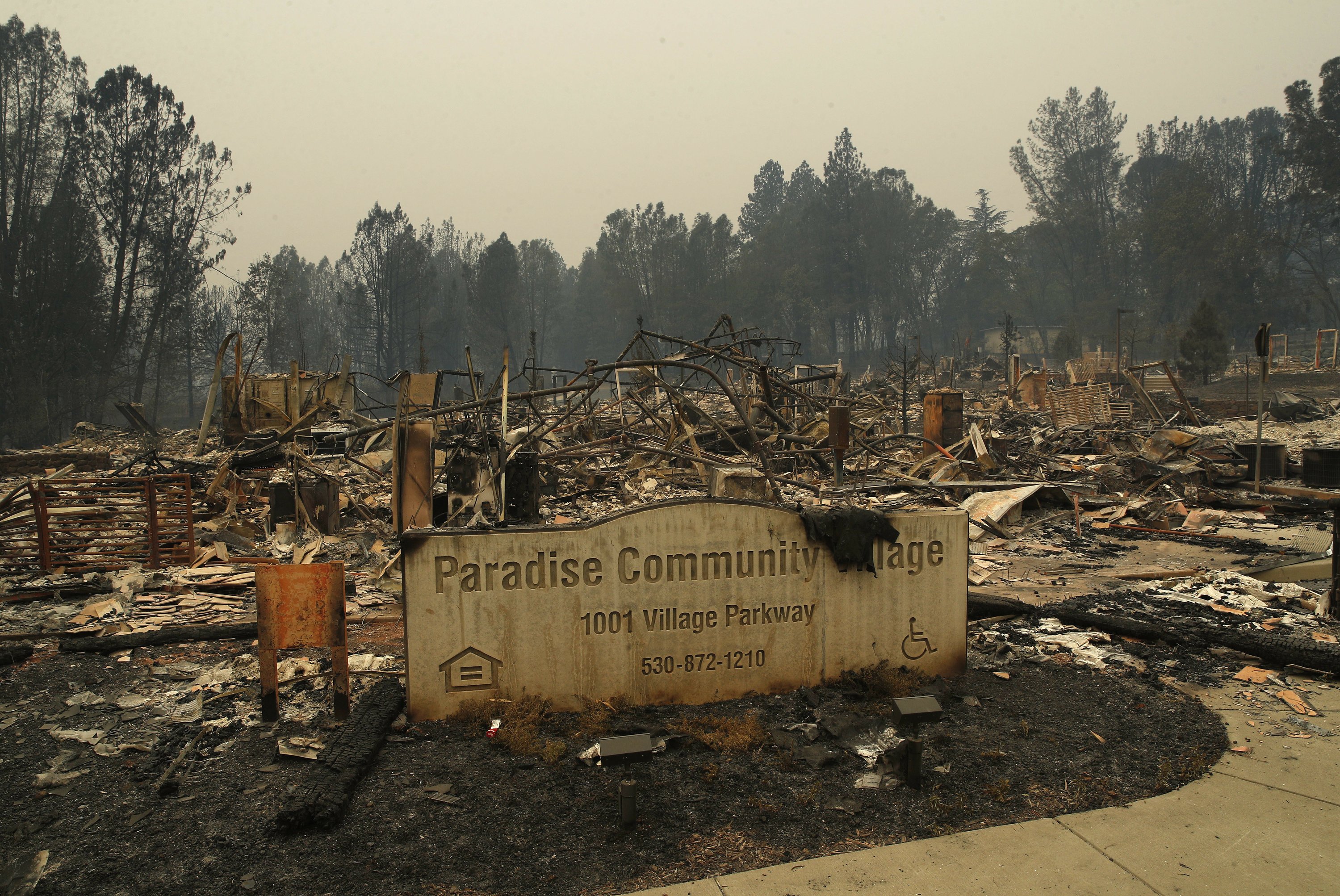 23,000 people were evacuted from Paradise, a small town in Norther California that was completely destroyed by Camp Fire, November 12, 2018. (Photo: AP)
The closest city to Paradise is Chico, roughly fifteen miles away. City officials there closed fires stations last year. A third-party consultant found the stations weren't worth the expense. The closures saved the town just over 1 million.
Overtime pay has soared throughout the state, but not in Paradise, where it has actually plummeted over 60 percent from 2012. However, firefighters did receive three new fire engines this spring.
It was only a year ago when Darren Read, the county's fire chief, told one reporter, "The number of fire engines that we have staffed right now are bare minimum, and we need to keep those engines staffed for our regional response," and later added, "At some point, the system's gotta give."
California has roughly 30,000 firefighters with one-third of its force made up of volunteers. Due to budget constraints and new state requirements, volunteer ranks are thinning. Some have speculated the downturn began when CFA partnered with Cal-Fire in efforts to increase rural protection.
Firefighting volunteers must adhere to Cal Fire stipulations that include increased training and other physical requirements that have forced hundreds to quit.
Volunteer fire stations have also been forced to close, and afterward the volunteers are offered paid positions by Cal Fire, and much faster than their replacements can be trained.
In 2004, regulations were passed that mandated volunteers had to meet the same OSHA standards as regular firefighters. Retirees were practically the only source as they were already qualified. Today, many volunteers are over the age of 65 and are "aging out' of their positions, with nobody coming up to replace them.
For over 70 years, California has relied on its prison population to help battle its wildfires. The program has been lauded as an innovative measure and has inspired other state to implement similar programs.
The prison volunteer program, strictly available for low-level prisoners, is 4,000 strong. The convicts earn anywhere between $2 a day or $1 an hour. Estimates claim their services save state taxpayers $100 million annually.
Cal-Fire provides training for the inmates, but sadly, can't hire them after they're released. In 2009, California passed a measure prohibiting convicted felons from obtaining an emergency medical technician (EMT) license, a prerequisite for all firefighters.
There are 57 air tanker pilot positions on the state's firefighting force. Currently, three slots remain open, and many pilots have quit this year.
Before the pilots are hired all applicants undergo two years of training. Chief Mike Mohler with Cal Fire said in one report that because the pilots have specific skill sets, "we can't just hire off the street."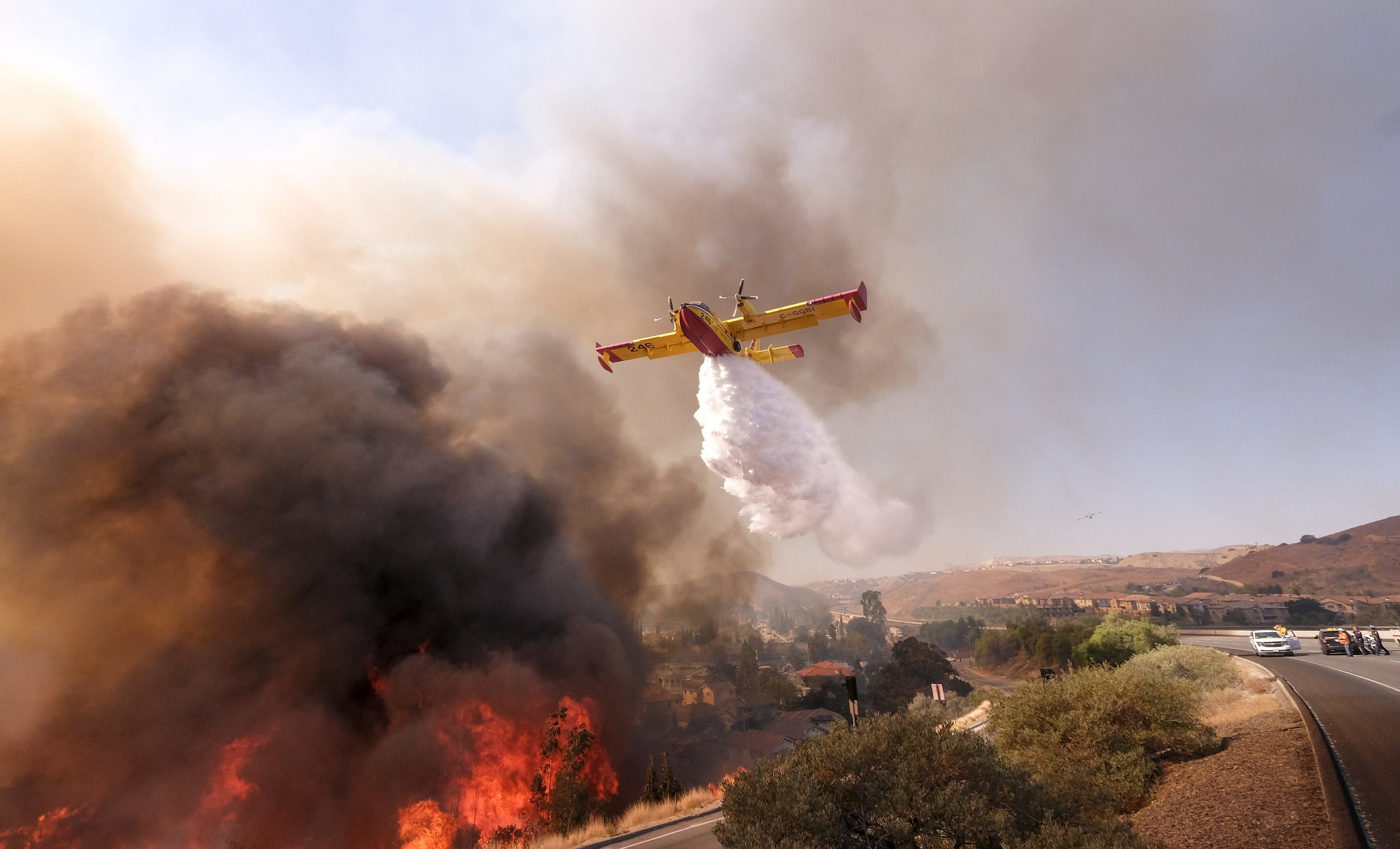 An air tanker drops water on a fire along the Ronald Reagan (118) Freeway in Simi Valley, California on Monday, November 11, 2018. (Photo: AP)
On November 10, US President Donald J. Trump criticized California's Forestry Service via Twitter. His timing was off and misguided. His attention should be directed at the Forestry Department in Washington D.C.
In March, Tony Tooke, then-head of the Service tendered his resignation after sexual misconduct allegations emerged. Vicki Christiansen replaced Tooke, becoming the second woman in US history to hold the department's top spot.
Also, in the spring, a TV report aired in the US featuring interviews with dozens of women who worked for the US Forest Service. They shared personal accounts of gender discrimination, bullying, sexual harassment, and assault by crew members and supervisors, and rape.
Due to the celebrities affected by the Woolsey Fire in Southern California, perhaps real issues regarding the state's fire protection services will be addressed. If an overhaul happens it needs to remain focused and carefully targeted. Firefighters have long played a significant role society takes for granted, an attitude also in need of review.