China's tariff response shows restrained rationality US bully unable to comprehend
Global Times
1533333167000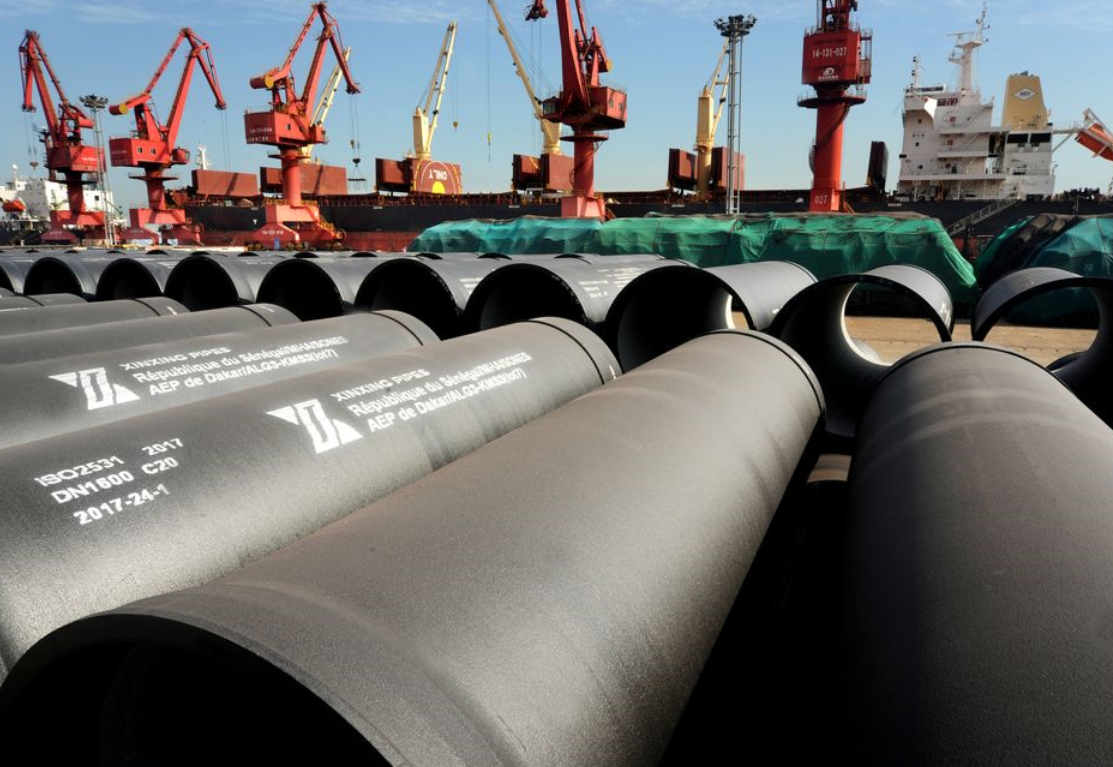 Steel pipes to be exported are seen at a port in Lianyungang, Jiangsu Province on May 31, 2018. (Reuters)
China's Ministry of Commerce announced new countermeasures in response to the additional tariffs on Chinese goods recently levied from Washington - targeting $60 billion worth of US imported products at four separate rates. The MOC's announcement is a firm counterattack as the US continues to threaten another 25 percent in tariffs on $200 billion in Chinese goods.
Based on the information released from the US, tariffs on the $200 billion will take effect on September 5 or later. The implementation date of China's proposed tariffs will be determined based on US reaction, and the trade war will then reach new heights.
The tariffs that have been issued from both sides reflect the current Sino-US trade structure. According to the US Department of Commerce, the US imported $505.47 billion ($434.3 billion according to China's statistics) worth of Chinese products in 2017, while China imported some $129.89 billion worth of US goods ($155.2 billion according to China's statistics). The numbers show that the US is slapping tariffs on high-value products, which can be interpreted as a form of blackmail against China.
China's countermeasures are rational, and the emphasis can be found in their quantitative and qualitative aspects. The notion of a trade war is not a game, and China will not rush to compete with US numbers. However, China's countermeasures show that it will not yield to the US pressure and it will ultimately defeat such bullying tactics.
China's recent counter-response is a restrained one, and the country is reserving the right and its ability to announce more against the US. China's countermeasures aim to minimize the detrimental impact on domestic production and living standards. China is balancing short-term gain with long-term interests, risk versus opportunity, along with core and marginal interests.
The tax rate countermeasures were made after listening to public opinion and thoroughly evaluating potential impacts. Public welfare, domestic business stamina, maintenance of the global industrial chain, and other factors were considered when deciding each countermeasure.
China's counterattack is powerful and effective. The carefully chosen tariffs on $60 billion in US goods will have a significant impact. If the US insists on fighting a trade war, China will fight back. Some companies and individuals in China and the US suffered losses during the beginning stages of the trade war.
As the trade war expands, complaints have surfaced from the US side, while indignation from the China side has revealed itself. For those caught in the middle, the real victims, they know Washington has been the provocateur since day one, and China has been fighting back.
The grievances that have surfaced in US society and the indignation from Chinese society are both manifestations of Washington's efforts. The trade war started when the US first began harming others which in turn hurt itself, and has lost support domestically and internationally. The US won't be able to hold on for too much longer.
The Chinese market has performed well this year. GDP is up 6.8 percent, and unemployment is at an all-time low. It is predicted the trade war will have a slight influence on the domestic market for the second half of the year, but nothing too significant. The country's 1.4 billion population continues to provide enormous market potential, and China's domestic foundation will always be able to rely on that to boost economic growth.
China does not want a trade war with the US, but it will fight to the end if Washington continues starting and resuming their tariff actions. If the US wants to return to the negotiating table, then a level of sincerity will need to reveal itself. For dialogue and negotiations to be effective, mutual respect that benefits both sides needs to be in place.
China has no intention of bullying foreign nations, but it will take necessary countermeasures to defend the country's dignity and the interests of its people. Washington will get a taste of China's firm determination if it does not stop acting recklessly.