Paukphaw friendship still going strong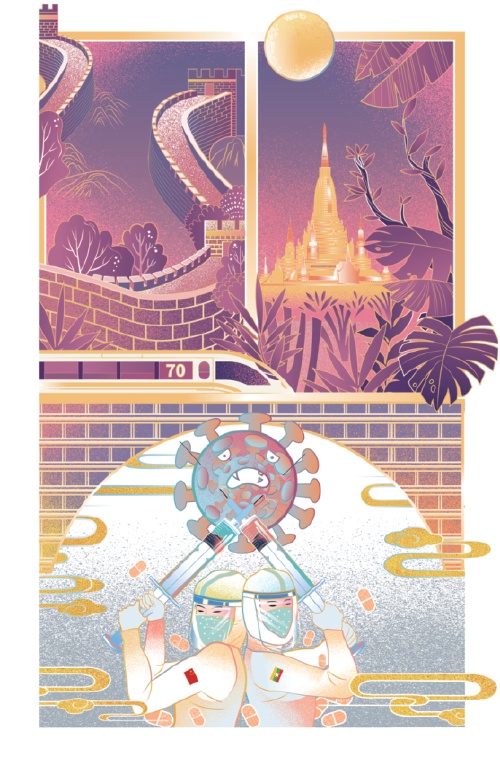 WU HEPING/CHINA DAILY
At the beginning of 2020, President Xi Jinping paid a historic visit to Myanmar, opening a new chapter of friendship between the two countries. The leaders of the two countries agreed to build a China-Myanmar community with a shared future, an important political consensus which embodies the special relationship of close interdependence and solidarity between China and Myanmar, and one that reflects the brotherliness of the two peoples who stand together in weal and woe.
Since the novel coronavirus outbreak, China and Myanmar have been working together to fight against the pandemic. We have demonstrated the Paukphaw friendship and the spirit of a community with a shared future between the two countries with real actions. Myanmar President U Win Myint and State Counselor Daw Aung San Suu Kyi sent messages of sympathy and support after China was engaged in its fight against the virus. The Myanmar government provided rice to China, the Myanmar Air Force delivered medical supplies to China, and all sectors of Myanmar society have actively donated resources and materials in various ways and expressed their support for the Chinese government and people.
Afterward, China also provided assistance to Myanmar in its fight against the virus. The Chinese government has provided four batches of aid materials to Myanmar. The Chinese military, enterprises and social organizations have donated anti-pandemic materials, making contributions to solving the shortage of medical supplies in Myanmar. The Chinese government and military have sent three teams of medical experts to Myanmar and provided Myanmar with laboratory testing equipment, including nucleic acid testing equipment. The Chinese medical teams have trained a large number of local anti-pandemic medical personnel, which has effectively enhanced Myanmar's pandemic prevention and control capacity.
In late May, at a critical moment in the fight against COVID-19 for both countries, President Xi and President U Win Myint talked on the phone and agreed the two countries would work together to fight against the virus, steadily carry forward bilateral exchanges and cooperation in various fields and push in positive progress of the China-Myanmar Economic Corridor project. So far, China has made great progress in pandemic prevention and control, and the spread of the pandemic in Myanmar has also been effectively controlled.
This year marks the 70th anniversary of the establishment of diplomatic ties between China and Myanmar. On June 8, the leaders of the two countries exchanged congratulatory messages and agreed to actively build a China-Myanmar community with a shared future.
The Chinese embassy in Myanmar has actively implemented the consensus reached by the leaders of the two countries. We have carried out a lot of work to ensure the unimpeded border trade and alleviate the shortage of raw materials. The two countries have established a "fast track" for necessary personnel exchanges to facilitate the return to work of many personnel for important projects, so as to boost the development of Myanmar's economy and people's livelihoods.
The world today is undergoing profound changes unseen in a century, and China-Myanmar relations are at a crucial juncture. The two sides will continue to maintain close high-level exchanges, consolidate political mutual trust, strengthen strategic communication and deepen experience sharing in governance.
At present, China is in the last mile of its long endeavor to eliminate poverty and build a moderately prosperous society in all respects. While Myanmar, on its part, is actively promoting national transformation by developing its economy and improving people's livelihoods.
The two countries will strengthen exchanges on their development strategies, working together to jointly pursue the Belt and Road cooperation and build the China-Myanmar Economic Corridor. Extra efforts will be made to advance the Kyaukpyu Special Economic Zone, China-Myanmar Border Economic Cooperation Zone and New Yangon City project. Pragmatic cooperation will be deepened in sectors relating to people's livelihoods such as electric power, transportation, agriculture and finance. Our high-quality and sustainable mutual development, which is realized through practical cooperation, will bring more tangible benefits to the two peoples and help realize people's aspirations for a better life.
With the in-depth development of China-Myanmar relations, people-to-people exchanges have become increasingly active. Bilateral exchanges and cooperation in culture, education, media, film and television have become popular support for further consolidating China-Myanmar friendship. Recently, Chinese films, TV dramas and cultural programs have been broadcast on Myanmar's TV and online platforms, which have once again set off a "China fever". This year, the two sides will hold a series of activities celebrating the 70th anniversary of the establishment of diplomatic ties and jointly hold the China-Myanmar Year of Culture and Tourism to expand people-to-people exchanges.
The two countries have joined hands to uphold fairness and justice and peace and stability. They will continue to strengthen their coordination within the multilateral frameworks of the United Nations, the China-ASEAN cooperation and the Lancang-Mekong Cooperation. We will continue to support each other on issues related to each country's core interests and major concerns and jointly promote the construction of a new international political and economic order that is more just and reasonable.
China-Myanmar friendship will not change in the new era, even though the international environment is changing all the time. It is believed that with the joint efforts of both sides, the mutually beneficial cooperation will deliver more benefits to the people, and inject vigor and vitality into bilateral relations. The concept of a China-Myanmar community with a shared future will gain greater popularity and enjoy brighter prospect.
The author is the Chinese ambassador to Myanmar. The author contributed this article to China Watch, a think tank powered by China Daily. The views do not necessarily reflect those of China Daily.