Why is China a preferred forum for foreign companies in IP disputes?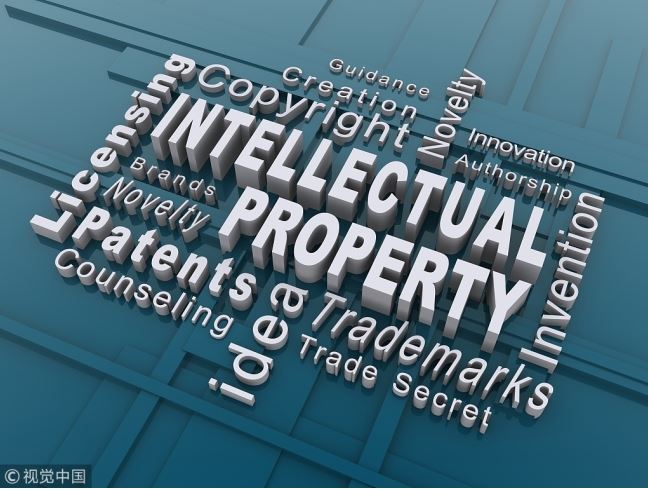 Intellectual Property. (File Photo: VCG)
Why is China a preferred forum for foreign companies in IP disputes?
As the date gets closer and closer for the imposition of tariffs on $34 billion imported Chinese goods by the United States, the world's largest and most damaging trade war is looming large. One of the accusations from the White House has been that there's a lack of strong protection of intellectual property rights for U.S. companies on the Chinese side. But does the reality match the U.S. allegations?
A report carried by ranconteur.net notes, "a reputation for fairness is even making China a preferred arbitrator for patent litigation between non-Chinese companies." The report notes that in 2015, 65 foreign companies filed complaints against other foreign companies in Beijing's IP court.
A piece of analysis by The Diplomat points out, "between 2006 and 2011, foreign companies brought over 10 percent of patent infringement cases in China and won over 70 percent of those cases. Today, win rates average around 80 percent and injunction rates average around 98 percent."
Song Xiaoming, Chief Judge of the Intellectual Property Rights Tribunal in the Chinese Supreme People's Court, noted this April the proportion of IP cases involving overseas interests has been on the rise annually. "Of the foreign-related cases heard by the Beijing IP Court, which account for 30 percent of the total, a large percentage of them are between foreign companies. Such a fact indicates a willingness of foreign companies to come to China to litigate when it comes to disputes over patent and trademarks."
Why do foreign companies select China as the place for their IP litigation? Besides a reputation for fairness, the relatively short period of time it takes to process the case is another advantage Chinese courts enjoy. For example, the average time for the Beijing IP Court to handle a case is four months. Compare that to 18 months in European Union countries and 29 months in the U.S..
The reality that more and more international companies come to China to settle their IP disputes reflects recognition and trust in the Chinese IPR protection system. Back in the 1980s, China published its Trademark Law, Patent Law and Copyright Law, then went on to review and revise related laws and regulations to meet the needs of the rapid development of the country. The amended Trademark Law sets up a system of punitive damages. The amended Anti-Unfair Competition Law improves the protection of trade secrets. Chinese authorities are currently working on amending the Patent Law and the Copyright Law. Since China's accession to the World Trade Organization in 2001, China has joined nearly all the international conventions on IPR protection, establishing a comprehensive protection system covering areas such as copyright, trademark, patent, business secrets, geographical indications, new varieties of plants and integrated circuit layout designs.
China's courts have taken on the dominant role in IPR protection. The Supreme People's Court established its Intellectual Property Rights Division to oversee and process national cases. There are now three IPR courts in Beijing, Shanghai and Guangzhou. Special judicial organs have also been set up at 15 intermediate courts in cities including Nanjing, Suzhou, Wuhan, Chengdu and Hefei.
Speaking at a National Financial Work Conference last July, Chinese President Xi Jinping stressed that China "must step up efforts to punish illegal infringement of intellectual property rights and force violators to pay a heavy price." China's President has been clear that strengthening IPR protection is not only the centerpiece for improving the intellectual property rights protection system, but also provides the biggest boost to the competitiveness of the Chinese economy. Addressing business leaders from around the world at the Bo'ao Forum in April, Xi Jinping pointed out that China encourages normal technological exchanges and cooperation between Chinese and foreign enterprises, as well as takes steps to protect the lawful IPR owned by foreign firms in China. "China hopes foreign governments will also improve protection of Chinese IPR," said the president.
According to the recently-published White Paper on China and the WTO, since 2001, intellectual property royalties paid by China to foreign right holders has registered annual growth of 17 percent, reaching 28.6 billion dollars in 2017. Nicholas Lardy of the Peterson Institute of International Economics noted, "China probably ranks second globally in the magnitude of licensing fees paid for technology used within national borders." Stats from the World Intellectual Property Organization show 51,000 patent applications were filed from China through the Patent Cooperation Treaty and accepted in 2017, second only to the U.S.. Such a number helps understand why President Xi Jinping is also asking foreign governments to enforce the protection of Chinese IPR.
Therefore, a simple conclusion can be drawn that argument of the U.S. government launching its trade war against China under the guise of IPR protection is not well founded. And based on U.S. officials' open speeches, people have reasons to believe such a move is largely aiming to contain the technological progress and economic growth of China more than the so-called IPR protection. China doesn't have any desire to get into a trade war, but isn't going to back down if one is forced on it. Beijing is poised to make sacrifices to fight back in a tit-for-tat manner. At the same time, China will continue its IPR protection and not to abandon its aspirations to advance in science and technology.