Class of 2020 faced unusual hardships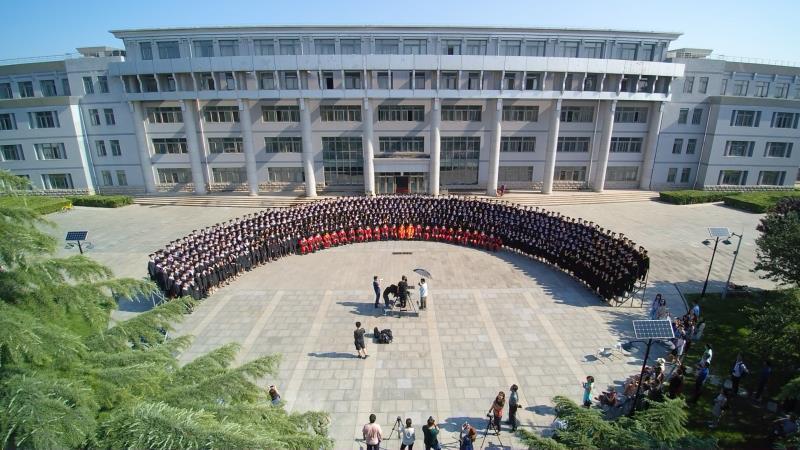 Graduates take a group photo at the University of International Relations in Beijing. (Photo: China Daily)
There is a big granite sign in front of my school's front gate. Engraved in both English and Chinese, it reads: The University of International Relations.
Late June in Beijing is very hot, but around that time you could always see a group of graduates standing atop the monument taking photos, cheering and throwing their graduation caps high into the air.
I frequently wondered if climbing onto it would be allowed, but the security guards there just turned a blind eye to an informal tradition.
But not this year.
On May 13, the Beijing authorities announced college graduates were allowed to come back starting June 6. We have 700 graduates, and they would come back in three batches, with each staying one week. Sadly, there would be no commencement ceremony.
The first batch came back on June 8. On June 11, Beijing reported its first local confirmed case. On June 15, total cases were up to 499, with a death toll of 9. The area where my school is located was announced as a medium-risk area. While the first batch of graduates had left two days prior, the second batch was to arrive that day.
There was a cloud of shock and fear hanging over the campus. Many students cancelled their trips immediately. Some arrived, but stayed just a few hours before rushing back to the airport or railway station.
On June 17, Beijing authorities announced "people related to high- and medium-risk areas are not allowed to leave Beijing". A student named Luyi called me. "I have bought a ticket for tomorrow," she said. "If I am not allowed to leave Beijing and the school forces me to leave, what can I do?"
I could hear she was crying. "If you are not allowed to leave Beijing, absolutely we will let you stay," I said. "This is your home!"
The next day, she left school early in the morning. At 10:51, she texted me: "I passed, and am on board." At 13:55, another one: "Arrived. I will start a 14-day self-quarantine at home. Thank you!" What a relief.
On June 18, the government announced college graduates were not allowed to come back. 3.5 million people were identified as requiring testing, including all people in high- and medium-risk areas. Daily testing capacity reached up to 400,000, and the government covered the costs of the nucleic acid tests.
On June 19, all people on campus lined up for the test. If anyone didn't show, staff from the neighborhood committee would try their best to find him or her. "It is not only about your health, but also about all others." It sounded like a cliché, but it was the truth.
About 4,000 people were tested. The 30-person testing team worked until 9 pm after already having worked at another nearby compound for four hours in the morning; they would have to continue their work in their labs late that night.
Inside the school gate, there is still a huge billboard welcoming graduates, and on it is a Chinese poetic couplet, meaning: "Coming back safely is the sincere wish of the teachers, sailing away successfully is the best blessing of the school."
Some graduates didn't come back. What about their luggage? The half that had come back were encouraged to help those who couldn't. Still, 100 more graduates' belongings needed to be handled. About 20 teachers did what wascalled "livestreamed packing". We worked hard. I noticed the T-shirt of Mr. Wei from the Office of Student Affairs was wet with sweat.
On June 21, I entered a room which smelled musty. I asked a student on WeChat: "Let me know what you want to keep, and what to abandon."
"I got a nice job already," he said. "I want to say goodbye to all books of English tests, please throw them away. But please take good care of my guitar."
On the same day, Beijing announced the last medium-risk area, Huaxiang, was degraded to low-risk. Fortunately, no one from my school was infected, but most of the world's class of 2020 had graduated without a commencement ceremony.
This is a difficult period, but hard times make strong men and women. Our graduates learned how to go through the graduation process and search for internships, jobs and interviews online. Some learned how to cook, and many worked as volunteers at gates of residential compounds. Most students didn't leave home and avoided social activities, which also makes a contribution to society.
My department has 60 graduates this year, and their future seems promising. Some of them are going to graduate school at Chinese or foreign universities, some will work in Xinhua News Agency and People's Daily or companies like ByteDance, and some will be civil servants. Unfortunately, some are still looking for jobs or failed the postgraduate entrance examination, but they will "fight a second war". I wish them luck.
On August 21, the Chinese government announced the full reopening of all schools for the coming semester. For graduates next year, I firmly believe they will have a wonderful commencement ceremony. My school is considering inviting the class of 2020 to come back next graduation season. We made a virtual graduation photo this year, and it looked pretty good, but we still need a real one.
Luyi is a graduate student at Hong Kong University now, and she has already started taking classes online. Hopefully the pandemic there will be brought under control soon, so that she can really go there as soon as possible.
The writer is an associate professor and chairman of the culture and communications department at the University of International Relations in Beijing.