Digital economy a new growth engine
People's Daily
1591329577000
The digital economy now accounts for one-third of China's total economic aggregate. And its further development will help the country seize the opportunities created by the Fourth Industrial Revolution and gain comparative advantages in international competition.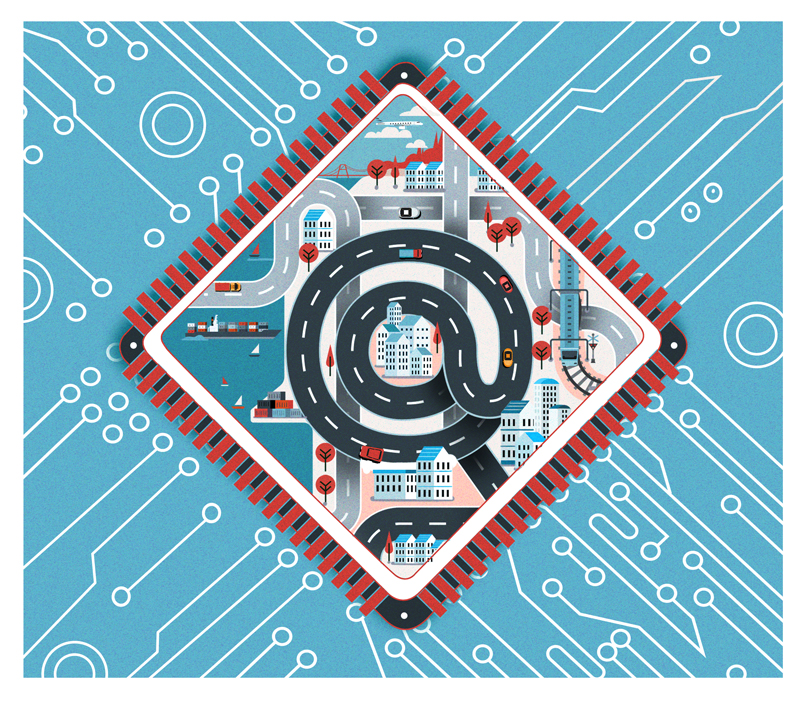 Illustion by SHI YU/CHINA DAILY
The global economy is undergoing restructuring, and there is a broad international consensus that emerging digital technologies can foster new economic growth points and create new competitive advantages. Given the advantage of a large-scale market, a complete industrial system, an innovation-led internet ecosystem and several other positive factors, developing the digital economy is an inevitable choice for China to adapt to and lead the global economic development trend.
Digital economy vital to supply-side reform
The development of the digital economy will accelerate China's supply-side structural reform, which in turn will facilitate the replacement of old growth drivers with new ones, and create a new engine for its high-quality development. The digital economy involves digital industrialization and industrial digitalization. The extensive use of new generation information technology has led to the emergence of new organizations, and new models of businesses, creating more and more economic growth points. With the digital transformation and intelligent upgrading of industries, the new trend of integrated development has accumulated fresh vigor.
The digital economy's development can help China better meet people's growing needs for a better life. The sales figures of many Chinese e-commerce companies during online shopping festivals have reached new highs with each passing year, which shows the rapid development of the digital economy has not only enriched people's lives, but also helped consumption upgrading. In 2019, China's online retail sales added up to 10.6 trillion yuan ($1.48 trillion), accounting for 20.7 percent of the country's total retail sales of consumer goods.
The development of the digital economy will also help hedge the uncertainty caused by the novel coronavirus outbreak, and create a macroeconomic "tool" to stabilize China's economic fundamentals, generate more jobs, help ease market players' hardships and revive the industrial and supply chains.
The pre-outbreak economic downturn had already created huge employment pressure, and the epidemic has made it all the more urgent for China to take measures to ease this pressure. A stable job market is vital to people's well-being and a manifestation of China's economic resilience-while promoting steady economic growth is mainly aimed at securing employment. And the fact that the digital economy has larger employment capacity makes it very important.
Large numbers of flexible jobs
According to official data, the digital economy created 191 million jobs in China in 2018-accounting for nearly 25 percent of the total employment generated that year-an increase of 11.5 percent year-on-year, which was significantly higher than the country's total employment growth rate. Some large internet enterprises have already built a number of platforms to promote digital technology-based innovation, which will add more vitality to entrepreneurship and create a large number of flexible jobs.
The digital economy has also fostered many new forms of businesses and business opportunities, while many digital economy platforms have provided infrastructure for employment and entrepreneurship, giving people more employment choices.
To overcome the difficulties created by the outbreak and turn the crisis into an opportunity, many enterprises have accelerated their digital transformation and intelligent upgrading. Enterprises that have achieved digital transformation enjoy a big advantage in resuming production and realizing timely transition in production.
Digital transformation and intelligent upgrading have also helped many small and medium-sized enterprises to embark on the path of "specialization and innovation", which has significantly increased their risk-resistance capability, and ensured the stability of the country's industrial and supply chains.
Digital technology can also be deeply integrated with financial services, fiscal and tax support systems, so as to more effectively help market players to overcome difficulties.
Intelligent manufacturing and industrial internet
Thanks to the development of digital economy and the new industrial revolution, many countries have made the important strategic choice of developing intelligent manufacturing and industrial internet. And China's transitioning from consumption-focused internet to industry-focused internet, shifting from the consumer sector to the industrial sector.
As a new application model that integrates new generation information and communications technology (ICT) with the industrial economy, industrial internet is an important innovation-driven development strategy and a cornerstone of the digital economy. The profound changes in the manufacturing industry model and enterprises brought about by industrial internet will promote China's industrial transformation and upgrading, and facilitate its march toward the middle-to high-end of the global value chain.
To better develop industrial internet, there should be smooth coordination between the government and the market, with the market playing a decisive role in resource allocation. And laws and regulations on intellectual property rights, data transfer and security, and policy incentives should be improved to create a favorable business environment.
Safeguarding cybersecurity, cultivating more talents
While developing the digital economy, it's also important to safeguard cyberspace security. So China needs to increase investment in order to strengthen cybersecurity, ensure safety of big data, launch a publicity campaign to reinforce the sense of security among governments at different levels and enterprises, and recruit more talents in the cybersecurity sector.
In the era of digital economy, recruiting high-level talents, as well as qualified and skilled people, especially those with expertise in specific areas, is very important. Universities, enterprises and research institutions need to nurture more ICT talents with multiple skills. School and college syllabuses should be designed to cultivate the passion for science and innovation among students. And measures should be taken to provide more training for workers so they can meet the demands of the emerging sectors.
Besides, international cooperation is key to consolidating the global supply chain, and to lead economic globalization, digital economy needs to play a bigger role in integrating labor, capital and technology, for which multilateral communication, international cooperation in research, and global digital economy governance will be very important.
The author is vice-chairman of the National Committee of the Chinese People's Political Consultative Conference. The article is based on a commentary first published in Outlook magazine. The views don't necessarily reflect those of China Daily.