Debunking foreign accusations of China's unemployment data
Global Times
1588288373000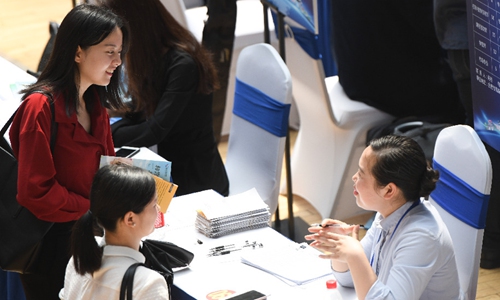 Job seekers communicate with an employer during a job fair at Anhui Jianzhu University in Hefei, east China's Anhui Province, April 19, 2019. More than 4,200 job vacancies were offered by 126 employers at the job fair. (Photo: Xinhua)
Some Western media have long been preoccupied with the opinion that China has fabricated its official unemployment data, an impression that is ungrounded and prejudicial, because not only has China made constant efforts to improve its statistical methods, but its current model of unemployment survey is mostly in line with international standards and can generally reflect the country's employment status, found a Global Times investigation.

The investigation, which included interviews with government officials, statistical experts and workers, also showed that beyond an inherent bias toward China, foreign media also lacks a proper understanding of the unique and complex conditions in China and the efforts by officials to improve methods to reflect changes in the country's evolving labor market.

Such a judgement, that China's official unemployment data is "fake" and much lower than reality, has existed for a long time in Western media but was reignited recently after many found China's newly released March unemployment rate was lower than their expectations, suggesting a better-than-expected job market and general economy in China.

According to data released by the National Bureau of Statistics on April 17, the surveyed unemployment rate in urban areas of China dropped to 5.9 percent in March from a high of 6.2 percent in February.

The country's registered urban unemployment rate stood at 3.66 percent by the end of the first quarter, revealed Lu Aihong, a spokesperson from the Ministry of Human Resources and Social Security (MOHRSS) on April 21.

In comparison, the US national unemployment rate was recorded at 4.5 percent in March, according to the US Bureau of Labor Statistics.

Two sets of calculations

Foreign media is doubting the truth of China's unemployment data mostly based on the conclusion that Chinese migrant workers unable to find jobs outside of their home provinces are not included in China's statistical scope. They also pointed out that China's registered urban unemployment rate was not subjective as many unemployed workers often skip registering.

Based on those "reasons," they jump to the conclusion that China's unemployment rate should be much higher than what has been officially stated. The Financial Times, for example, recently noted that China's real jobless population could be "more than double" the official number.

Experts said that some of the problems pointed out by overseas media did exist in China's past statistical methods, but they failed to follow up with China's reforms in statistical investigations, and they did not take into account the complexities and the distinctive characteristics of China's job market.

China has been using a registering method to calculate its unemployment rate for years. The rate is a percentage calculated by dividing the number of unemployed individuals by the total labor force (employed and unemployed). The number of unemployed is mostly based on the number of people who report their unemployed status to local government institutions (in exchange for unemployment benefits).

However, to be classified as the unemployed, the individuals must meet a set of criteria including holding a local urban hukou(household registration). This excludes the large population of migrant workers who usually don't have an urban hukou in the registered region but are vulnerable to job changes.

Another problem with the method is that many unemployed people don't voluntarily report their unemployed status to officials. The Global Times spoke with three people who had once concealed their unemployed status from the government, and they cited reasons such as "not knowing how to register" and "the unemployment benefit sum not being attractive enough for them to think about registering."

However, in 2018, China adopted a new statistical method to calculate its unemployment rate based on a nationwide survey. The survey is carried out on urban or rural residents regardless of their hukou.

Not every town and village is covered in the survey samples, but for migrant workers, as long as they reside in a surveyed region for more than six months, they can be included in the survey samples, a staff member at the National Bureau of Statistics told the Global Times on condition of anonymity.

Liu Dawei, a professor at the East China Normal University who used to be a surveyor, said that employment surveys in China's counties can cover a great percentage of migrant workers with rural hukou.

Currently, the two sets of statistical methods are both in use, with the surveyed unemployment rate released by the NBS on a monthly basis, and the registered unemployment rate released by the MOHRSS on a quarterly basis.

Ning Jizhe, head of China's National Bureau of Statistics, said that the two statistical methods to calculate the unemployment rate play different roles, with the surveyed rate capable of reflecting China's macroeconomic situation and labor market comprehensively and accurately, while the registered rate is of great use in helping the government design unemployment policies and provide targeted unemployment services.

Ye Qing, deputy director of the Statistics Bureau of Central China's Hubei, told the Global Times that China is constantly making reforms in its unemployment statistical methods, from starting to publish unemployment data on a regular basis to using the more accurate surveyed statistical method. He also predicted that the registered employment rate will gradually be phased out in China.

Best method so far

Some overseas media also doubt the reliability of China's employment surveys without detailing their reasons for such doubts. Experts and officials interviewed by the Global Times refuted such accusations, saying China's surveyed

unemployment rate is the "most reliable" job data in China so far, though it might not be 100 percent inclusive.

Zheng Bingwen, director of the Center for International Social Security Studies under the Chinese Academy of Social Sciences (CASS), told the Global Times that the NBS has two large surveying teams - urban and rural surveying teams that survey Chinese residents nationwide based on random sampling, with various methods including questionnaires and household surveys.

The survey covers all provinces and cities in China as well as 1,800 domestic counties. A total of 120,000 households are surveyed every month, and samples are rotated monthly by 8 percent, Liu said.

In these surveys, the unemployment criteria are very close, though not totally the same, as overseas standards, Liu noted. For example, Chinese individuals must not work for three months to be classified as unemployed, while the standard is "four weeks without a job" in the UK. Chinese people in villages are not counted in the surveys.

"From passively waiting for people to report to actively surveying their situation shows China is not afraid of sharing its genuine economic data with the world. It also reflects the government's confidence in the economy," Liu said.

Liu also said that China's current surveying method is in line with international practices, and with the large sampling, it is of much higher credibility than the registered rate.

"China is always working to be closer and closer to the most precise data, and I believe the methods will evolve further in the future," he said.

Zheng also said that China is willing to perfect its unemployment rate statistical methods, and that the surveyed unemployment rate is the best it can do for the time being and within the scientific scope.

Complexities in China

Experts and officials also noted that given the complexities of China's economy and some distinctive characteristics of China's job market, it is not necessary for China to totally copy overseas statistical methods.

For example, many Chinese farmers still have incomes and land even if they lose a job elsewhere, so unemployment does not necessarily mean people can't sustain themselves anymore, the aforementioned NBS official said.

Liu also noted that many foreigners don't have much understanding of China's job market. For example, China provides many opportunities for "informal" jobs, such as opening online stores or becoming a courier. People who don't have a formal job might be classified as unemployed by overseas standards, but in reality they can live on piecemeal income quite well in China, so it's inappropriate to include them in the unemployed category.

Overseas media doubts about the truth of China's unemployment data also came after different images emerged of the job markets in China and the US - with many in the US reportedly rushing to collect unemployment benefits and the Chinese job market, despite the economic slowdown, not showing overly intense fluctuations.

This might also reflect the cultural differences in China and the US, with Chinese people tending to deposit money while US residents often spend future money by using credit cards, so that they rely more on steady incomes, experts said.

The MOHRSS recently rolled out a slew of measures to boost China's job market, such as rolling out around 10 billion yuan in job subsidies in the first quarter and guiding state-owned companies to broaden their recruitment scale.