China-Sri Lanka ties: What will happen after the election?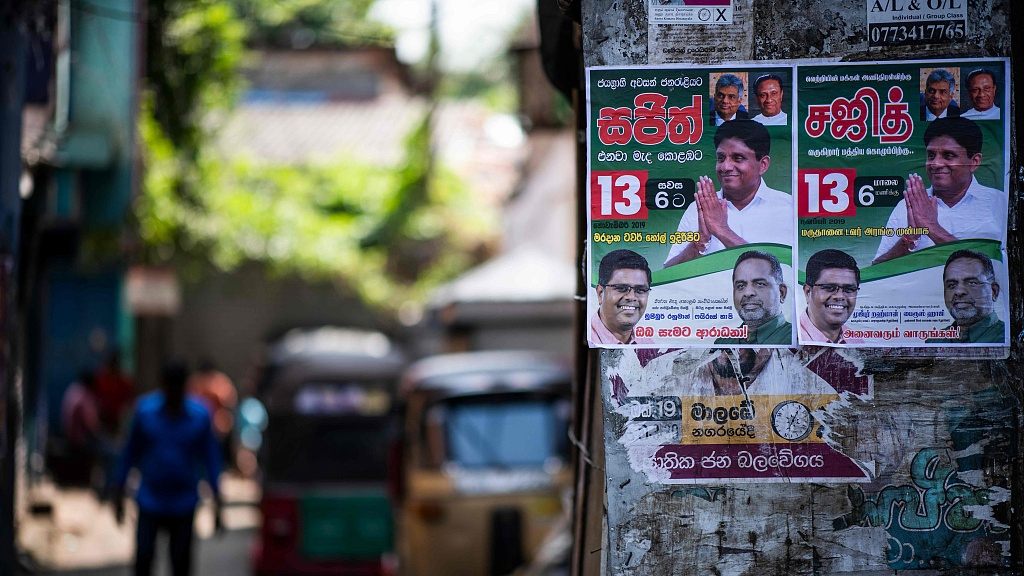 An electoral poster in Colombo, Sri Lanka, November 12, 2019. (Photo: VCG)
Sri Lanka is to hold its eighth presidential election on November 16, 2019. Voters across the island will decide who would be their next president, the head of state, and also the commander-in-chief of the armed forces.
Main contenders include Gotabaya Rajapaksa, brother of former president Mahinda Rajapaksa, and Sajith Premadasa from the incumbent United National Party (UNP).
As former Secretary to the Ministry of Defense during his brother's presidency, Gotabaya played a key role in defeating the Tamil militant organization LTTE and was acclaimed "war hero" by his supporters.
When the Easter bombings shook the nation this April, Gotabaya harshly criticized the government of "failing to protect its people" and promised to restore national security. His strongman style, emphasis on security issues and tough stance on ethnic policies have assured his followers.
With strong mobilization capability of the Sri Lanka Podujana Peramuna (SLPP), and support from a vast majority of Sinhalese voters, Gotabaya seems to be in an advantageous position this election. The anti-incumbent sentiment, which is running-high across Sri Lankan society, also contributes to his popularity.
Non-aligned Foreign Policy
In his manifesto, Gotabaya said he would adopt a strictly non-aligned foreign policy if elected. According to his public statements, this non-alliance stance contains two core elements.
One emphasizes on national sovereignty and mutual benefit. According to Rambukwella, Gotabaya's official media spokesperson, Gotabaya would not enter into agreements with any foreign governments unless the agreements are deemed mutually beneficial.
They are also planning to review all bilateral trade agreements signed in the past five years.
The other is to "maintain relations with all superpowers of the world." "We will be talking to everyone of them interested in terms of development, financing and foreign direct investment (FDI). We will not shut them out purely over alliance," said Rambukwella.
For a small island country like Sri Lanka, it is a better choice to achieve equilibrium among major external powers.
To restore ties with China
Gotabaya has pledged to restore relations with China if he gets elected. This is of course an important part of his non-alliance policy. Also, it shows Gotabaya's full understanding of the importance of the bilateral friendship between China and Sri Lanka.
To begin with, Sri Lanka and China are old friends. Historical and cultural ties between the two countries could date back to hundreds of years ago. In 1952, the two countries signed the Rubber-Rice Pact and this was the beginning of the two newly-established states helping each other out through economic cooperation.
Sri Lanka is among the first countries to establish diplomatic relations with China. During the 26 years of Sri Lankan civil unrest, it was China that provided financial resources as well as diplomatic support to Sri Lanka while Western countries were busy sanctioning it.
In 2013, Sri Lanka and China decided to elevate bilateral relations to strategic partnership.
However, there were some fluctuations too. During the election in 2015, the opposition party at that time accused Chinese investments of harming Sri Lankan interests. Later, the then newly elected president Sirisena suspended all Chinese investment projects for a short period.
Some reports on Western media even claimed China had been constructing "debt trap" to "colonize" Sri Lanka. However, if we observe more closely, China has never been the cause of Sri Lanka's debt problems.
According to IMF, the top three lenders to Sri Lankan central government include the Asian Development Bank (ADB), World Bank and Japan. About 12.7 percent of Sri Lankan government's external debt is owed to ADB, 10 percent to Japan and 9.5 percent to World Bank.
The external debt it owes to China accounts for 9.1 percent of the total debt, and most of the debt is in the form of concessional loans.
It is true that China has become one of the main creditors of Sri Lanka in the past years. Most Chinese loans go into infrastructure building, including roads, railways, ports and electricity plants.
These projects are of extreme importance to a country's production capacity. In other words, these investments would produce long-lasting returns for Sri Lankan people and drive the economy to develop faster.
China is most willing to open its market to Sri Lanka. It also participated in the China International Import Expo (CIIE) in 2018 and 2019. Sri Lankan products including black tea, gems and jewelry are well-received by Chinese importers.
In the future, China would continue to open its economy and promote further cooperation with Sri Lanka.