Beyond Beijing beltway lies China's untapped consumption potential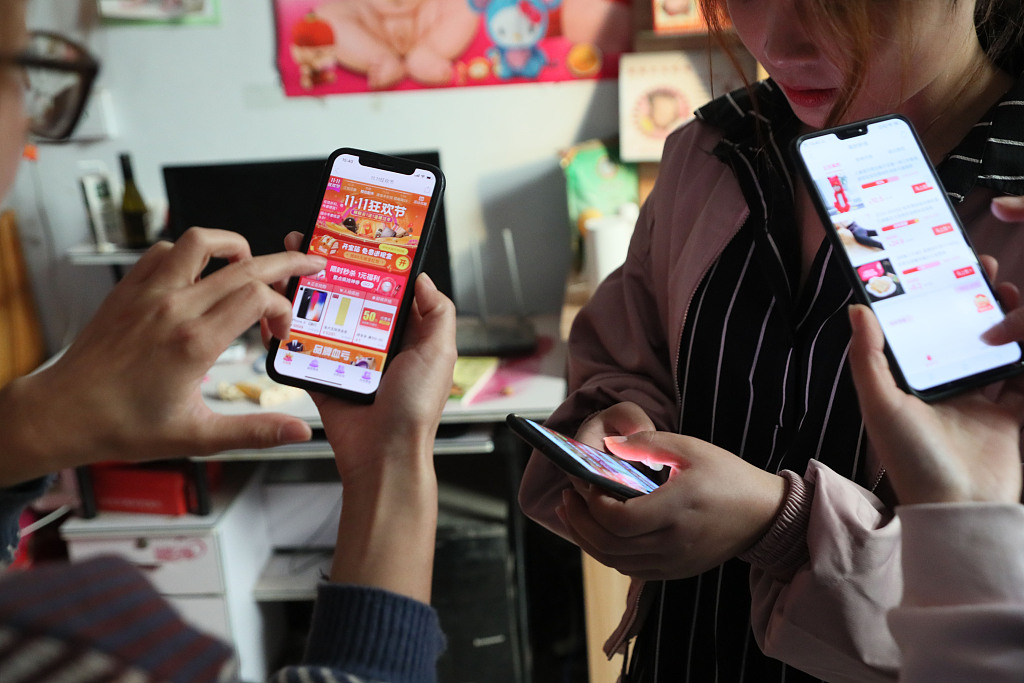 Consumers looking for items to buy on the Pinduoduo app. (Photo: VCG)
Eighteen seconds, 400 sales, 250,000 bids – that is how fast cars are sold on an e-commerce site in China.
China's group-buying on e-commerce site Pinduoduo, the third-largest e-commerce site behind Taobao and JD.com, tried its first bid to sell cars online in May this year. The first ten customers who paid 999 yuan (145 U.S. dollars) in advance as collateral, could receive a bonus of 20,000 yuan (2,909 U.S. dollars) from the site and get a steep 34 percent discount. 250,000 placed their orders and in 18 seconds, 400 cars were sold.
Among the 250,000 orders, 75 percent came not from the Beijing beltway or Shanghai financial district, but from lower-tier cities in China, prefecture capital cities or county-level cities generally with a gross domestic product inferior to 70 billion dollars.
Though living outside the megacities, their taste and pursuits are increasingly aligned with the urbanities, like the latest iPhone model, a Dyson hairdryer, or a Philips electric toothbrush.
"Those products reaching to lower-tier cities through Pinduoduo, help satisfy consumers' pursuits for product upgrade, and also help expand the customer base of those products," said Pinduoduo in response to CGTN.
The fast expansion of mobile internet and mobile payment coupled with improved infrastructure and a consistent increase in disposable income, lower-tier cities, home to a population of at least seven hundred million, now hold the biggest consumer potential in China. A 2018 Morgan Stanley report predicts that private consumption in smaller cities could be on track to triple, between 2017 and 2030.
"The demographic entity is too large and too important to future consumption growth in China to ignore," Sofya Bakhta, marketing strategy analyst for Daxue Consulting, told CGTN. "Lower-tier cities' consumption is thriving more, brand awareness is high and there is widespread ownership of capital goods such as real estate, cars and home appliances."
But as consumers in lower-tier cities demand more premium services and products, they are also tightening their purse strings in some aspects. On Pinduoduo, though this year marks the first time that the growth rate for electronic gadgets sales in lower-tier cities outpaced that in metropolises, bargain bin-like 40 rolls of toilet paper for 1.45 dollars still appear to be popular.
Increasing income means Chinese citizens have the money to spend on premium foreign brands, but they also trade down in categories where they feel less value, wrote McKinsey Global Institute in a recent report on the connection between China and the world.
Downgrading in some instances was partly driven by innovation in channels targeting under-served consumers who are more price sensitive and less brand conscious, and partly driven by "trade-off" behaviors, the report added.
Luo Zhongjun, a mother of two from Changde, a small city in central China's Hunan province, is one of those consumers. She buys small items, like hair bracelets, toys for her son, sofa cushions regularly from Pinduoduo, "anything below 200 yuan." But apart from small items, she also buys premium cosmetics online. The Korean brand Sulwhasoo is now her favorite.
"For those of us in their 30s, buying a cosmetic set or a bag that costs over 1,000 yuan (145 U.S. dollars) is very common. We already have the economic power," said Luo.
It has been a long-held fear that the protracted China-U.S. trade war will bring an end to the stellar performance of the Chinese economy, yet the latest economic data released by the National Bureau of Statistics of China shows domestic consumption is still strong.
While the gross domestic product in the second quarter stands at 6.2 percent, the June retail sales growth rose to 9.8 percent, beating expectation.
Big jump in retail sales in June is partially a result of strong auto sales and an influential promotional campaign on Chinese e-commerce sites dubbed "June 18 Sales", said Xue Boyang, Northeast Asia Analyst at market research firm DuckerFrontier, in an interview with CGTN. A detailed reading of the data shows that while sales figures for cosmetics and fast-moving consumer goods are good, that for big-ticket items is not in good shape.
In the short term, uncertainties brought by global growth slowdown are still likely to bring pressure to China's economic growth, said Xue, but the effects of taxes and fee reduction are likely to come into full play in the third quarter, and may help offset some of the pressure.
In the longer term, the share of domestic consumption in China's economic growth will continue to rise while dependence on imports and exports will be further reduced, Xue added. Consumer spending is still counted as a central pillar to support growth.