Foreign failure to contain COVID-19 biggest risk to China's economy
Global Times
1588288696000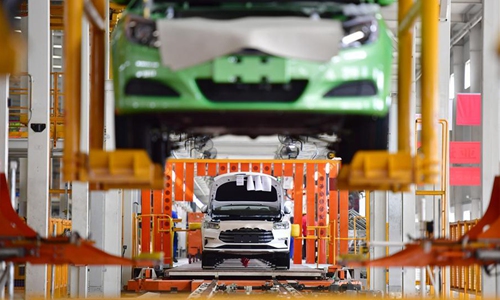 (Photo: Xinhua)
Since the outbreak of the coronavirus, some foreign officials, experts and media outlets have claimed that the virus-stricken Chinese economy could be the biggest threat to regional and global economies, with some even resorting to racist rhetoric like referring to China as the "sick man of Asia." But several months later, as China has effectively contained the virus at home, the failures of many countries from the US to the UK to stem the pandemic have emerged as the biggest risks for the Chinese and global economies.

The latest evidence came on Thursday, when official manufacturing data showed that even as factory activity remained in the expansion territory, new overseas orders dropped sharply in all other areas, and some Chinese factories even saw foreign companies begin to cancel existing orders already in production.

In April, the headline manufacturing purchasing managers' index (PMI), a closely-watched gauge of factory activity, dropped by 1.2 percentage points to 50.8 percent, but remained above the 50 percent threshold that divides expansion from contraction, according to the National Bureau of Statistics (NBS). The sub-indexes for production and new orders were also in the expansion territory.

The greatest drop was seen in the sub-index for new export orders. It dropped 12.9 percentage points to 33.5 percent, signaling export orders are deep in the contraction territory. The NBS attributed the sharp decline to the "fast spread" of the coronavirus overseas and noted that China's foreign trade faces a "relatively big challenge."

If anything, that was an understatement. In fact, the unabating pandemic in the US, Europe and other major economies has become the biggest threat to China's ongoing economic recovery and the global economy. It highlights what many in China and abroad have been saying for months: the pandemic is a global challenge and no country alone can beat the virus and its economic fallout.

Although the contribution of exports to China's economic growth has been declining in recent years, it still accounts for roughly 20 percent of China's GDP growth each year. Globally, trade accounts for a much higher 58 percent of total GDP growth, based on 2017 figures. The WTO has projected that global trade could fall between 13 percent and 32 percent in 2020.

But instead of working together to boost trade, more than 80 countries have imposed various types of restrictions, according to the WTO. Rather than striving to contain the virus at home and search for a coordinated global solution, many countries have resorted to finger pointing and political games, with China being the biggest target.

For China, the picture painted by PMI data on Thursday is another sobering realization that, while continuing to push for global cooperation to fight the pandemic and restarting trade remain essential, the overall external environment will not improve and could even worsen. We might need to divert more focus to the domestic market and help export businesses explore more options.