Observer: China joins COVAX, a concrete step to contribute to vaccine accessibility and affordability for developing countries
People's Daily app
1602251071000
China signed an agreement with the WHO-led COVAX on Thursday in a bid to make COVID-19 vaccines globally available, according to Foreign Ministry spokesperson Hua Chunying. China also vowed to provide developing countries with COVID-19 vaccines first.
"Joining COVAX marks China's commitment to make the COVID-19 vaccine globally available," Hua said. "China is taking action to promote a fair distribution of COVID-19 vaccines and called on more countries that have the ability to join and support COVAX."
Launched in April 2020, the COVAX is co-led by the Vaccine Alliance Gavi, the Coalition for Epidemic Preparedness Innovations (CEPI) and the World Health Organization (WHO). The humanitarian project is aimed at delivering coronavirus vaccines to low and middle income countries, and the world's poorest people. COVAX's aim is to buy 2 billion doses by the end of 2021, and countries taking part in the project can either buy vaccines from COVAX or get them for free, if needed.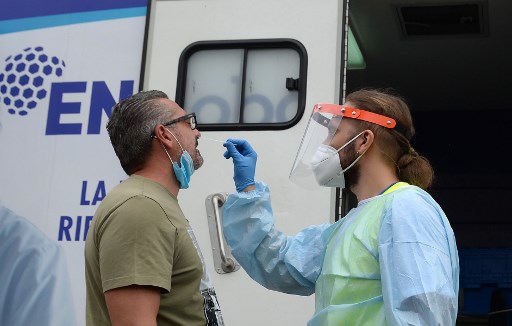 (Photo: agencies)
The ambitious project also faces doubts in terms of its feasibility, especially the assurance of the supply of vaccines. But with China, a country with several vaccines in advanced stages of research and development, and with ample production capacity, joining, there will be brighter light shed on the prospects for COVAX, improving the prognosis of less developed countries overcoming the pandemic.
Since the coronavirus outbreak, China's virologists and immunologists have initiated research and development of the vaccine, which, so far, is one of the most promising methods to end the COVID-19 pandemic, given that no definite cure to the virus has been found. More importantly, China's research has witnessed great success.
By the end of September, there were 11 COVID-19 vaccine candidates in clinical trials in China, with four of them having entered phase III clinical trials. The four vaccines consist of three inactivated vaccines, and one recombinant adenovirus vector vaccine.
At the end of the year, China is expected to have the ability to produce around 610 million doses of COVID-19 yearly, and annual production capacity is expected to reach 1 billion doses next year.
The earliest people to receive the COVID-19 vaccine in China still have high antibody levels, according to the results of serum monitoring, which indicates that the vaccine may offer long term protection, according to an authority from China's State Council Information Office.
The decision of China to contribute to vaccine accessibility and affordability to developing countries is consistent with China's commitment to the world as a responsible major country.
Although China has paraded its success in controlling the pandemic inside its borders, China has never stopped sending medical staff, medical supplies or sharing experience in fighting the epidemic to low and middle income countries and the world. These deeds received praise from the international community.
On multiple occasions, China has expressed its willingness to help countries that, for some reason, are incapable of developing their own vaccines. In a speech via video link at the annual general debate of the 75th session of the United Nations General Assembly on September 23, Chinese President Xi Jinping said that when China's COVID-19 vaccine development is completed and available, these vaccines would be made a global public good, and they would be provided to other developing countries on a priority basis.
By joining the COVAX, China is acting as a role model in calling for more capable countries to join and support the project, and China will also strengthen vaccine cooperation with relevant countries through the COVAX network.
The COVID-19 pandemic has swept the world, causing great suffering to people globally. Joining COVAX is another proof of China's determination to build a community with a shared future for mankind. Only by joining hands can countries be prepared to meet even greater global challenges.