Australian professionals criticize double standards towards world champion Sun Yang
CANBERRA, July 26 (Xinhua) -- Long-time Australian national team mentor Denis Cotterell and the country's former anti-doping authority CEO Richard Ings recently said critics were guilty of double standards towards China's triple Olympic champion and 11-time world champion Sun Yang.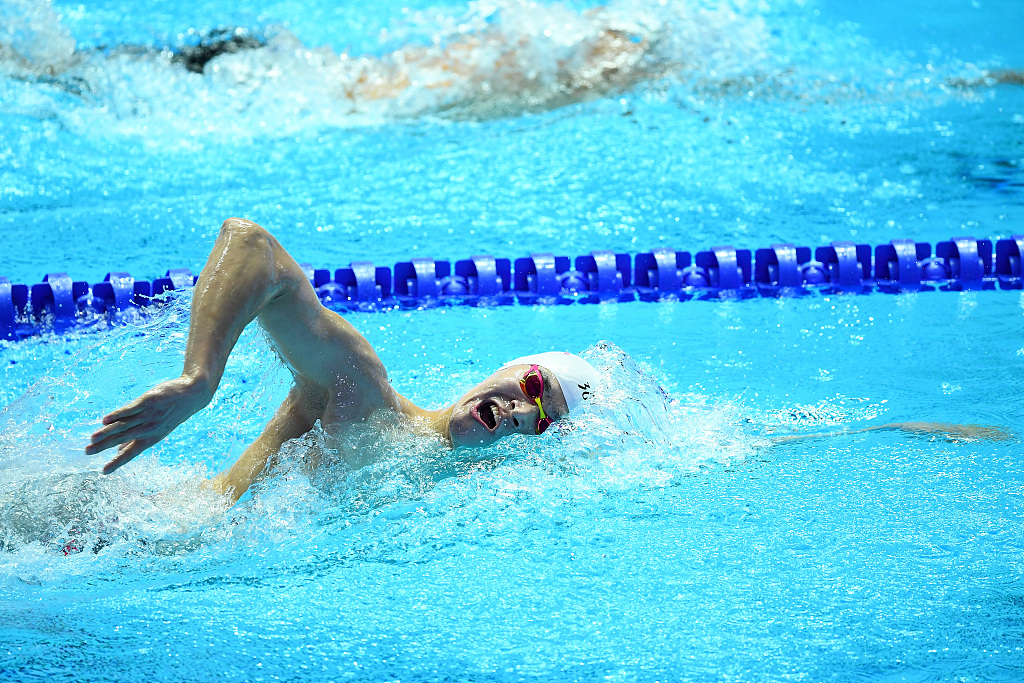 Sun Yang of China competes in the Men's 800m Freestyle Final on day four of the Gwangju 2019 FINA World Championships at Nambu International Aquatics Centre on July 24, 2019 in Gwangju, South Korea. (Photo: VCG)
"He's not a drug cheat," said Cotterell, Sun Yang's Australian coach at the world championships in Gwangju, South Korea, according to AFP's report on Friday.
"You can't have the performances he's had over the years without doing the work. The longevity is what determines the difference between champions and super-champions. He's been tested year in, year out -- hundreds of tests, winning every year over this period of 10 years."
The international swimming governing body FINA has added new rules to its code of conduct to prevent bad behaviour during medal-awarding ceremonies, a statement said on Thursday.
The revised rules came after Duncan Scott of Britain, a co-bronze medalist, refused to step onto the podium during a medal-awarding ceremony for the men's 200m freestyle, where Sun grabbed his second gold medal in the championships on Tuesday.
Mack Horton of Australia, a silver medalist, also distanced himself from the podium during the men's 400m freestyle medal ceremony on Sunday, when Sun won a gold medal ahead of Horton.
Earlier this month, Sun requested a public hearing at the Court of Arbitration for Sport (CAS) to defend his innocence against alleged anti-doping rule violations.
According to the statement by Sun's lawyers, Last year, Sun refused to finish a doping test as the doping control officers sent by International Doping Tests & Management (IDTM) "were not properly accredited to carry out the out of competition tests on Sun Yang, as the FINA judgment sets out very clearly."
"Worse, while he was fully cooperating, Sun Yang then noticed during the test that one of the authorized officers was secretly filming him without his permission. This act was resoundingly condemned by FINA in its judgment in Sun Yang's favor," the statement said.
Some influential figures said it is unfair to ask the athlete to withdraw from an event despite being cleared to compete.
Former Australian Sports Anti-Doping Authority CEO Richard Ings called for a hefty penalty towards Horton, according to news.com.au.
"I am no fan of Sun Yang. But he has served his suspension for a doping violation and he has been cleared by a FINA panel of refusing to provide a sample. Innocent unless and until proven guilty," Ings tweeted. "Not standing on the podium with him should attract a hefty penalty."
Cotterell, "an Australian national team mentor for 30 years" as reported by "The Australian", the country's most circulated nationally distributed newspaper, said the Chinese star is as clean as his other great protege, Grant Hackett, and it is hypocritical for Australian swimmers to vilify the world champion when some of their teammates have broken anti-doping rules.
"I love working with an athlete who has paid their dues, has longevity and is still achieving. If you think for a second I would be doing that with someone that is a cheat then people don't know me. That is an insult," the coach was quoted as saying by The Australian on Thursday.
"What is the definition of a drug cheat? Someone who has failed a test? By that definition, they have got drug cheats on the Australian team. I have been on teams where people have failed a drug test, accidentally and through no fault of their own. I would never call them cheats. It seems to be very hypocritical."
Tony Nolan, an experienced sports lawyer who has advocated for and against athletes and presided in tribunals in dozens of anti-doping cases, told The Australian he saw no reason why Sun should be barred from competing.
"There has been an independent hearing of a tribunal; he has won. There is an appeal pending; he has every chance to be successful," Nolan said after reading FINA's 59-page judgment. "Why should his career be ruined on a provisional suspension when it hadn't been previously sought?"
Cotterell says Sun's critics ignore three crucial facts; that no anti-doping tribunal has ever found Sun guilty of deliberately taking a banned substance, that the FINA tribunal found he had no case to answer on the matters now before CAS and that the delay in hearing his appeal was not caused by Sun.
According to AFP report on Friday, Cotterell accused detractors of hypocrisy in Sun's case, noting Horton's Australian teammate Thomas Fraser-Holmes was banned by FINA for 12 months for missing a trio of drug tests.
"The executive director of Australian swimming said 'at least he's not a doper' -- well he missed three tests," Cotterell said.
"Sun Yang could've got out of this scramble just having one strike and not being silly enough to miss the next two.
"The (Australian) teams I've been on we've had infractions," he added. "There's honest mistakes, things happen -- we on the team and the country never regarded them as drug cheats."