Tourism offer that's too good to pass up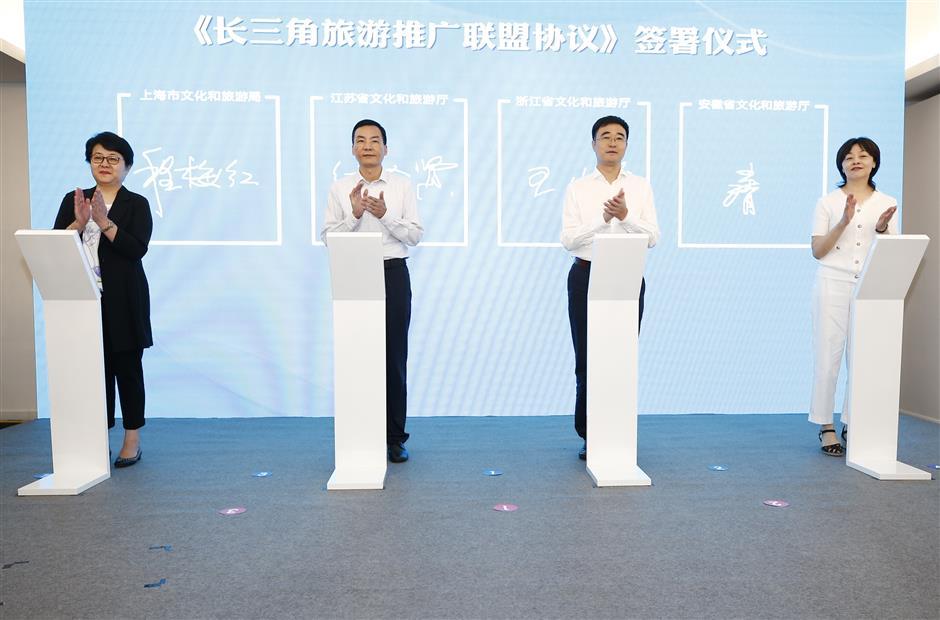 Cultural and tourism officials from Shanghai, Jiangsu, Zhejiang and Anhui provinces sign an agreement to establish the Yangtze River Delta region tourism promotion alliance on Saturday.
Annual tourism passes to attractions in 17 cities in the Yangtze River Delta region were launched in Shanghai on Saturday.
The initiative will beef up the integrated development of the region as part of the Shanghai Tourism Festival which will officially raise its curtain on Saturday night.
The 99-yuan (US$14.48) pass covers a variety of attractions in Shanghai, Huangshan, Wenzhou, Nantong, Hangzhou, Nanjing, Suzhou, Huzhou, Wuxi, Shaoxing, Ningbo, Lishui, Yangzhou, Jiaxing, Jinhua, Zhenjiang, and Taizhou.
The pass is valid for one city only. Separate passes must be purchased for other cities.
The Huangpu River cruise tour and scenic areas such as Xixi Wetland, Yandang Mountain, Yunhe Terraced Fields and Nanxun Ancient Town are on the list.
It can be purchased on Alipay under the section of "Shanghai Tourism Festival" or "City Tour Card," the WeChat account of "Shanghai City Tour Card," and the app of "Du You You."
The scope of the tourism pass will be expanded in the future.
The Yangtze River Delta region tourism promotion alliance was established during a ceremony on Saturday by cultural and tourism authorities from Shanghai and Jiangsu, Zhejiang and Anhui provinces.
The alliance will jointly host tourism promotion campaigns both at home and abroad, design tourism routes together, and promote regional tourism consumption exchange and interaction.
The target is to promote the region's tourism, enhance its tourism competitiveness, spur the vitality and potential of cultural and tourism consumption in the region, and make it into a tourist destination with global influence, authorities said.
"Cultural and tourism authorities in the region are actively deepening cooperation in response to the national strategy of the integration of the region," said Yu Xiufen, director of the Shanghai Administration of Culture and Tourism. "The alliance will further strengthen their cultural and tourism resource sharing towards the goal of high-quality cultural and tourism development of the region."
With the accelerated pace of integration of the region and the resumption of cross-province group tours, the cultural and tourism market of the region is recovering rapidly, authorities said.
The region has formed a mature regional cultural and tourism market, which reaped 3,771 billion yuan of domestic tourism revenue last year, growing more than 10 percent from a year earlier.