Chinese female director takes home Golden Lion with 'Nomadland'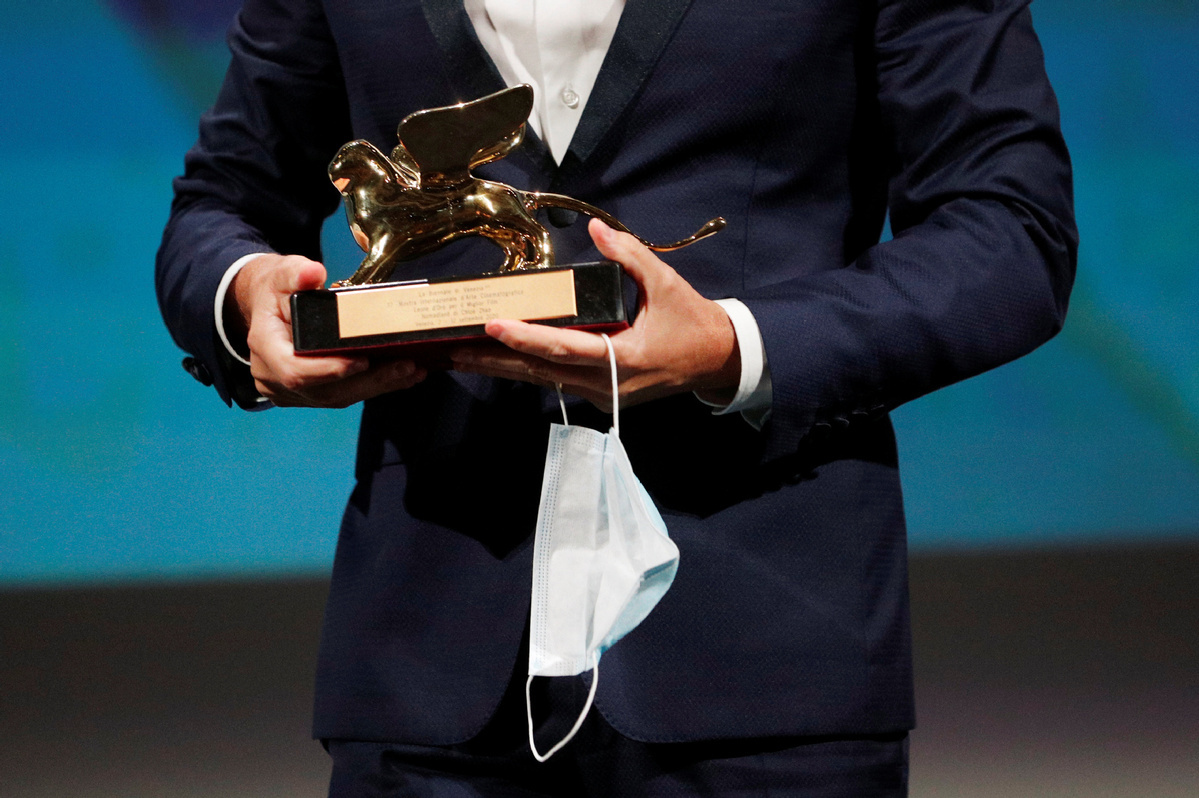 Head of Marketing of Disney Italy, Davide Romani receives the Golden Lion award on behalf of director Chloe Zhao for Best Film Nomadland during the 77th Venice Film Festival in Venice, Italy on Sept 12. (Photo: Agencies)
Nomadland, the third film from Chloe Zhao that tells the story about an out-of-work woman who becomes a modern-day nomad, won the top award at the 77th edition of the Venice Film Festival Saturday.
This year's Venice festival was a mix between in-person and virtual this year, due to the coronavirus outbreak. Zhao, a China-born director living in the United States, and two-time Oscar-winning actress Francis McDormand, the film's star, accepted Venice's Golden Lion award via video hookup since the coronavirus travel restrictions prevented them from attending the award ceremony in person.
The film is seen as a contemporary take of American life, chronicling McDormand's character as she lives out of a van in the western United States after losing her job during an economic downturn. The film will screen at major festivals in Toronto, New York, and Telluride, as the events agreed to put aside their rivalries to cooperate amid the coronavirus pandemic.
Among the other major Venice awards, Italy's Pierfrancesco Favino won the prize for Best Actor for this role in the 1970s-era coming-of-age story Padrenostro (Our Father), while Vanessa Kirby from Great Britain won the Best Actress honor for her lead role in the drama Pieces of a Woman.
Russia's Dear Comrades! won the special jury prize, while India's Chaitanya Tamhane won the award for Best Screenplay for The Disciple, a drama about an aspiring classical singer.
By winning the prize, Zhao, a Beijing native who went to the United States when she was 15, became the first female director to take the festival's top prize since Sophia Coppola a decade ago.