Chinese artist recognized for enriching cultures in San Francisco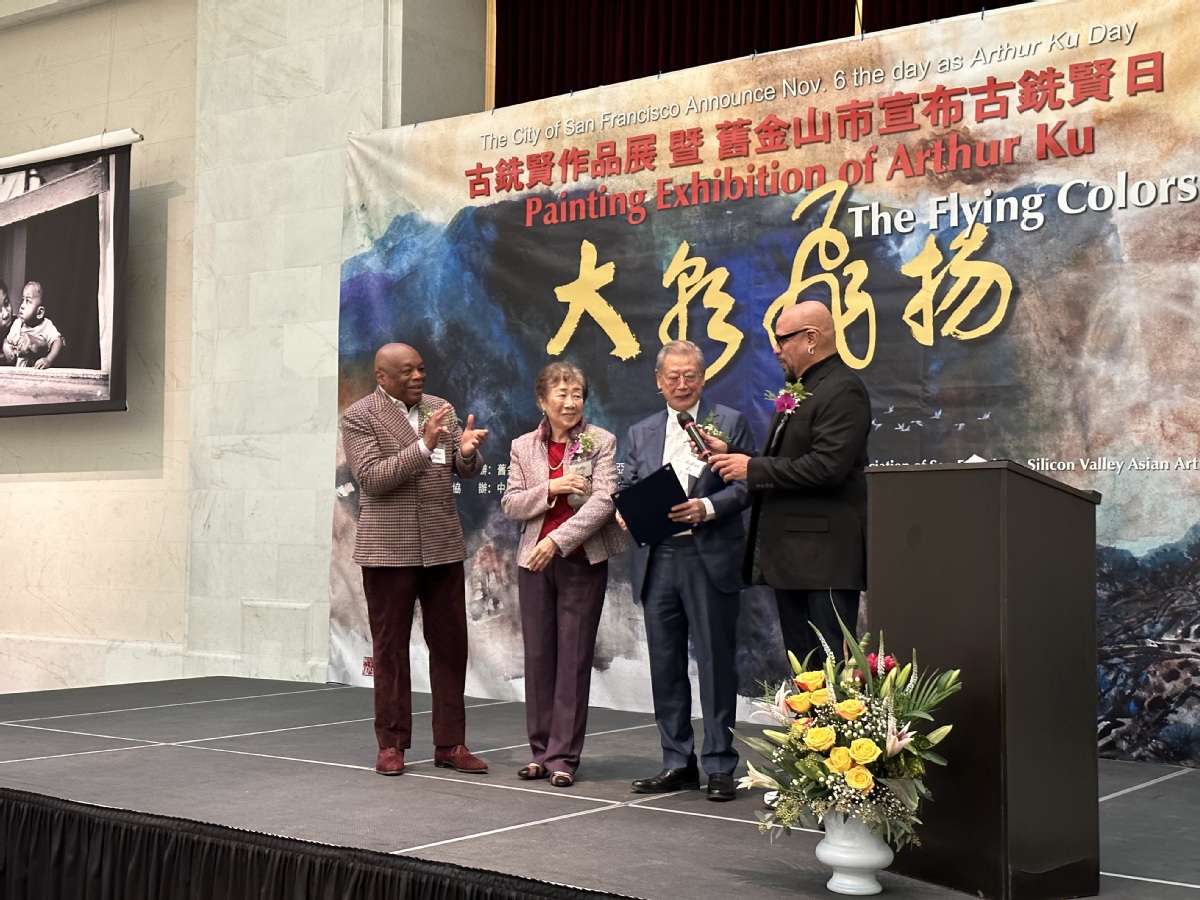 Black and white mountains and rocks shrouded with colorful mist — the fusion of Chinese and Western painting styles attracted Michela Millstein at an art exhibition in San Francisco.
"I think there are a lot of meanings behind it (the paintings). You can tell that it's trying to show cultural things and not just a picture," she said.
Having studied the Chinese language for three years, Millstein, a high school student in the San Francisco Bay Area, said she loved Chinese culture.
"In my class, we celebrate Chinese holidays, and I think it's very global. And it would help me later in life," she said. "I really like it. It's a little hard, but I think it's worth it."
The exhibition, The Flying Colors, presented more than 60 pieces of Chinese ink paintings of a local artist, Arthur Ku, at San Francisco City Hall on Sunday.
San Francisco Mayor London Breed proclaimed Nov 6 "Arthur Ku Day" in recognition of his contribution, and the exhibition was held to celebrate it.
"Arthur Ku is a renowned painter, calligrapher, and artist; his endless dedication and devotion to the art community has undoubtedly contributed to the vitality of San Francisco," said the mayor in the proclamation.
Ku was born in Guangdong province in 1941 and moved to Taiwan with his father in 1945. He migrated to the US in 1977, where he began his career in media-related work for more than two decades. Upon his retirement, he returned to art, juxtaposing Chinese art elements with Western-style painting.
He has been exploring the "splash ink and color" style, which is a technique of working with splashy, colorful washes to create an abstract, expressive style. The style was never dominant in Chinese art history until the emergence of Chinese painting master Zhang Daqian (1899-1983).