China claims 28 golds on Day 5 of Asian Para Games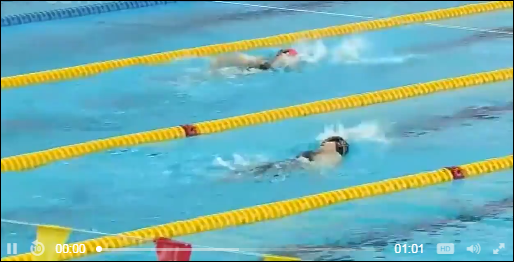 (Photo: CGTN)
During the ongoing Asia Para Games in Jakarta, Indonesia, China pocketed 28 gold medals, 17 silver, and 10 bronze in track and field, swimming and archery events on the fifth day of competition.
Song Lingling broke the S6 women's 100 meter backstroke world record to win gold at the Rio Paralympics two years ago, and now in Indonesia, she has set a Games record in the S8 100 meter backstroke.
She dominated the final race to establish a new Asian Para Games record by winning the gold in one minute and 22.50 seconds. Her compatriot Ke Liting and Zheng Tingting followed to pocket the silver and bronze.
In archery and the men's individual recurve open, China's Zhao Lixue faced India's Harvinder Singh. The Rio Paralympics champion, who won gold in mixed recurve open and silver in the individual event four years ago in Incheon, did it again in Jakarta, as the Chinese went on to claim the silver medal in the event.
In the track and field, Wang Yanzhang won bronze in the F34 men's shot put. The 27-year-old broke the world record in winning gold in men's discus at the 2012 London Paralympics, and set a new personal best in shot put in Jakarta six years later.