Singapore to end ivory trade soon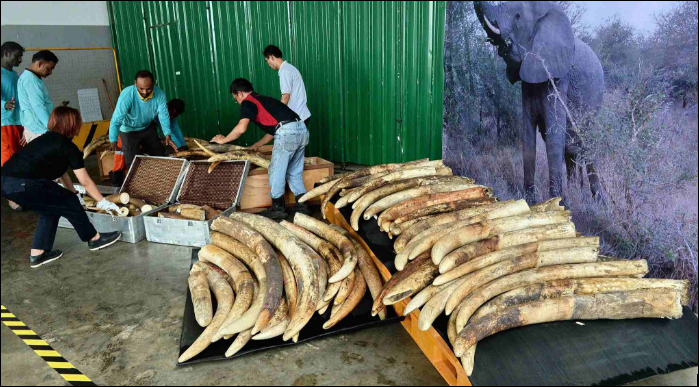 Singapore customs officials prepare to destroy a stockpile of illegal ivory on June 13, 2016. (Photo: VCG)
Singapore has initiated steps to formulate a law completely banning the ivory trade in a bid to protect elephants.
Country's Agri-Food and Veterinary Authority (AVA) has proposed to amend laws to make it illegal to sell and display ivory.

Singapore has already banned international trade, making it illegal to import or export ivory. But domestic trade is still allowed under conditions specified by the government.
According to the law, ivory pieces bought before the ban in 1990, can be purchased and sold. The AVA has initiated a month-long public consultation to end the domestic trade.
"AVA proposes to implement a total ban on local elephant ivory sales in Singapore under the Endangered Species (Import and Export) Act," a government announcement said.
"This means that local businesses and individuals will no longer be able to buy or sell all forms of elephant ivory products in Singapore," it added.
Once the proposed law is passed, any public display of elephant ivory and ivory products will not be allowed, except for display for educational purposes.
Ivory traders would be given three years to exhaust their stockpile.
In recent years, China including its Hong Kong Special Administrative Region and Taiwan, and the UK have already closed down their domestic ivory markets. Australia is in the process to implement a similar ban.
"This is welcome news after China implemented its domestic ban on ivory sales earlier this year and recently upheld its 25-year ban on rhino horn and tiger parts," said Peter Knights, WildAid CEO.
Despite a majority of the countries opting to shut down domestic ivory markets, the European Union and Japan have refused to implement similar laws.
"With Singapore joining the global community in prohibiting ivory sales and thus doing its part to help alleviate the poaching crisis, Japan remains the last major ivory market that allows legal sales," Knights added.
Wildlife protection groups claim that more than 20,000 African elephants are brutally killed for ivory every year.