Hit TV soap opera portrayal of filial piety splits viewers by generation
Global Times
1539713149000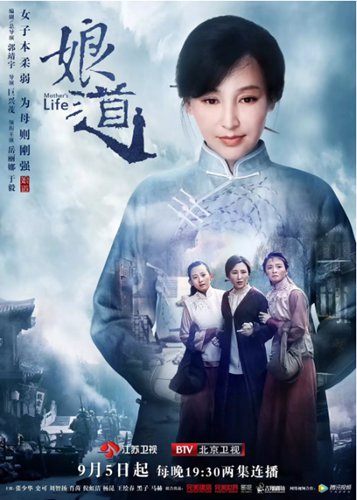 Official poster for "Mother's Life." (Photo: File)
A popular TV soap opera about a miserable mother has split viewers in an apparent reflection of evolving views on womanhood and patriarchy in modern Chinese society.

"Mother's Life" began airing in September and achieved a viewership of over 2 percent on Beijing TV. Most such shows - 80 percent in fact - have viewerships less than 0.5 percent this year, the China News Service reported.

The 76-episode series proved a palpable hit with older generations, but rated 2.8 out of 10 on the Douban review website.

As of press time, more than 83 percent of about 16,000 users awarded the program a solitary star.

"Mother's Life" reinforces outdated notions of patriarchy, stereotyping women as "good wives and mothers without any sense of independence," one Douban website user, Hehe Qianan, typically posted.

Set during the War of Resistance against Japanese Aggression (1931-45), protagonist Liu Yingniang yearns for a son to pass on the family name, even if that boy could cost her life.

Liu is ostracized and abused by her mother-in-law for giving birth to three daughters. She responds with time-honored, unconditional filial piety.

"My grandmother waits in front of the TV and watches the news and weather before the show because she doesn't want to miss a single minute," reluctant viewer Fu Qinglian told the Global Times on Tuesday.

Fu, a student in Beijing, watched the show with her 66-year-old grandmother during national holiday week in her hometown of Yuncheng in North China's Shanxi Province.

Nobody could switch channels, even during commercial breaks, Fu said.

Her grandma never said it, but in her heart she seems to believe sons and grandsons are more important, Fu said.

Sun Mengfan, 25, also endured the 45-minute syrupy soap for the sake of her grandmother.

Sun felt it ridiculous to portray a woman kneeling and begging for mercy as the only means of solving problems,

"But my grandmother never thought Yingniang's obedience an issue," Sun said.

Liu Yingniang should not be seen as a role model, Mother's Life director Guo Jingyu told the China News on Saturday. "She represents oppressed women," he said.

But Guo's argument doesn't impress a growing legion of mostly female, urban critics.

"'Mother's Lif' is portrayed as this perfect mother and wife," Sun said.

"I don't believe the show was criticizing old values," she added.