Youku launches Ultra HD video standards
China.org.cn
1599906780000
China's major video streaming site Youku, owned by Chinese multinational technology giant Alibaba Group, has released a new technology brand Zreal to promote the country's ultra-high-definition (UHD) video industry, setting new standards.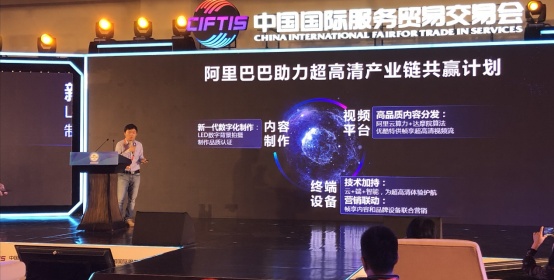 Jiang Wenfei, a senior algorithm expert at the Youku Technology Center, promotes Zreal at a launch event held during the 2020 China International Fair for Trade in Services (CIFTIS) in Beijing, Sept. 5, 2020. (Photo/China.org.cn)
2020 is an important year for 5G networks, as construction speeds up. The upgrading of internet infrastructure will bring greater convenience and upgrade the experience for ordinary users to receive internet content. However, in the online video streaming industry, the separation of content production, platform distribution and terminal playback makes it more difficult to reach unified HD industry standards.
According to Jiang Wenfei, a senior algorithm expert at the Youku Technology Center, "If you want to create true UHD standards, you must understand why, over the years, consumers have demanded high-quality audiovisual content."
In 2017, the State Administration of Press, Publication, Radio, Film, and Television (SAPPRFT) issued 4K Ultra HD TV Program Production and Exchange Parameter Values to regulate the technical format of 4K Ultra HD TV programs in China. However, so far, whether for video platform content or TV programs, the mainstream format is still 2K HD.
"This is because if you want to achieve UHD, industrial content production, distribution platforms, and play equipment all need to be compatible with the standards," Jiang pointed out, adding the recent launch of "Zreal" will unite the upstream and downstream players in the industry, allowing them to solve the problems due to the different links in the industry chain.
He said that in the upstream part of the industry, Youku will provide content producers with LED digital background shooting solution to reduce studio shooting and post-production costs, while helping partners produce higher-quality video content; in the distribution link, the streaming platform will also use Alibaba Cloud Computing power and algorithms developed by the Alibaba DAMO Academy (Academy for Discovery, Adventure, Momentum, and Outlook) to provide UHD video streams for filmmakers; in the smart terminal link, Youku will provide technical support to hardware manufacturers, helping them to produce smart terminals with better playback.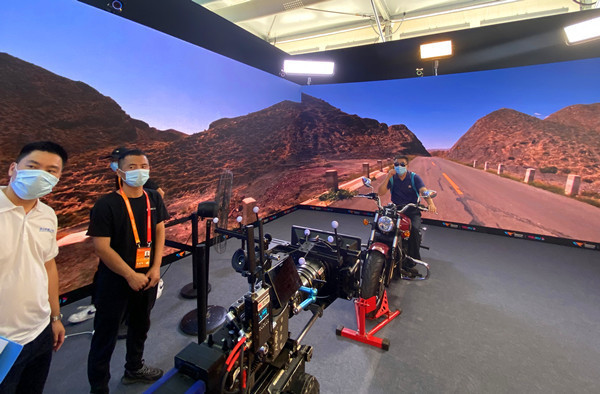 The LED digital background shooting solution is on display at an Alibaba Digital Media & Entertainment Group/Youku booth, and visitors can try out the technology during the 2020 China International Fair for Trade in Services (CIFTIS) held in Beijing, Sept. 8, 2020.
Alibaba showed what an LED digital background shooting solution looks like at a booth in the 2020 China International Fair for Trade in Services (CIFTIS), which concluded on Wednesday.
When shooting films and television shows, background synthesis techniques, such as a green screen, are often used. However, shooting and synthesis are time-consuming and labor-intensive. But through the combination of LED digital background shooting technology, digital assets and on-site shooting, filmmakers can achieve "what you see is what you get" without post-compositing.
Youku's senior manager of digital production, Xu Jia, said that the cost of the new solution is only half of that of green screen shooting, and nearly 40% of shooting and post-production time can be shaved off when making a 44-episode TV series.
In addition to improving the shooting efficiency, the LED digital background is more realistic than the post-compositing effect of the green screen. Actors can quickly get into character without solely relying on their imagination.
As Jiang Wenfei elaborated, video content that meets the Zreal criteria can achieve 4K, 60 frames and HDR standards, as well as surround sound effects. The playback platforms will also provide sufficient bandwidth to ensure that the image quality is not lost.
Since the end of last year, about 2,000 films and programs, from blockbusters "Ne Zha" and "The Wandering Earth" to the popular online series "The Longest Day in Chang'an," have been remastered into the UHD format by Youku, for 500 smart terminals. Jiang said that 66% of Youku users can now enjoy Zreal-standard HD videos, and the feedback has been positive.
As more smart terminals pass the certification of Zreal standards, Youku's ambitious goal is to make sure 70% of Chinese internet users can access "real UHD videos" within a year.
The new technology brand and standards offered by Zreal debuted at the 2020 CIFTIS on Sept. 5.