Modern Russians cut back on drinking, smoking as fitness trend grows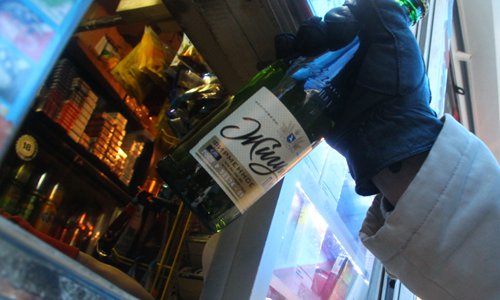 Drinking sales in Russia are shrinking heavily as people are paying more attention to fitness and a healthy lifestyle. Photo: VCG
Russians are drinking less than at any point since the fall of the Soviet Union, figures show, as a raft of government measures bear fruit and healthy living becomes ever more fashionable.

Vodka might still serve as a national symbol but last year Russians drank less alcohol per capita than the French or Germans, according to World Health Organization (WHO) data that factored in consumption of bootleg booze.

And tobacco use also plummeted by more than a fifth between 2009 and 2016, down to 30 percent of Russians smoking according to the most recent Global Adult Tobacco Survey.

"The annual decline [in alcohol and tobacco consumption] is really steep, especially if you look at where they've started from," the WHO's representative in Russia Dr Melita Vujnovic told AFP.

She said if the trend continues, Russian rates would be comparable to Scandinavia and the UK in a decade.

The most recent WHO figures show that Russian adults are drinking an average of 12.2 liters of pure alcohol a year, an almost 20 percent decrease from 2012, putting it behind France (13.3 liters) and Germany (13.4 liters).

Vujnovic points to legislation gradually introduced over the last 13 years to combat a public health crisis and boost life expectancy, including a ban on shops selling any alcohol after 11 pm, increases in the minimum retail price of spirits and an advertising blackout.

"What works elsewhere will work here too. You will hear the same arguments in plenty of other countries, that what we drink is part of our national identity - that's just a myth," Vujnovic said.

In 1990, total alcohol consumption in Russia was below 12 liters, following restrictions imposed by the last Soviet leader Mikhail Gorbachev. But this steadily increased after the collapse of the USSR until 2007, according to the WHO.

$2 packs of cigarettes

Cigarette prices are still well below European levels, going for around $2 a packet, but Vujnovic praised Russia's tobacco control program as "one of the best in the world" judging by the results.

Health ministry officials have proposed even stricter measures against tobacco, going so far as to suggest making it illegal to ever sell cigarettes to anyone born after 2014.

Elena Dmitrieva, director of the Moscow-based NGO the Health and Development Foundation, agreed that government policies were the major factor but suggested a general trend toward healthy living was also behind the cut back in smoking and drinking, especially in larger cities.

"We never had this idea of 'healthy for the sake of being healthy'. You go to the doctor when you have a problem - that differs greatly from the Western mentality," she said.

"But now there's this focus on fitness clubs, health, wellness, all that has become more fashionable than it was before."

"Food trends, health trends are changing globally, and Russians like to pick up Western trends in terms of what is considered to be in fashion," she said. "Right now we live in a global world."

Straight edge

Anton, a 32-year-old Muscovite who organizes mixed martial arts tournaments, gave up drinking a decade ago following problems with alcohol and is instead putting his energy into sports.

"There are more people not drinking in my social circle, it's quite popular. There was the American movement 'straight edge' - you don't drink, you don't smoke, you don't use drugs - that appeared in the '80s, but only arrived with us fully a few years ago," said Anton, who declined to give his last name.

"I think there's a trend for a healthier way of life. When you're doing serious sport you strive for a better level of health, you don't want to use alcohol or anything else," he told AFP.

Yaroslav, a 26-year-old who works in the visual arts and quit smoking at around the time it was banned in bars and restaurants, said that it was gradually becoming less socially acceptable to smoke.

"I think every teacher we had at school smoked - well, maybe the physical education teacher didn't," said Yaroslav, who grew up in the Arctic Circle city of Murmansk.

"Things have really changed. I know a couple of [bars] in Saint Petersburg where you can still smoke and I wouldn't go there anymore. It smells, it's suffocating, I can't believe we grew up like this."