China heads for world tourism summit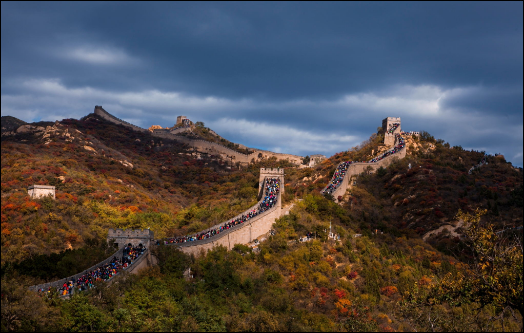 (Photo: CGTN)
China has become one of the world's most-watched and hottest tourist markets. According to a report released by market research firm Euromonitor International, China is expected to surpass France as the world's number one tourist destination by 2030. Why does China's tourism keep booming?
One reason is that dim sum, the Great Wall and Tibetan Buddhism, all symbols synonymous with China, are becoming more and more familiar with foreigners.
China's tourism rates have greatly expanded in the four decades since its reform and opening up began. Officials with travel agency Ctrip say that of the 139 million people who visited China in 2017, a growing number, 29.16 million, were foreign stayover tourists.
Emily Mutch, a tourist from Canada, said, "I think probably the history here is very interesting. It's such an old country, so we did visit a lot of the tourist attractions while we are here too."
Alma, a tourist from Mexico City, said, "The Great Wall... I think that's amazing. I believe that something that's really huge, really Asian, so it should be something very important, and specific for our country."
Pravir Sethi, a tourist from India, said, "Going to central Beijing, walking around in the hutongs and this is very nice and very charming. For me, it is even more charming than the new parts."
Yana, a tourist from Ukraine, said, "You can find every single thing you want and what you need, and it's safe here. So this is why I'm here. Then I realized it's everything like home. It's different, a different language but I feel something similar here. "
The 2022 Winter Olympic games are set to take place in Beijing and towns in nearby Hebei province. Ctrip officials say Beijing 2022 will only add more momentum to the growing Chinese tourism boom.
A senior manager of Ctrip Public Affairs Department, Yan Xiao said, "Historically, sporting events have been an important factor for host countries to attract foreign tourists, and promote tourism growth. For example, Russia hosted this year's World Cup. The number of Chinese who applied for Russian tourist visas was much higher this summer versus the same period in 2016. You can expect the same sort of thing for our Beijing Olympics."
Yan adds that foreign tourists stay an average of three days in China, with Beijing, Shanghai, and Guangzhou the top three destinations.
"Shanghai and Beijing have excellent economic development. Secondly, the transportation between these two cities is convenient, and their hotel quality and high level of service personnel are also important factors in attracting foreign tourists to China."
And as more and more overseas tourists come to China, they have some advice for other foreign tourists.
Mutch suggested, "Do your research before you come, because it is such a big country, to figure out exactly what site you want to see before you come."
Sethi said, "And having the translation app and downloading off-line package just means that I'm able to communicate with people in shops, in taxis, and in restaurants, which I was not able to do without that."
Alma said, "It's an adventure, and if somebody has something new to discover, finally Asia is that place to come."
In a country of nearly one and a half billion people, there's much to see and do.