Hollywood Entertainment Technology Festival eyes China-US cross-border opportunities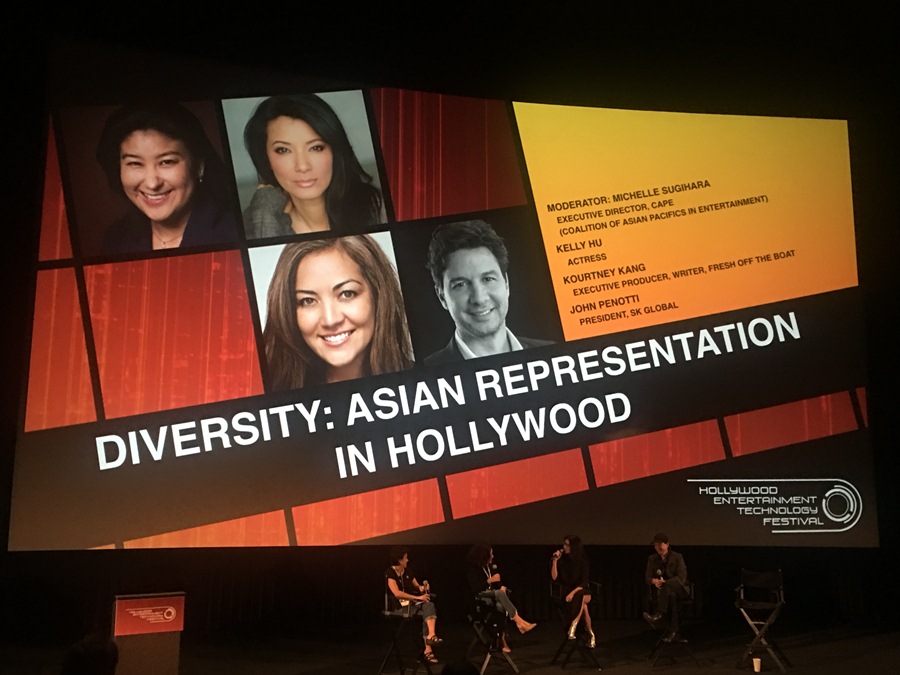 Panelists speak at the third Hollywood Entertainment Technology Festival at the chic Arclight Cinema in Hollywood in Los Angeles, the United States, on Oct. 3, 2018. (Photo: Xinhua)
LOS ANGELES, Oct. 6 (Xinhua) -- "The US has been leading the world with her technological innovation and cultural creativity, while China has abundant human resources and a vast market," Wang Hanguang, Chairman of Hanhai Studios, told the third Hollywood Entertainment Technology Festival.
"With the two countries joining hands, we will be able to support growth in cultural and technological fields in both countries and achieve common prosperity," he said in the opening remark to the annual festival at the chic Arclight Cinema in Hollywood on Wednesday.
Hanhai Studio, a cross-border business accelerator that promotes US-China collaborations in entertainment and technology spheres founded HETFest to serve as "a platform for visionaries, content creators, entrepreneurs, and investors."
Wang opened the festival with a stirring speech on the rapid pace of technological change and the need for cross-border win-win cooperation to enhance global progress.
"The exchanges between China and US in the field of science technology and culture have become increasing frequent," he noted.
He described how the advancement in science and technology and the combination of cultural innovation and blockchain, entertainment and AI were creating profound changes in the future of global entertainment.
"In the ever-changing world of entertainment and technology for the two biggest players in these industries, US and China, there is a need to help streamline and identify genuine cross-border opportunities," Wang said.
Also at the festival, four-time Academy Award nominee and two-time Oscar winner, Production Designer/Director/and VFX Guru, Robert Stromberg, of "Avatar", "Maleficent", and "Alice in Wonderland" fame, talked of his passion for the art of filmmaking and where VR/AR technology is going in the industry.
In an exclusive interview, Stromberg told Xinhua that "VR is such a powerful immersive tool, it's really going to soar to high places. We're at a midpoint now where people are trying to figure out what the market is, what the categories will be. But at some point, in the near future, when we have really compelling stories and characters, VR will rise to a whole new level."
He posited a future where kids could go see an immersive VR location-based experience, scan the character they fall in love with, bring it home with them, and have that AR character in their room to play with anytime they want.
"That's every kid's dream," he chuckled. "And we are working on things now that will make that possible. VR has so much potential as an entertainment medium, medical, technical, for all kinds of things."
"It's brand new space. It's constantly changing. Evolving. And as we import better film creators and artists, it will only make VR more compelling. They can go creatively wild like they do in film. When that happens, VR will explode," he said.
Another panelist, Mark Caplan, Co-Founder of BD Labs lamented that VR adoption in the marketplace was still lagging behind expectations.
Joanna Popper, of HP's Global Head of Virtual Reality for location Based Entertainment, responded, "VR and AR are the highest tech available today, but we're still learning what will and won't work. Companies are looking for ways to commercialize it - to create experiences that will increase their revenues and level of customer satisfaction. There are about 15 places in LA now that offer VR experiences, while there were only three two years ago."
The festival also featured a strong focus on Esports, the rapidly emerging online industry where Esport "casters" give vivid, play-by-play commentary on a game competition while the game is in progress.
Though still an emerging market in the United States, Esports is booming in countries like China, Japan, and South Korea, where its acceptance by avid fan communities has granted Esport "athletes" the same recognition and accolades as traditional sports heroes.
Said Mike Lee, a leading Esports agent with Hollywood's top United Talent Agency said, "We are still looking for the 'Lebron James' of Esports. It took the NBA multiple generations if pro athletes to find that media savvy, good-on-camera professional personality. One super-charismatic player can help put the whole sport over the top."
Some panelists discussed the state of Asian representation in Hollywood and the need for greater diversity in the media and what opportunities it can lead to for those courageous enough to break the mold.
John Penotti, President of SK Global and Producer of the runaway hit "Crazy Rich Asians," told Xinhua that "Everyone in Hollywood was saying, you can't make that movie - there's not a white lead in it. So every studio passed on it. But for me, this was exactly the film our Asian-focused company wanted to make."
Kourtney Kang, Executive Producer of "Fresh Off the Boat" said, "This is the start of something great. Audiences have evolved enough to say 'Whitewashing actors (replacing Asian characters with white ones) - that's not cool'. But that also happens behind the camera, with writers and directors."
When asked what he hoped to achieve with the Hollywood Entertainment Technology Festival, Chairman Wang set the bar high, "Manifesting success by helping others to succeed, and building an open, inclusive and win-win platform for meaningful cross-border exchange... as we work together to build a better future."