China unveils first 5G 'smart museum'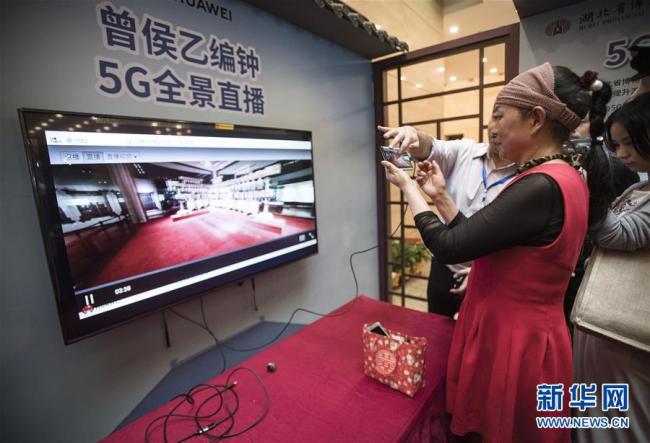 The Wuhan Provincial Museum is covered by 5G wireless network. (Photo: Xinhua)
A central Chinese museum on Friday became the first in the country to offer full 5G coverage and multiple related services including real-time viewing of a 2,400-year-old bronze chime.
The Wuhan Provincial Museum said the entire museum is now covered by the 5G wireless network, and a package of 5G-based applications are offered to allow the public to have "unprecedented" interactions with the collections.
Among the new services is a virtual reality (VR) zone that allows visitors to strike the Zenghouyi chime bells, a treasure of the museum dating back to the Warring State Period (475-221 BC), in a virtual environment. The chime, after excavation in 1978, had only been physically struck three times.
Panoramic cameras were also installed to capture real-time videos of the chime, which are then transmitted via the 5G network to mobile applications and screens at the museum.
"With larger bandwidth and lower latency, the 5G network makes such live broadcasting of collections possible. It presents smoother videos and allows access to a greater number of viewers," said Yang Lisheng, deputy director of the museum's information center.
The museum said they have worked with China Mobile and tech giant Huawei to introduce the 5G network at the facility.
As International Museum Day falls on Saturday, more Chinese museums are expected to announce their attempts in technological innovation, which is being promoted to facilitate the protection of and public access to the country's many cultural relics.
The National Cultural Heritage Administration (NCHA) said last week that China is working to build smart museums with new technologies such as artificial intelligence (AI), VR, augmented reality (AR), immersion display and smart guidance.
China owns 767,000 sites of immovable cultural relics and over 100 million pieces of movable artifacts, as well as a huge number of relics in the hands of private collectors.
The number of museums in China has increased from 349 in 1978 to currently over 5,000, according to the NCHA, and their popularity has been on the rise especially among domestic tourists.