Siriano celebrates 10 years, Wang goes heavy leather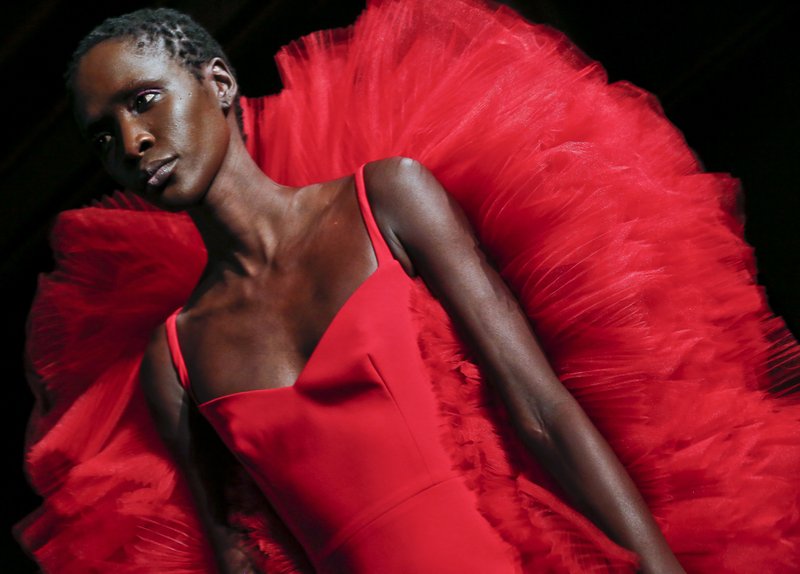 Christian Siriano marked 10 years in business with a luxe and sparkly collection fit for a royal dinner.
Inspired by late 18th-century British art that hangs in the Queen's Gallery in London, Siriano hosted Cardi B, Meg Ryan and Whoopi Goldberg on his front row at his New York Fashion Week show on Saturday.
And he had some star power on his runway as well inside an elegant venue with a plush red carpet. Danielle Brooks of "Orange is the New Black" closed the show like a pro, vamping for the crowd in a bright turquoise gown.
Known for runway diversity of all kinds — size, race, gender fluidity — plus-size great Ashley Graham also walked, along with Selma Blair in bushy stoll and tight jumpsuit in a black squiggly pattern.
Backstage before the show, Siriano told The Associated Press his next big push will be retail stores, with one planned soon for New York.
He's proud of breaking the mold when it comes to runway diversity, and he was happy to report his namesake company is turning a profit.
The #MeToo movement wasn't far from the runway: Blair is among hundreds of women who have accused director James Toback of sexual misconduct. He is under investigation by Beverly Hills, California police.
"It feels incredible to hear support. We don't hear it enough," she said, adding that she wants to make a difference in speaking out.
"I helped a younger girl be able to say, 'yeah, I should be able to walk out of the room.' Like we shouldn't be confused about that. And I never got that lesson growing up. It was 'be polite. Don't rock the boat. Make sure you get a job. You're lucky to have a job.' And now younger girls are saying 'right! Get out!' ... I'm honored that I get to be heard to make a difference for someone else."
Graham said she believes there's still more work to be done.
"I'm just happy now that women are finally being able to have a voice, that they feel that they have a community of women that are also standing up," she said. "I know that now we are stronger than ever and we're only going to get even stronger."
CREEPY CUBICLES AT WANG
Alexander Wang's office workers ain't your average 9-to-5ers.
The boy wonder put his guests in cubicles in the former Times Square home of Conde Nast to show a collection heavy on black leather with zippers for miles.
There were zippers in circle pockets, as embellishment for edgy little black dresses and on sturdy jackets. Some carried a range of chain-handled purses. One, a clutch, was — yes— adorned with zippers.
When not in black and zippered, Wang's walkers wore cozy track suits, some in light gray. He provided pops of pink on the fronts of several looks that were black at the backs.
Before his runway came alive, eerie footstep sounds were played as rows of fluorescent ceiling lights flickered. Alfred Hitchcock would have approved.
All of this left his "Wangfest" vibe behind in favor of the corporate theme, "AWG, " for Alexander Wang Group. His invitations arrived days ago with a credit card graphic, and some of his models sported the word "Platinum" on their looks.
This was officewear fit for the future with a touch of '90s thrown in.
Among Wang's front row guests was Bella Hadid, usually more on the runways than off.