Russia's Oscar hopeful gains attention as US ties worsen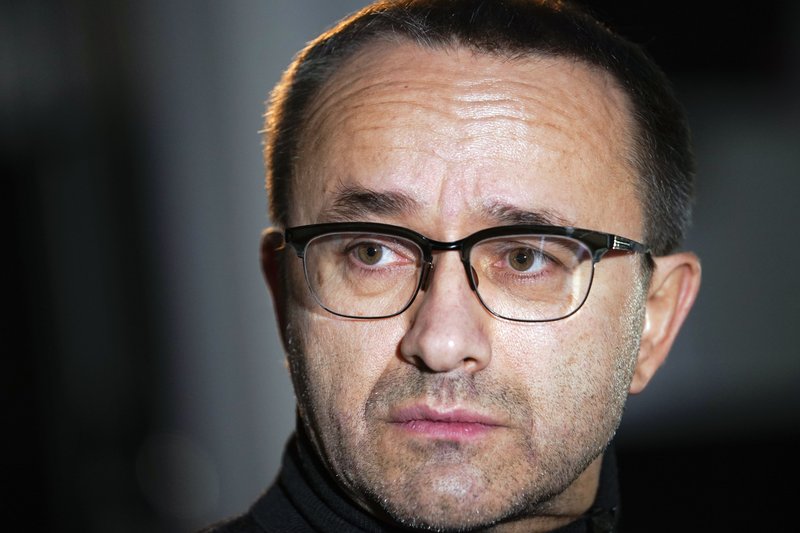 For the second time in four years, Russian director Andrei Zvyagintsev is on the shortlist for a foreign-film Oscar, this time for "Loveless," a grueling examination of adults' misguided search for satisfaction and the child who suffers from their disappointment.
In an interview with The Associated Press, Zvyagintsev resisted being seen as a cultural ambassador for Russia — though he conceded that the worsening relations with the United States could bring his film elevated attention.
The director, who was nominated in 2015 for his powerful political fable of corruption in the magnificently bleak far north, "Leviathan," said it would be wrong to interpret "Loveless" and its harsh view of human relations as a portrait of contemporary Russia.

The protagonists, Boris and Zhenya, are a couple at the end of an unhappy marriage. When their son Alyosha goes missing, they are forced to search for him together, but this only further exposes their bleak relationships.
"It's a modern malaise, not something confined to the Russian world. It's more like a problem of all humanity," he said.
Yet he references today's Russia throughout the story.
The characters are people who have done well under the rule of President Vladimir Putin. They have a new flat in a suburban development, Boris has a job in a modern-looking office, and Zhenya indulges in expensive spa treatments.
But "the political context of course affects the spiritual climate," Zvyagintsev said.
As husband and wife fight, take new partners and search for their son, a larger conflict between Russia and Ukraine plays out shrilly on TV screens in the background. Zvyagintsev said he finds the split with Ukraine painful, partly because it hits so close to home: his father is Ukrainian and his mother Russian.
The movie is set in a time when increasing state control in Russia saw "a tightening of the screws, prison terms for those who took part in protests, the repression of any protest movement, the crushing of any hopes of changing the political and spiritual climate for the better," he noted.
Amid the desolation— the movie opens and closes with the land locked in winter — the only positive figures are a neighborhood volunteer group who help search for Alyosha when the police give up. But their search ends in a rotting Soviet-era cultural center littered with glass shards, and the boy is nowhere to be seen.
"There is a state of apathy, distrust, no wish to participate, a lack of belief that anything will change. This is the political winter, this is the most frightening thing," he said.

Some Russians reject the film's portrayal of their country, but Zvyagintsev dismissed such views as a reflection of his critics' own shortcomings.
"It's like the fairy tale with the mirror on the wall which replies 'You are the fairest of them all' until that time when it speaks the truth and the queen breaks it and throws it to the floor," he said.
While Russian political leaders objected strongly to the depiction of pervasive corruption in "Leviathan," the official reaction to "Loveless" has been positive.
When "Loveless" was nominated for an Oscar, Culture Minister Vladimir Medinsky said he would be happy if it wins. Last year, when the film won the Jury Prize at Cannes, Prime Minister Dmitry Medvedev sent a telegram to congratulate Zvyagintsev, praising it as a "film that poignantly and honestly tells a family history with its difficult relations, feelings and emotions that concern everyone."
Zvyagintsev cites Pushkin, Tolstoy and particularly Dostoevsky as key influences, speaking with passion about Dostoevsky's ability "to 'go right to the depths of the human condition."
"He is a researcher of the human soul ... I would like to be part of that same tradition," he said.
He described how one actress told him at an audition how she finished reading the screenplay late at night and immediately rushed to her daughter's room, where she hugged the sleeping child saying "Forgive me, forgive me."
Zvyagintsev said he wants his audience to react strongly to the desperate situation of his characters and believes this can be a force for good.
"In the best result they say 'I recognize myself and it's made me want to improve, to do things better,'" he said.