J. Cole strikes chord with anti-drug rap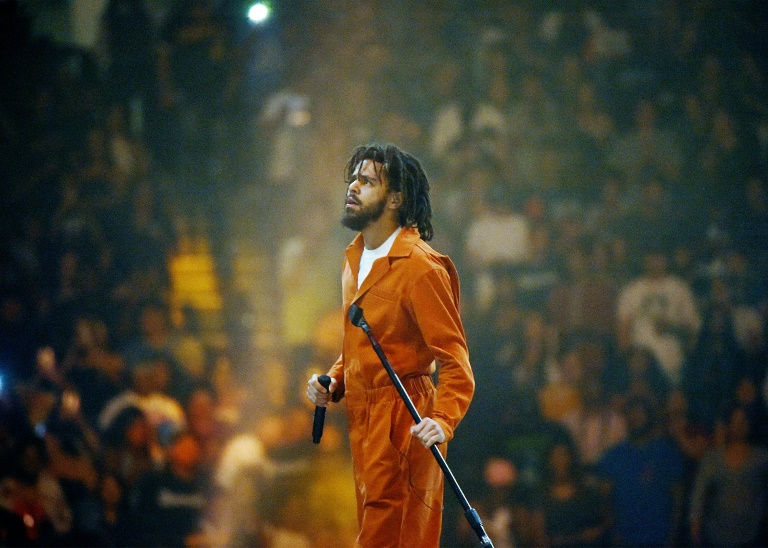 American hip-hop artist J. Cole, pictured performing in 2017, raps about the dangers of drugs on "KOD," which has three simultaneous meanings -- "Kids on Drugs," "King Overdosed" and "Kill Our Demons" (Photo: AFP)
In an age when so much of hip-hop revels in thug life, an earnest warning by rapper J. Cole on the dangers of drugs has proven a runaway success.
Cole's "KOD" debuted at number one on the benchmark US Billboard chart in the biggest opening week for any album this year.
"KOD" sold 397,000 copies or the digital equivalent and became the third most-streamed album ever during the week through Thursday, tracking service Nielsen Music said.
The fifth album by the North Carolina-based rapper, "KOD" shows a newly adventurous musical spirit, with Cole backing his rhymes with patient-paced jazz and silvery beats.
The free-spirited, inclusive sound brings to mind Kendrick Lamar, the most-lauded artist in hip-hop, but the parallels end there, with Cole preferring not scripture-quoting reflections but an easy-to-understand narrative.
"KOD" opens with a celestial voice who explains that newborns communicate in two primary ways, laughter and crying, and sets out the album's premise: "There are many ways to deal with this pain -- choose wisely."
On "Friends," Cole says he wants to speak directly to African American men as he enumerates the explanations he hears for addiction.
"Blame it on crack / Blame it on the system," he raps. "Blame it on the strain that you feel when Daddy missing."
- 'Kids on Drugs' -
Cole explained on Twitter that "KOD" has three simultaneous meanings -- "Kids on Drugs," "King Overdosed" and "Kill Our Demons."
The 33-year-old also memorably tackled social ills with his earlier album "2014 Forest Hills Drive," which explores the fraught path to economic empowerment in contemporary America.
The album was named after his childhood home in Fayetteville, North Carolina, which Cole -- whose father abandoned the family -- has since rebought and turned into a rent-free house for single mothers.
If the anti-drug message of "KOD" can come off as heavy-handed, he softens his image with some humble-bragging.
On "ATM," Cole admits his love of money, rapping: "Pardon the visual / But money, it gives me a hard-on / It's typical."
Cole also offers his take on the bitter politics of 2018 on "Brackets," questioning whether the United States will ever elect another black president.
- Choice words for other rappers -
Cole -- while mostly, but not universally, enjoying critical praise -- casts a lonely figure in the hip-hop world. In contrast to most top-tier rappers, he shuns the industry formula of inviting famous guests on "KOD," which instead features Kill Edward -- an alter ego of himself.
In a rare interview, Cole told New York magazine's culture site Vulture that much of contemporary hip-hop is cartoonish.
"If you exclude the top three rappers in the game, the most popping rappers all are exaggerated versions of black stereotypes," he said.
Cole ends his album with "1985," a brutal diss on a rapper who goes unnamed but is widely believed to be Lil Pump, who has criticized Cole in the past.
Cole salutes the rapper for his success but asks: "Have you ever thought about your impact?"