Hard-boiled history
Global Times
1554036233000
British writer Paul French has specialized in writing about modern and contemporary China for many years now. On Friday, the author attended a reader salon in Beijing to promote the new Chinese version of his popular work Midnight in Peking: How the Murder of a Young Englishwoman Haunted the Last Days of Old China.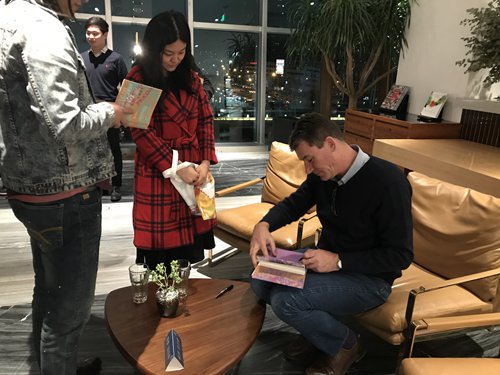 Paul French (right) signs a Chinese edition of Midnight in Peking for a reader in Beijing on Friday. (Photo: Courtesy of Zhan Lu)
French mentioned that originally he wanted to write something that delved into the life and society of 20th century China. However, after he came across a footnote about the unsolved murder of a 19-year-old British girl in renowned US journalist Edgar Snow's Red Star over China, he felt the urge to investigate the crime, which in turn led him to pen a book that depicted the glitzy lives of foreigners living in Beijing in 1937.
After the book came out in 2011, it received a warm welcome, making its way onto the New York Times bestsellers list and becoming the Book of the Week on BBC Radio 4. It entered the finalist for the Goodreads Choice Awards 2012 and received the 2013 Edgar Award for Best Fact Crime. It performed well critically, receiving good reviews from mainstream critics and readers. On Amazon, it currently has a 4.3 out of 5 stars based on 386 reviews. A Chinese version was later published in 2013.
This new Chinese edition was published by the Social Sciences Academic Press (China) Oracode. Oracode's marketing manager Zhan Lu told the Global Times that what motivated them to produce this version was the society depicted in the book and the fact it was a non-fiction crime work, something rarely seen in the Chinese market.
Fascinating age
At the reader salon, French explained what attracted him to the story: "It was the context of that world, where one murder happened before all the other things going on. Japanese are coming in, the foreign hour is ending… all of these things in that world are kind of fascinating."
In French's opinion, Europeans and Americans have forgotten about past generations' time in China before the breakout of World War II. All too often, expatriates' lives in China at the time were represented by successful and respectful journalists, businessmen and diplomats. However, there also lived many Westerners of low social standing, such as gangsters, pimps or drug dealers, who did not leave behind accounts of their lives in memoirs or diaries.
The above two groups of expatriates lived very near to each other, with the bright embassy's concessions just a street away from the more off-color places. Chinese writer Zhi An, a Beijing native, set out to find the places depicted in French's work and to his surprise, he was able to track down most of these alleyways, or hutong as they are called in Chinese, and even the house where the murdered girl's family lived.
French's book has proved so influential that Chinese director Jiang Wen used some of the elements depicted in the book in his latest work Hidden Man, an action comedy set in 1930s Beijing .
Guaranteeing authenticity
At the salon, Zhi recommended French's book to readers because he thinks the book is a good example of how to present a true story in an interesting way.
"Non-fiction work is a weakness for Chinese writers. To find enough convincing supporting documents and evidence is the most difficult thing in writing non-fiction," he noted.
French put in intensive effort to guarantee the authenticity of his work. For example, he wrote a scene in which a Chinese detective and British detective smoke together, but the photograph that scene was based on only shows the Chinese detective smoking. French explained that he had reached out to the British detective's daughter-in-law to find out if the foreign detective smoked as well. When she confirmed that this was the case, French knew he could keep the scene in his work.
French noted that collecting evidence went extremely smoothly due to the extensive archives of scanned newspapers and magazines in museums in Beijing and Shanghai. Noticeably, French placed a lot of value on gossip magazines because they showed what ordinary people's opinions toward hot topics at that time were. For instance, some older people in Beijing were passing along the rumor that the murder victim has actually been a fox spirit, a bit of information that helped make French's work more interesting.
French not only referenced the investigation records of the two detectives scattered throughout media publications from the time, but also the 150-page report from the private investigation conducted by the victim's father. By mixing the results of the two investigations, French tries to use his understanding of Beijing at the time to solve the case. According to him, his understanding of that era of the city was partially derived from his reading of the works of well-known Chinese writers Lao She and Mu Shiying, who wrote about the city and its night clubs in the 1930s.
There are people who have challenged French's work and come to different conclusions on the murder. French noted that he feels people are certainly free to do so and welcomes readers who can send him photographs and evidence concerning the case.
"It's important for me, [this is] kind of like an ongoing research project," he explained.