Chinese picture book teaches kids to handle loneliness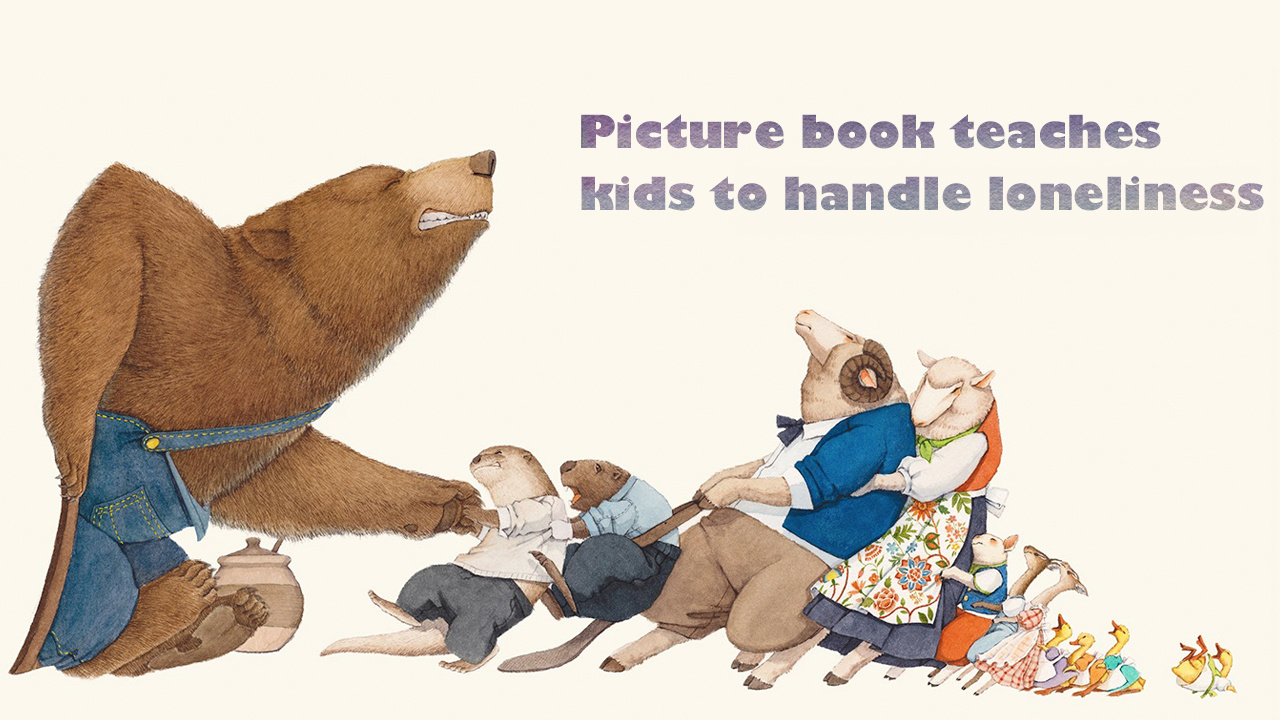 (Photo: CGTN)
This month, "Tradition and Modern: an Exhibition of Chinese Original Picture Books" was held in the Beijing Normal University Gallery. With more than 60 manuscripts and interactive installations from various artists, this exhibition highlighted many well-known children's picture books in recent years.
One of the most popular books on display was "Mr. Otter's New Neighbors" by Li Xingming, a post-90s generation illustrator and picture book author.
"Mr. Otter's New Neighbors," published this August, is a picture book with illustrations and animal characters. Everything in this book is simple but captivating and well-crafted. Even those unnoticeable details can bring happiness to readers.
"It's like you can feel warmth when you look at these furry characters. It's a pleasure reading the book," one reader commented.
In the author's view, the theme of the book is loneliness, even though most of the time the story elaborates on Mr. Otter's gathering with his new neighbors after he moves to a lake.
Being a children's book author, Li often traces his own boyhood memories and contemplates on the subjects that matter most for the junior. The book is also inspired by his own experience and understanding of loneliness.
"One makes acquaintances with more and more people as he or she grows up and it is inevitable that his or her fear of being left alone increases at the same time," Li said, "Thus, learning how to cope with loneliness is very important to kids."
In the story, Mr. Otter's new home is located on an isolated island and ultimately he must live by his lonesome. Making peace with aloneness is everybody's task as well as Mr. Otter's. At the end of the story, when the feast is done and the guests are gone, Mr. Otter is not downcast by loneliness but finally gets the chance to take a sip of honeyed tea in solitude.
According to Li, the story can also be read allegorically. "Mr. Beaver stands for friendship, the dik-dik couple for love, the sheep for family relations," he told CGTN, "even the unexpected Mr. Bear can be seen as an accidental encounter in life. All these things can help us get rid of loneliness, very effectually but also temporally. Anyhow, we must be able to accommodate the state of solitude."
Nonetheless, Li expressed that the ideal way for a kid to comprehend the book is to feel rather than to be taught. He thought that there was no singular criterion of a good picture book; either profundity in meanings or refinement in artistic presentation makes a picture book outstanding.
"Mr. Otter's New Neighbors" was also reviewed by Shaun Tan, an Oscar-winning artist, writer and filmmaker.
"It is a very beautiful picture book and it is what I've always been eager to read. Sometimes I also want to write something like this," Tan said, "What I see is a very sophisticated style of illustration. I guess I didn't do this well when I was the same age as the author."
Li believed there are many chances in the promising market of picture books in China while the industry is already very mature in Western countries. The demand of picture books has significantly expanded in China's ever-growing middle class but the domestic supply falls short.
Li mentioned that one competitive advantage for Chinese picture book authors is the huge amount of material in the repository of Chinese culture. Therefore, he loves to recreate Chinese traditional images with his brushes. For instance, references to Tibetan Thangka and Dunhuang frescoes in Li's "The Rock Band of Chinese Traditional Divine Beasts" show his experimental combination between traditional arts with his modern illustrations.
Li Xingming also attempts to develop his animal-themed picture book in a more realistic context. Currently, he's working on a project featuring the last northern white rhino named Sudan, whose death this March marked the extinction of the species.