Tintin and Snowy drawing sells for 500,000 euros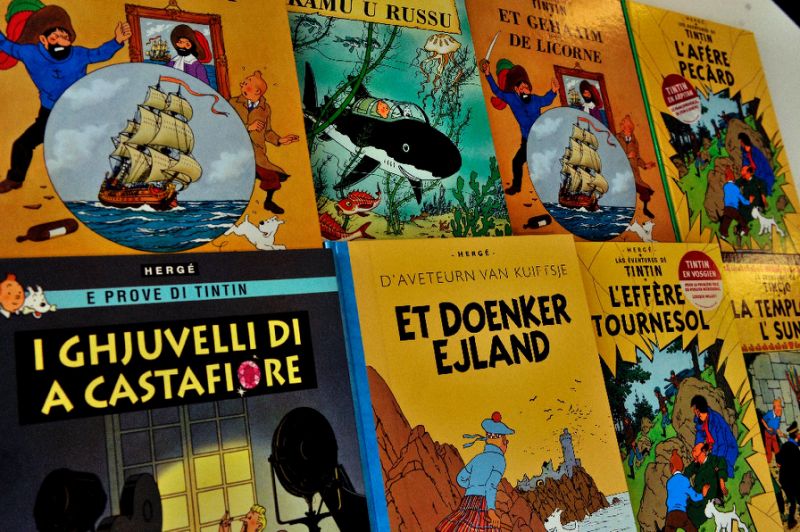 An original drawing for a story that would eventually become the eighth volume of Tintin's adventures sold for 505,000 euros in Paris on Saturday. (Photo: AFP)
A color drawing of Tintin and his faithful canine companion Snowy sold at a Paris auction on Saturday for more than half a million euros.
The India ink and watercolour image, which went under the hammer for 505,000 euros ($595,000), shows the intrepid pair in the company of a butler in a royal palace.
It was drawn by the Belgian cartoonist known as Herge as the cover illustration for the 1939 newspaper serialisation of "King Ottokar's Sceptre".
Originally published in black and white in the youth supplement of Belgian newspaper Le Vingtieme Siecle, the story would become the eighth volume of young reporter Tintin's adventures.
On sale at auction house Artcurial as part of a sale of Tintin memorabilia including original drawings, toys and figurines, it came in under an estimated price of 600,000 to 800,000 euros.
"Original Tintin works are today becoming more and more rare at auction, especially those from the 1930s and 1940s," said Eric Leroy, cartoons expert at Artcurial.
Tintin creator Herge, otherwise known as Georges Remi, holds a string of records for original cartoons sold at auction.
In November a drawing from "Explorers on the Moon" sold for 1.55 million euros at Artcurial, setting a record for a single cartoon drawing.