Mastering the instruments of fate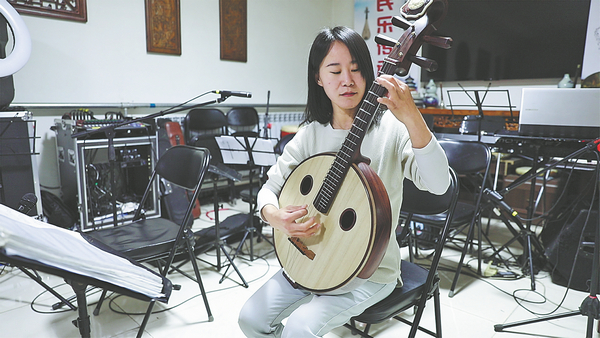 Folk Music Troupe enables musicians with physical challenges to follow their dream
As the hands of the clock approached 8 pm, Zhong Huile was busy checking his trumpet like suona, while his wife Chen Mengjing was tuning her guzheng-a traditional plucked, stringed instrument-one final time. As the clock struck the hour, the group pressed the start button on the smartphone and started their livestreaming performance.
The tune of All I want is a Bing Dwen Dwen (that's based on the melody of Edward Elgar's Salut d'Amour) pipes up, with comments and "likes" flooding the screen-within 30 seconds there are over 500 of the latter. They have 660,000 followers, of which quite a high percentage maintain the habit of watching the pair's performance at 8 pm every day.
A unique ensemble
Zhong and Chen belong to the Shanshui Folk Music Troupe, the only full-time folk music band formed entirely by people drawn from all over the nation who have various physical challenges. As early as 2008, their core members had impressed the world by participating in the opening ceremony of that year's Beijing Summer Olympics; Now they are a group of 14, eight of whom are full-time participants, while the remainder are part-time members.
Suffering from congenital cataracts, Zhong has endured very low eyesight since he was very young and to read the screen of his smartphone, he has to hold it a centimeter away from his eyes. Despite this condition, he managed to get a degree, which enabled him to get a job as a teacher in the school of special education at the University for Science & Technology Beijing.
During his time there, Zhong came to a stark realization: his students, with their various physical challenges, were going to struggle for finding a job upon graduation. The majority of them, although having received a sound musical education, had to choose other jobs, such as blind massage in the case of the visually impaired.
Zhang Qian was among the first graduates to receive an education from Zhong. Having suffered from infantile paralysis when she was 6 months old, she took many years to learn to walk and, even today, will still fall sometimes. She struggled to make it into college-and even went on to participate in the opening-ceremony performance of the 2008 Beijing Paralympics-but after graduation her dream was ruined by the real difficulties of finding a job.