Qingdao authority to remove 60k illegal tombs in Laoshan scenic zone
Global Times
1554660671000
Qingdao authorities in East China's Shandong Province vowed strict investigation and punishment of illegal cemeteries in its Laoshan mountain scenic zone after recent reports sparked public attention on the tombs and illegal tomb trade in the area.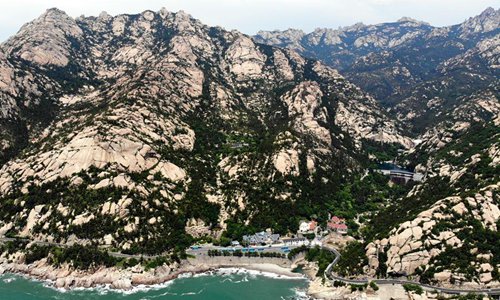 Aerial photo taken on May 21, 2018 shows a scene of the Laoshan Mountain in Qingdao, east China's Shandong Province. (Photo: Xinhua)
"Laoshan district has been focusing on cracking down on the illegal sale of tombs for years. Local civil affairs department has completed the renovation of scattered tombs in seven communities and investigated three illegal businesses selling tombs since September 2017," Wang Shaomei, the director of the Laoshan civil affairs department, was qouted as saying by the China National Radio (CNR) on Sunday.
The remarks were made after CNR reported on Saturday that a large number of illegal tombs were constructed in the Laoshan mountain scenic zone, and some villagers were illegally trading tombs.
Some villagers sold tombs to outsiders from 30,000 ($4,470) to 40,000 yuan, said CNR.
Those who built tombs in scenic spots will be fined 1,000 to 10,000 yuan and have to restore the place, according to the Laoshan government website.
There are more than 65,000 illegal tombs scattering in the Laoshan scenic area, which local authorities plan to remove and replace by the end of 2020, Qingdao Daily reported Friday.
The Laoshan scenic zone covers 446 square kilometers of areas.
Local authorities had completed work at one local community and will be completing work on three other communities this Qingming Festival. They had also completed tree burial renovation in one local community, the report said.
Tree burials are a new burial method in China as the country has been promoting ecological burials. People plant trees and bury the ash of their deceased family members under the trees.
"When I drove along the road, I could see many illegally built graves in the nearby forest," Qu Cuijuan, a local resident, told the Global Times on Sunday.
Since 2009, the Ministry of Civil Affairs has pushed forward fee reduction in basic public funeral services as well as other preferential policies to benefit low-income groups. For example, commercial cemeteries in Chongqing, Gansu and Ningxia are required to set aside part of their burial sites profit-free for those with financial difficulties, the Xinhua News Agency reported.
China has beefed up funeral infrastructure and public services, with the number of funeral parlors and cemeteries reaching 1,760 and 1,420, respectively, Xinhua said.
Non-profit cemeteries are also thriving in places of separate burial traditions, which leads to the conservation of large areas of land.