Across China: 40 years of tourism in the eyes of a tour guide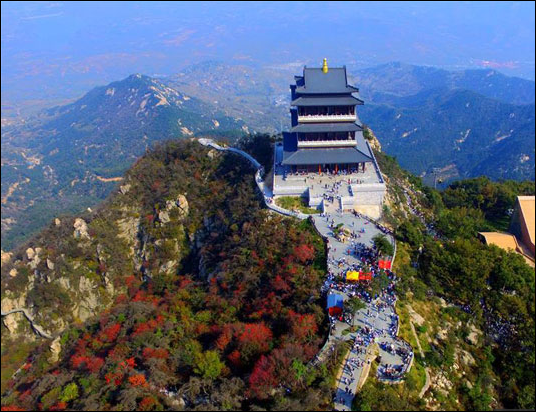 (Photo: Guangming Online)
Forty years ago, when Zhang Gaoyong began his job as a tour guide in Guilin, there were barely any domestic tourists in the city.
"Almost all visitors to Guilin were foreigners at that time," Zhang said of the prime tourist destination in south China's Guangxi Zhuang Autonomous Region.
Zhang, 64, was one of the first group of tour guides trained by China since the reform and opening-up to cater to the tourism industry. Over the past four decades, the industry has skyrocketed.
The country's tourism sector earned a total revenue of 599.08 billion yuan (about 86.6 billion U.S. dollars) during this year's National Day holiday, a rise of 9.04 percent from one year earlier.
In the first half of 2018, the domestic tourism industry brought in 2.45 trillion yuan, up 12.5 percent year on year, according to the figures released by the Ministry of Culture and Tourism.
Guilin, in the northern part of Guangxi, is known for its picturesque karst mountains and beautiful rivers.
"Guilin was selected as one of the 24 cities to open their tourism market to foreign visitors in 1973," Zhang recalled. "But at the time, there were fewer than 1,000 visitors every year, and almost all visits were limited to 'friendly exchange programs.'"
After reform and opening-up policies were implemented, however, the local tourism sector started to grow.
"Tourism became an important way to make foreign currency reserves, and of course Guilin became a frontier for China's tourism development," he said.
Because almost all visitors were foreigners, demand for tour guides like Zhang was very high. Zhang, who previously worked in a local shipping company and had decent English was chosen to work as a tour guide.
"Being a tour guide was more than just a job," he said. "It was a tremendous honor because tour guides represent the image of China due to frequent contact with foreigners," Zhang said. During this period, there were only three travel agencies in Guilin, with no more than 30 tour guides.
"Sometimes when there were not enough tour guides, the agencies would 'borrow' university English teachers to fill their place," he said.
In the early days, there were no scripts for the tour guides. Instead, they had to improvise when introducing local attractions to foreign visitors.
"We were scared of being asked questions because more often than not, we didn't understand them," he said. "If they asked questions that we failed to understand, we asked them to write them down on a piece of paper, and we would check our dictionaries word by word after returning home."
To improve his English, Zhang took night classes. He even went to Australia for a year to study English.
"The early travel itinerary in Guilin was simple: travelers only visited two mountains, a river, and a karst cave," he said. "After that, they just roamed the streets in Guilin by themselves."
Most locals had never seen the blue-eyed "motley bunch of foreigners" and would often gather in groups to stare at the foreign tourists curiously.
"The foreigners were curious about the locals too, and they would use their cameras to take pictures," he said. "Sometimes they developed the pictures and sent them to me after returning to their home country as a gift of gratitude for being 'an amazing tour guide.'"
Zhang said that during the initial stages of reform and opening-up, many Chinese had enough food and clothes, but traveling was still considered a luxury. As time went by, people's lives improved and changes began to be noticed.
"In the 1990s, more Chinese tourists started to appear on the streets in Guilin," Zhang said.
In 1999, China established three "Golden Week holidays," with seven days off during each year's Spring Festival, May Day and the National Day holidays. Improved financial conditions and the "Golden Weeks" contributed to the explosive growth of the tourism market.
"As the number of domestic tourists increased, the reception conditions in Guilin also saw a complete facelift: tons of tourist attractions were developed, and five-star hotels sprang up like bamboo shoots in the spring," he said, quoting a Chinese saying that depicts high-speed growth.
Earlier this year, a new high-speed train station opened in Guilin. The Wutong Station, in Guilin's Lingui District, is the ninth high-speed train station in the city. Last year, Guilin received more than 82 million tourists, generating 97.1 billion yuan in consumption.
Transportation authorities in Guilin said the number of tourists who take high-speed trains to the city is increasing. Every day, 216 such trains connect the city with 18 provinces, cities and autonomous regions.
"After 40 years of development, tourism has become such an inseparable part of Chinese people's lives," Zhang said. "As China's reform and opening-up continues, more foreigners are expected to visit China, and more and more Chinese tourists will travel to other countries."