'Chinese Bridge' contest for secondary school students held in Hanoi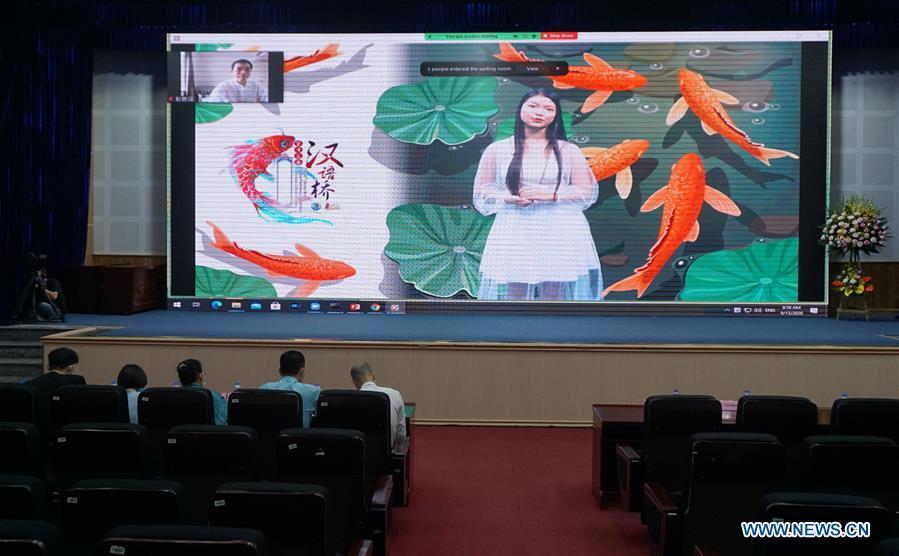 A competitor shows her talents and skills via video link during the final round of the Vietnam section of the 13th "Chinese Bridge" Chinese Proficiency Competition for Foreign Secondary School Students in Hanoi, Vietnam, on Sept. 13, 2020. The Vietnam section of the 13th "Chinese Bridge" Chinese Proficiency Competition for Foreign Secondary School Students concluded its final round on Sunday in Hanoi. Nong Troung An from Thai Nguyen Specialized High School won the competition, which saw the participation of 12 students from six secondary schools in Vietnam. (Photo: Xinhua)
HANOI, Sept. 13 (Xinhua) -- The Vietnam section of the 13th "Chinese Bridge" Chinese Proficiency Competition for Foreign Secondary School Students concluded its final round on Sunday in Hanoi.
The final round was divided into three parts, including themed speech, talent show and impromptu speech, and was held via video link due to COVID-19 concerns.
Nong Troung An from Thai Nguyen Specialized High School won the competition, which saw the participation of 12 students from six secondary schools in Vietnam.
"COVID-19 actually allowed me more time to learn Chinese by myself," An said. "I really hope to travel to different parts of China and learn about their culture and customs."
Luo Jun, a principal of the Confucius Institute at Hanoi University, said the contestants showed the charm of the Chinese language and Chinese culture, and would help attract more Vietnamese students to learn the language and the culture.
Peng Shituan, cultural counselor of the Chinese embassy in Vietnam, said that secondary school students are the future of China and Vietnam, and learning Chinese can help Vietnamese students contribute to the friendly exchanges between the two countries.
"I hope more Vietnamese high schools will set up Chinese courses, and more students will take part in such competitions," he said.
The competitions in Vietnam were co-organized by China's Center for Language Education and Cooperation, the Chinese embassy in Vietnam and Hanoi University, and held by the Confucius Institute at Hanoi University. Enditem