Pet travel sector clawing back revenue lost from pandemic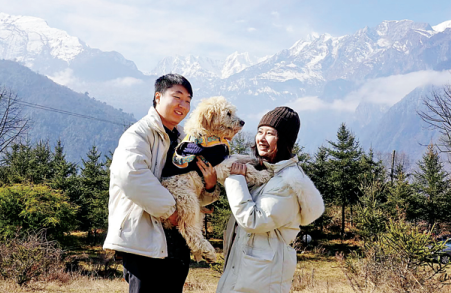 Chengdu-based dog owner Wang Ji and her husband took a special group tour in January to Hailuogou, a scenic spot in southwestern Sichuan province known for huge glaciers and snow-capped peaks.

"It's my first time to travel with my puppy as well as so many dogs. During the two-day trip, most of them were adorable and docile although they had to endure a six-hour drive with us," Wang said.
She said the travel agency prepared almost everything for the tourists, including a pet-friendly hotel, a photographer, a pet trainer and a welcome party where people shared stories about their furry friends.
"It's an impressive tour for us, also for 'him' I think," Wang said.
Pet-friendly travel is on the rise as the pet market continues to grow and diversify. According to the 2021 pet industry consumption report released by analytical company Pethadoop, China's pet market for cats and dogs in urban areas reached 249 billion yuan ($37.65 billion), up 20.6 percent year-on-year.
Meanwhile, the number of cat and dog owners surpassed 68 million. Most of them are young, well-paid and they treat their pets as family members or friends, the report said. This means they have an eagerness and ability to pay for their pets.
A batch of new businesses have emerged to meet market demand including beauty salons, pet schools and specialized institutions for pet-friendly travel and even pet funerals.
Analysts from Pethadoop said most pet travel agencies are offering all-inclusive tour packages to ensure both owners and pets have an enjoyable trip. More than just arranging transport, accommodation and dining, they provide pet amenities and pet-friendly games as well as personnel for the animals' health and safety.
Shao Peng, founder of a pet travel agency in Beijing, said excursions lasting one to three days are popular among the country's new crop of pet owners.
"We have regular trips on weekends to the outskirts or neighboring cities. During public holidays, we are always fully booked," Shao said.
However, pets are not allowed in the majority of scenic areas, hotels and restaurants, which is one of the biggest challenges for the pet-friendly travel industry.
By 2020, the cities of Beijing, Shanghai, Guangzhou and Shenzhen were home to 21,382 hotels. But less than 1 percent of them were pet-friendly, according to a 2021 report on China's hospitality.
Some pet-friendly hotels are not accessible to many consumers due to their expensive services, Shao said.
The good news is that a growing number of hoteliers have realized catering to pets goes a long way to win the hearts and bookings of their owners, especially amid the COVID-19 outbreak.
For example, a starred hotel in Dongguan, Guangdong province, began to develop its pet business in 2020 to help mitigate the effects of the epidemic. It now has an exclusive floor for pet owners with all the rooms featuring a doghouse.
Another issue is that pet-friendly travel, as a new phenomenon, falls in a "blind area" of industrial standards and regulation.
Industry insiders said pet-friendly travel involves multiple organizations such as travel agencies, hotels and scenic spots, and each of them should have standardized prices, services and facilities. Employees participating in the industry should receive extensive training, so that they are able to deal with emergency situations correctly, they said.
Relevant authorities also need to pay more attention to the emerging industry, by issuing laws and regulations as soon as possible to bring it under supervision.