First Chinese cultural center in CEE opens in Bulgaria
People's Daily app
1511521279000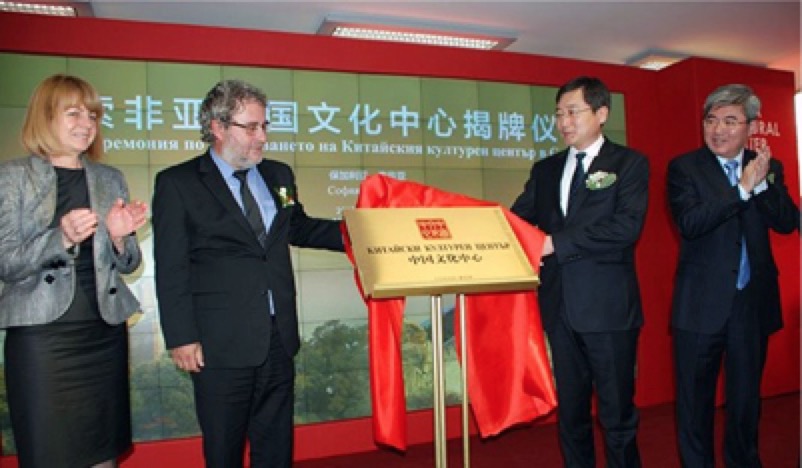 China Cultural Center inaugurates in Bulgaria. (Photo: Bulgarian News Agency)
Brussels (People's Daily) - The first Chinese cultural center in Central and Eastern Europe opened in Sofia, capital of Bulgaria on November 23, reported the Sofia Globe newspaper.
As the 34th overseas China Cultural Center, the center covers eight floors, a total area of 4,000 square meters, including exhibition space, a library, multifunctional salons and training halls.
The center was created with the support of the Chinese Ministry of Culture and the city of Ningbo, which is the origin of the majority of Chinese people living in Bulgaria, Bulgarian News Agency reported.
At the opening ceremony, artists from the Ningbo Arts Troupe featured a series of performances, including traditional Chinese music Jasmine, Shaoxing opera Butterfly Lovers and Bulgarian folk dances.
The inauguration of the China Cultural Center marks a new stage of the cultural exchange and cooperation between the two countries, said Zhang Xu, China's Vice Minister of Culture, at the ceremony.
Bulgarian Minister of Culture Boil Banov said that the audience in his country would be pleased to welcome Chinese art, because acquaintance with Chinese culture was an unforgettable experience.
Exhibitions featuring paper cutting, calligraphy, tea ceremony and embroidery were part of the opening ceremony.
Yu Lou, operations director of the center, said that there will be many exhibitions, shows, musical performances, films and even cooking courses. "We want Bulgarians to get to know China through our activities," said Yu.
Chinese Ambassador to Bulgaria Zhang Haizhou noted that the cultural center is the first of its kind in Central and Eastern European countries and also a symbol showing the importance of Bulgaria in the cooperation between China and countries in this region.