UK artist Sarah Morris brings her two-decade career to Beijing with new exhibition
Global Times
1522105782000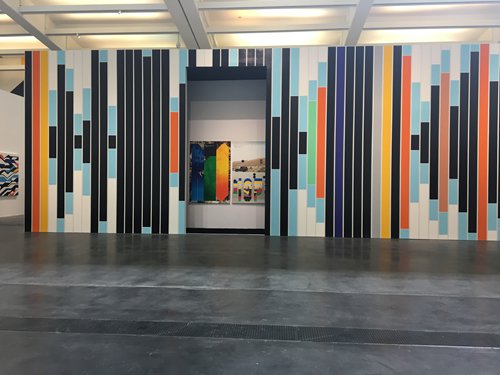 Sarah Morris: Odysseus Factor at the Ullens Center for Contemporary Art Photo: Global Times)
You may not have heard of Sarah Morris, but you most likely have heard of The Odyssey. One of two major ancient Greek epic poems attributed to Homer, it told the tale of the Greek hero Odysseus (known as Ulysses in Roman myths), king of Ithaca, and his journey home after the fall of Troy.
According to the poem, Odysseus spent 10 years trying to make his way back to Ithaca after the decade-long Trojan War. During his absence, when he was assumed dead, his wife Penelope and son Telemachus had to deal with a group of unruly suitors, the Mnesteres or Proci, who competed for Penelope's hand in marriage.
Finding many commonalities between the hero Odysseus and herself, Morris decided to name her latest exhibition at the Ullens Center for Contemporary Art in Beijing Sarah Morris: Odysseus Factor, since her art career can be divided into two decade-long journeys.
Ten years after her first film Midtown came out in 1988, Morris traveled to China to film Beijing during the 2008 Olympic Games in the Chinese capital. Another 10 years later and Morris has once again returned to Beijing to hold the very first exhibition of her entire film career.
Kicked off on Saturday, the exhibition covers Morris' entire filmography accompanied by many artworks in other mediums such as paintings, photographs and a huge mural that acted as a background while shooting one of her films.
Originally a painter, Morris expanded her sights to filmmaking as she believes these two art forms are closely aligned. Describing these dual creative processes as "two sides of the same coin," Morris has explored ways to combine painting and film together.
Famed for her abstract art style, Morris' paintings are notable for their bright colored fields and strong lines, which seem to take elements from famous works of architecture.
As for her films, visitors might easily define her chosen genre as "documentary," since she focuses on depicting reality and exploring social issues.
For instance, Midtown, her first film, delves into the psychology of individuals and their relationship with an urban city. Meanwhile, Rio focuses more on the urban cityscape. By depicting Rio's architecture, its industries and politics, Morris invites the audience to get to know the city and the lives of its residents.
Her other films focus more on the viewpoint of individuals. Her film 1972, for example, examines the Munich massacre during the 1972 Olympic Games in Germany from the perspective of psychologist Dr. George Sieber, while Robert Towne is an expose on film industry politics from the viewpoint of the famous screenwriter and producer after whom the film is named.
For her documentary on modern Beijing, Morris sought to share the real life stories of Chinese residents with audiences. According to Morris, the most interesting part of making this film was the time she spent with a group of women who practiced the art of ribbon spinning in a public park.
The exhibition is scheduled to come to an end on June 17.