'Monster fatberg' goes on public display in London museum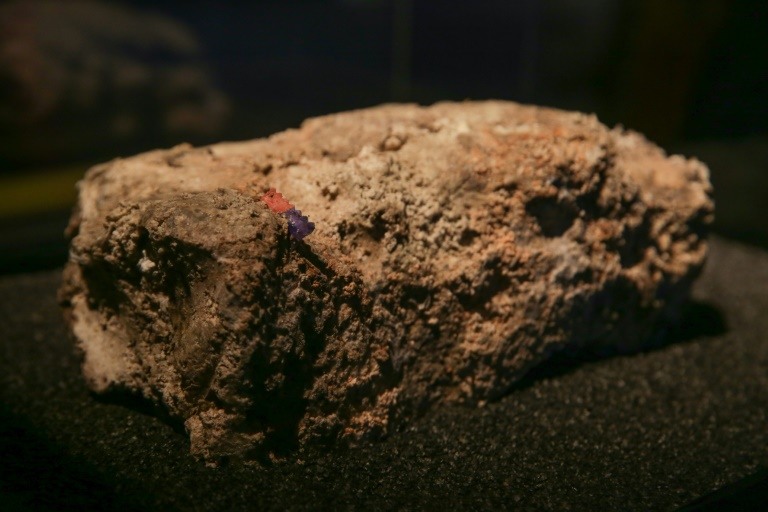 A piece of London's 'monster fatberg' on display at the Museum of London. Photo: AFP
History enthusiasts with strong stomachs can now come face-to-face with part of the 130-tonne "monster fatberg" found last year clogging a Victorian-era sewer, in a new London exhibit.
The rock-solid mass of food fat and sanitary wipes was found in drains under a major road in Whitechapel, east London, in September, and part of it is to go on show at the nearby Museum of London from Friday.
"The fatberg tells a story about how modern London is changing," explained Sharon Robinson-Calver, the museum's head of Conservation and Collection Care.
"The museum's collection already contains objects from when London's Victorian sewer system was built.
"Now, our sewers are threatened by a modern crisis. Eight times every hour a Thames Water customer suffers a blockage caused by items being flushed away or put down the drain which shouldn't be."
A booming population and oilier diets have made the blockages a persistent problem in recent years, but the 250-metre-long beast shocked even hardened fatberg hunters.
"It's a total monster and taking a lot of manpower and machinery to remove as it's set hard," Matt Rimmer, Thames Water's head of waste, said at the time.
"It's basically like trying to break up concrete."
The festering exhibit presented a unique set of challenges for museum staff.
"The fatberg in its current state is an extremely hazardous material, teeming with bacteria and releasing small amounts of toxic gases," said Robinson-Calver.
"The sample of fatberg we've taken might contain hypodermic needles, condoms, or sanitary materials, and are certainly capable of spreading disease.
"Making it safe to display is an incredible challenge to be given".