Taylor Swift's music feud affects her China show
China.org.cn
1574160651000
American singer Taylor Swift's sparring with her former label Big Machine Group led her not being able to perform old classics from her music catalog at Alibaba Group's online shopping day countdown gala on Nov. 10, according to the latest revelations in the ongoing feud.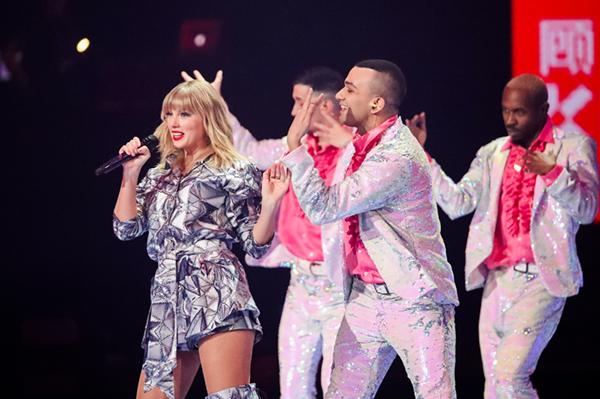 American singer Taylor Swift performs with dancers at Alibaba's 11.11 Global Shopping Festival Countdown Gala at Mercedes-Benz Arena in Shanghai, Nov. 10, 2019. (Photo courtesy of Alibaba Group)
The singer's camp issued a statement on Nov. 15 in response to Big Machine Label Group's open letter responding to a note published by Swift on Nov. 14 night.
"The truth is that, on Oct. 28, 2019 at 5:17 p.m. the Vice President of Rights Management and Business Affairs from Big Machine Label Group sent Taylor Swift's team the following: Please be advised that BMLG will not agree to issue licenses for existing recordings or waivers of its re-recording restrictions in connection with these two projects: The Netflix documentary and The Alibaba 'Double Eleven' event, " the statement reads.
To avoid an argument over rights, Swift performed three songs from her new album "Lover" at the gala as it was clear that Big Machine Label Group "felt any televised performance of catalog songs violated her agreement."
The pop superstar took to the stage on Nov. 10 evening amid the loudest cheers and screams from fans at the end of the Alibaba's 11.11 Global Shopping Festival Countdown Gala at the Mercedes-Benz Arena in Shanghai. She then performed "ME!," "Lover," and "You Need to Calm Down," along with her dancers on Alibaba's visually magnificent and technologically advanced stage set. However, those who wanted to listen to her past greatest hits were disappointed.
Alibaba Group was seeking a breakthrough to become more international and have a bigger say in world's annual greatest shopping spree day on Nov. 11, as it invited Swift and other heavyweight Chinese and international stars to the dazzling promotional gala.
And though it seemed joyous on the surface, Swift would later continue her bitter fight against her former label over music rights. She posted on social media on Nov. 14 that Big Machine Label Group's Scott Borchetta and Scooter Braun had told her she was "not allowed to perform my old songs on television because they claim that would be re-recording my music before I'm allowed to do so next year."
Swift also claimed Borchetta and Braun were preventing her from performing both a career-spanning medley at the American Music Awards, and from using her old material for a Netflix documentary about her life.
Things began to deteriorate earlier this year as Swift's longtime nemesis, Braun, purchased Big Machine for $300 million and took control of the masters of her first six albums. Swift then announced that she planned to re-record her first six albums to regain control of her songs.
Big Machine Label Group responded to Swift's Nov. 14 post on Nov. 15, declaring: "At no point did we say Taylor could not perform on the AMAs or block her Netflix special. In fact, we do not have the right to keep her from performing live anywhere. Since Swift's decision to leave Big Machine last fall, we have continued to honor all of her requests to license her catalog to third parties as she promotes her current record in which we do not financially participate."
Big Machine further accused Swift of "contractually owing millions of dollars and multiple assets to our company."
Later Swift's spokeswoman, Tree Paine, shared an updated statement to counter the claims, stating: "Yesterday, Scott Borchetta, CEO and founder of Big Machine Label Group, flatly denied the request in regard to both the American Music Awards and Netflix. Please notice in Big Machine's statement, they never actually deny either claim Taylor made last night in her post."
Lastly, the singer camp's statement added, "Big Machine is trying to deflect and make this to be about money, by saying she owes them; however, an independent, professional auditor has determined that Big Machine owes Taylor $7.9 million of unpaid royalties over several years."