Tale of a Mumbaiwala who extends his wings to a Chinese movie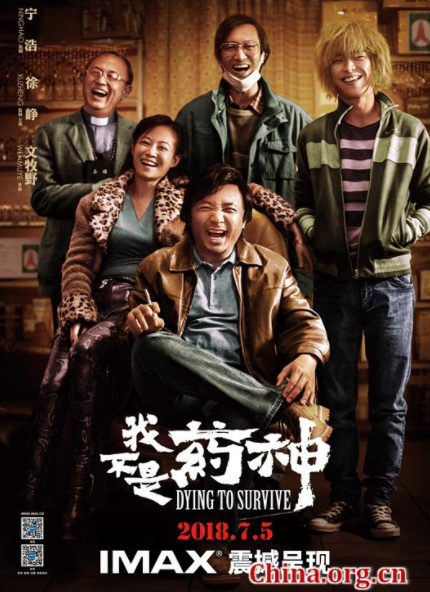 A poster of "Dying to Survive" [Photo / China.org.cn]
Nishith Shah, an Indian who is currently working at ICBC'S (the Industrial and Commercial Bank of China) Mumbai headquarters in Bandra, shot into our attention through his recent appearance in a famous Chinese movie titled Dying to Survive.

"When I came to know I was going to work in a Chinese movie with the Chinese superstar Xu Zheng, I was in total disbelief," he told Xinhua.
The movie, Dying to Survive, tells the fictional story of a shopkeeper who imports cheap, Indian medicines which are banned in China and sells them to leukemia patients for profit.
The black comedy has been a big hit since its release at Chinese cinemas, with box office exceeding 3 billion yuan ($440 million).
Nishith was born and brought up in India's Mumbai and finished his master's degree in China. Then he started working at a China-owned international Bank ICBC and learned Chinese by himself.
Even if he is familiar with China and the language, he was still a bit nervous when he started acting as an Indian translator in the film.
"My first experience on the set was at Nanjing. There I could see director Xu Zheng, and the team was working really hard till late at night," said Nishith.

"Since I am playing the role of a Sardar, I needed to have a turban...I am not a Sikh and don't have any experience with the turban. So I looked for all the Sikh people available in Tianjin and Beijing. One Sikh family was nice enough to help me with the turban."

He said he was impressed by the Chinese film team's dedication to making the film a success. When Xinhua asked him about his future plans for an acting career, he said he would love to do the similar

things in the future.
"Dying to Survive" has been celebrating its success on the increasing demand for corporation between India and China in the pharmaceutical sector. Amid Indian Prime Minister Narendra Modi's visit to China in June, both sides had discussed the possibility of exporting high-quality Indian pharmaceuticals to China.